This post may contain affiliate links that I may receive a commission from if you click & buy. In addition, the information on this site is NOT intended to be medical advice. See my full policy for more information.
Breastfeeding a baby can be a time-consuming task. Leaving you cooped up on your rocking chair or that cozy corner of the sofa. Sometimes, you don't even realize an hour or two flies by without eating a snack or sipping on some water — that's why every breastfeeding mom NEEDS a breastfeeding basket (sometimes referred to as a breastfeeding caddy)!
What is a Breastfeeding Basket/Breastfeeding Caddy?
Have you ever seen those little portable caddy's and totes (like these ones) people use in their bathrooms?
Imagine one of those loaded up with all of your breastfeeding essentials RIGHT next to wherever you'll be breastfeeding your baby — sounds amazing, right?
Some moms even level up their breastfeeding basket by getting a portable cart like this one! That way, they can wheel it around the house depending on where their next nursing session will be or where they'll be pumping next.
Why do Breastfeeding Mothers NEED a Breastfeeding Basket?
Snacking and staying hydrated aren't the only reasons mom needs a breastfeeding basket.
Think about pumping moms who have to search for their nipple butter to lube their flanges before a pump session.
How about nursing moms who need to catch a letdown from the opposite side?
Believe it or not, I went 8 months without making one of these life-saving nursing baskets with my first. Eventually (8 months later obviously) I decided I was TIRED of constantly having to get up, go back and forth for supplies I needed whether I was nursing or pumping and that's when I made myself my own DIY breastfeeding basket!
Is it a necessity? Technically not, but it sure can make your life way easier — what kind of mom doesn't appreciate an easy parenting task? I know I do!
If you're unsure what to put in your homemade breastfeeding basket don't fret, I have a big list below with some ideal breastfeeding essentials!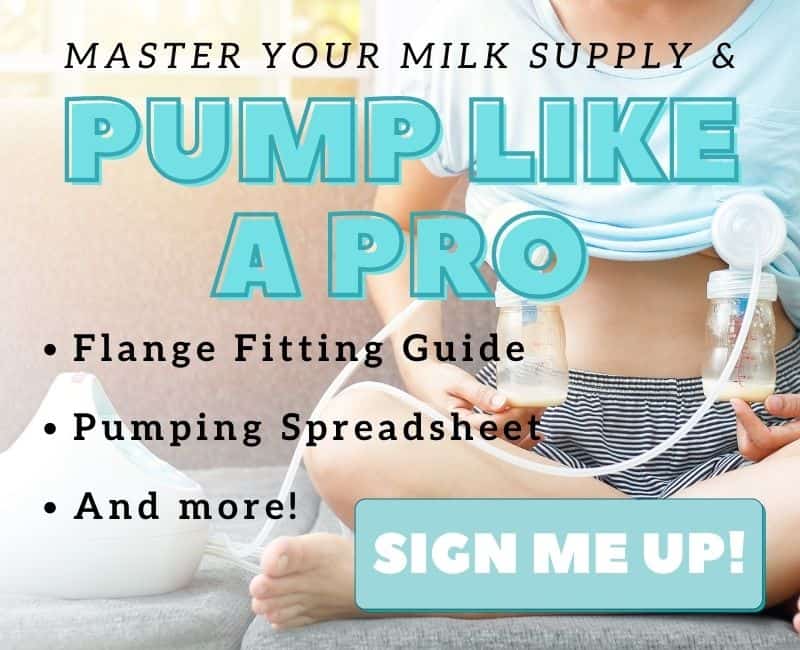 Essential Nursing & Pumping Items For Your Breastfeeding Basket
These are the items I put in my breastfeeding basket and found them incredibly helpful to have so close by.
1) Nipple Butter or Nipple Balms
If you're a nursing mom, using nipple butter and nipple cream after you feed baby can help your skin stay smooth and less irritated. Earth Mama makes one of the best nipple balms around!
If you're a pumping mama, using some nipple balm to "lube your flange" can help make pumping much more comfortable (allowing your nipple to glide into the flange vs there being any kind of friction).
2) Breast Milk Collecting Shells
If saving every ounce of milk is important to you, then I suggest keeping some breast milk collecting shells handy!
Simply pop them into your bra when you're nursing and know you'll have a letdown, and remove them when finished. I almost always caught milk from the opposite side during my nursing sessions with baby.
I used these milk collecting shells daily and found them to be comfortable and easy to use (plus they're super cheap on Amazon).
3) Breastfeeding Snacks
Keeping a small stash of breastfeeding snacks will help you curb those intense "OH MY GOSH I'M STARVING" moments that come with the territory of breastfeeding.
A few snack ideas include the following:
Granola bars
Trail Mix Packs
Rice Cakes & Nut Butter
Veggie Muffins (I would keep these frozen and place 1 of them in my basket in the morning knowing I'd eat it when it was thawed out)
Crackers
Pumpkin (Pepita) Seeds
KIND Bars
Those are just a few ideas of the snacks I use to rotate through my own breastfeeding basket. You can find even more healthy breastfeeding snack ideas here!
4) Hydrogel Soothing Pads
These soothing little gels are a MUST have for any breastfeeding mama (and highly recommended by my lactation consultant at the time)!
In those early days, you may experience sore nipples as you adjust to breastfeeding
In those early days, your nipples will be so sore as you adjust to breastfeeding. Not to mention, in the event baby is struggling with their latch, these gel pads can help you feel lots of soothing comfort until you're able to correct their latch.
I liked to keep one pack in my fridge so they were extra cool when I needed that EXTRA calming feel and another in my breastfeeding basket for quick use!
5) Nipple Shields
What is a nipple shield? A nipple shield is a silicone shield that's adhered over the nipple while breastfeeding.
Nipple shields are a great option, specifically for babies with latching difficulties, moms who have flat or inverted nipples, and sometimes overactive letdowns.
If your lactation consultant recommended you use one, you can keep 1-2 backups in your breastfeeding basket. It makes them easy to access and keep an inventory of in the event you need to replace one.
6) Water Bottle
Breastfeeding will make you hungry and thirsty. Keeping a full water bottle in your basket is a great way to ensure you're drinking a lot of water and staying hydrated!
Keep in mind, you don't want your water bottle to be too big or heavy since you'll be taking this basket around the house with you (unless you have a rolling caddy).
Instead, opt for a standard plastic water bottle OR grab a small water cup like this one which will be just enough to keep you refreshed during a long nursing or pumping session.
Recommended Breastfeeding Post >> Is The Willow Wearable Breast Pump ACTUALLY Worth It?
7) Burp Cloths
You never know when baby is going to spit up, spit up again, and oh yeah, spit up one more time. They also come in helpful in the event of diaper blowouts — being able to wipe up the mess before the diaper change so you're not covered in baby poop is extra helpful.
Keep 3-4 burp cloths (these burp cloths are big and soft!) nicely rolled up and ready to go in the even you need them.
Plus, they come in handy in case you catch a case of being clumsy like I do sometimes and spill your own water on yourself. Mom life I tell ya!
8) Warm or Cold Breastfeeding Compress
Get yourself a pair of compresses that can be used for both warmth and cooling.
I got these compresses and really liked them — they were also very soft which made applying them to my breasts much more comfortable when needed compared to some of the plastic breastfeeding compressed out there.
Cooling is great for when you're having pain and need to reduce some inflammation and literally soothe your breasts. Whereas warmth is by far one of the best ways to open up those milk ducts and help your milk flow out (for instance if you have mastitis or a clogged milk duct).
9) Prenatal Vitamins
If you're anything like me (or any mom out there who is forgetful) there's a chance you forget to take your prenatal vitamins one too many times.
Keeping it in your breasfeeding basket (as long as you don't have other small children who can gain access to them) is a great place because chances are, you'll be looking into this handy little basket multiple times a day.
That means multiple reminders for a new mother to take her vitamins!
Need prenatal vitamin recommendations? Check out Needed. An expertly formulated — easy to take powder prenatal with optimal and researched-backed dosing of all nutrients NEEDED by moms! Don't miss out on saving 20% off your first order of Needed Prenatals. Shop THIS LINK & apply code MOMAFTERBABY at checkout.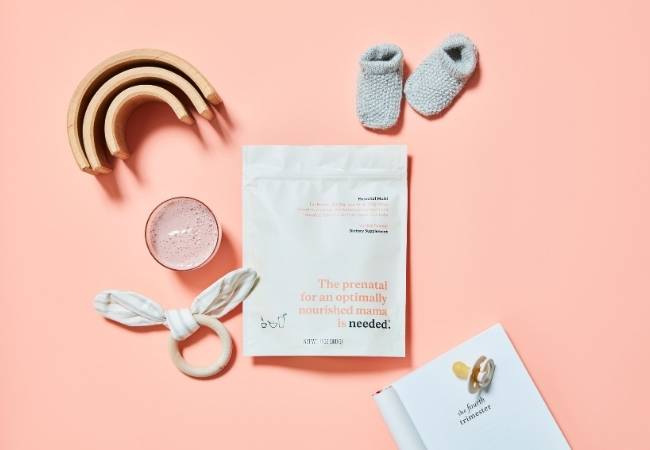 10) Baby Wipes
Baby wipes are great for everything and anything. Why I waited to get them until I had kids I have no idea, but I digress!
Baby Wipes will come in handy for just about any mess that needs to be cleaned up. They're also helpful to wipe off the exterior of your pump or any milk droplets that spill onto your dresser or nightstand.
My personal favorites are Water Wipes (seriously, they are SO good at cleaning everything). They're wipes that are practically just water — very soft and moist making it perfect to clean up messes without worrying if it'll agitate anyone's skin.
11) Nursing Pads
If you have the breast milk collecting shells, you probably won't need these in your breastfeeding caddy.
If saving every drop of milk isn't a big deal for you, then definitely pack in some nursing pads so you're not covered in breastmilk every time you nurse your baby.
You can stock an environmentally friendly reusable pad like these ones or just opt for disposable nursing pads instead.
12) Spare Breast Pump Parts
You never know when your pump might need a little love. Did you know you're supposed to replace key parts like the tubing, membranes, and duckbills periodically?!
That's right, your pump needs regular maintenance. So double-check your pump's instruction manual to see what needs to be replaced and then keep 1-2 extra parts stashed away in your basket in case you need to replace something while pumping.
Here are a few replacement part dupes that have gotten excellent reviews for being just as good as the original parts (at much less cost!):
13) Extra Nursing Bra or Pumping Bra
You never know what kind of mishaps can happen during a nursing or pumping session.
One time I was pumping around 2 am and I remember I got all my supplies ready, went to put on my pumping bra to find the zipper was broken. I must've not realized it, but I washed it earlier so I'm guessing it fell off during the laundry cycle.
Thankfully, I had a backup bra stashed away in my breastfeeding basket so it ended up being crises averted pretty quick.
Avert all crises and keep a backup bra (this one is good for nursing AND pumping!) stashed away at all times!
Recommended Breastfeeding Post >> Lactation Smoothies for Breastfeeding Moms ft. SmoothieBox
14) Phone Charger or Phone Battery
Of the many things to do while pumping or breastfeeding baby, being on your phone is probably the number one choice.
To make sure you don't end up with a dead phone battery, keep an extra charger or battery pack in your nursing basket.
15) Socks
Maybe it's a chilly night and your feet are getting cold, no worries because you decided to keep some super soft, warm, and cozy socks in your basket. Done and done.
16) Small Throw Blanket
Again, it could be a chilly winter night and you're freezing your butt off waiting for your baby to finish his or her meal.
Keep a small throw blanket folded nicely away in your basket so you can warm up whenever you need it!
17) Chapstick
I have NO idea why (well, I'm assuming it's the hormones), but my lips were SO dry when I breastfed my first baby.
It didn't take long before I came across Earth Mama's Lip Balm which kept my skin smooth and much less chapped than before!
In fact, not only should these be packed away in your breastfeeding basket, but keep one in your car, purse, changing bag, and all over if you can!
18) Portable Small Light
If it's a late-night session you'll want to have a portable light available so you can actually see what you're doing without having to turn on the room light (especially if baby is asleep).
My favorite is the VAVA Night Light for Kids. You can switch between a cool and warm temperature color, low dim to bright, while all being gentle enough for a child's eyes.
19) Extra Nursing Pillow Cover
Diaper blowouts while nursing. I'll just leave it at that.
Depending on the nursing pillow you have, you can get replacement covers and keep one ready to go just in case! Here's a couple of the most popular brands:
20) Breast Massager (electric or handheld)
Breastfeeding is all supply and demand. That's why fully emptying your breasts while feeding and pumping is key.
Three-ways to ensure you're emptying efficiently is to manually hand massage your breast, use an electric massager like the LaVie Lactation Massager which tons of moms swear by, and lastly a lactation hand massager.
Though I haven't used this product myself, many moms who struggle with clogged milk ducts have said it helped their breast milk supply by preventing those clogs. Of course, it's all anecdotal suggestions, but could be worth a shot if you end up experiencing frequent clogging.
Where To Put Your Breastfeeding Basket At Home
Having a breastfeeding basket throughout your breastfeeding journey can save a lot of time trying to hunt and find the necessities you need. That's why if you do make yourself one, be sure to store it in the place when your breastfeeding session or pumping session will happen most frequently. If your basket has handles you can carry it around the house with you.
Another great idea if you have hardwood floors is to go with the wheeling caddy option so you can always have what you need by your side. Wheeling a cart around is definitely easier than carrying a tote and baby at the same time. You can think of it as a portable breastfeeding station in a sense!
Know a new mom? Give Her A Breastfeeding Gift Basket
Want to give the gift of breastfeeding essentials to a new mom (as long as she's planning to breastfeed)? You're an AMAZING support person! Here's what you can do:
No matter which option you go with, the breastfeeding mother to be will surely appreciate your thoughtful great gift forever!
---
Do you think these breastfeeding basket essentials could be helpful for you? Comment which ones you'll be adding to your breastfeeding caddy below!
Read more breastfeeding articles here: