This post may contain affiliate links that I may receive a commission from if you click & buy. In addition, the information on this site is NOT intended to be medical advice. See my full policy for more information.
If you landed on this article, I'm going to bet you're a mom who feels overwhelmed, burnt out, and likely — exhausted. I have good news. I know of an incredible conscious parenting course that can help you break the negative cycle and feel more connected with your children. Ready to learn more?
Parenting children, especially young toddlers who need constant guidance and connection is NOT easy.
We often find ourselves letting old habits take reign, preventing us from showing up present and able to connect before we correct. This leads to the epic power struggle between you and your child — IT'S EXHAUSTING!
I want you to know you are not alone. I want you to know that this exhausting cycle of always feeling like you're not good enough does not need to be the final chapter.
Join me below as I talk about my favorite conscious parenting course, the one that has transformed my own motherhood experience with my children (including one on the spectrum) and husband.
No time to read this post? View the transformational Conscious Parenting Course(s) that made me a better mother, wife, and person. What do you have to lose?
What is Conscious Parenting?
Conscious parenting is a huge shift in how we traditionally have been taught to view our children's big feelings in a more conscious light.
Dr. Shefali, a world-renowned clinical psychologist, really kickstarted the world of conscious parenting after she appeared on the popular network show, Oprah, to discuss her 2010 book — The Conscious Parent. She's considered by many to be the greatest teacher of mindful parenting.
This parenting style includes being consciously aware of our own triggers, accepting our children (and their big feelings), healing from our own past wounds, and ending the hierarchy of parent over the child while embracing a collaborative relationship between parent and child.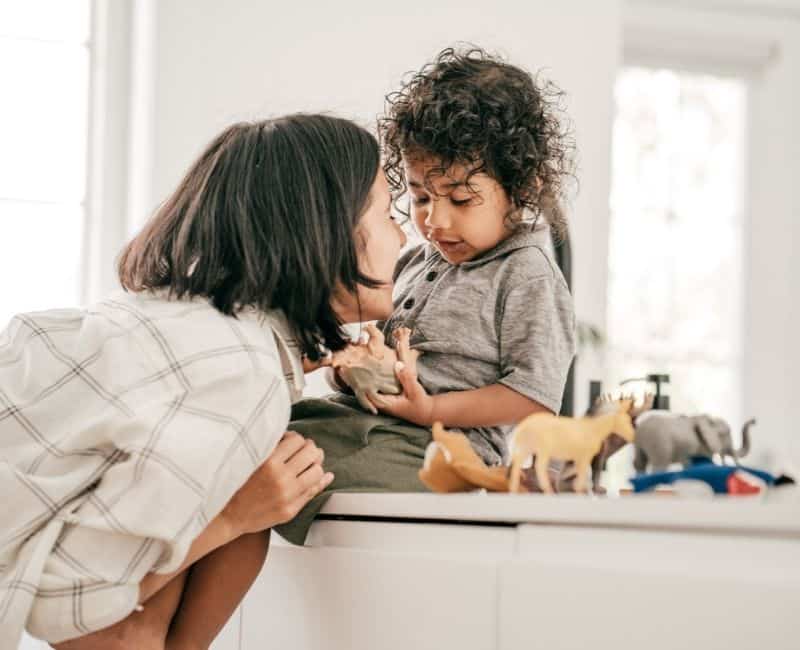 Misconceptions About Conscious Parenting
Conscious parenting often has a negative connotation around raising children who "walk all over" their parents. Individuals think that if you focus on connection or secure attachment first, rather than correction first — you're raising "weak" children.
Let me explain these misconceptions a little bit more:
Conscious parents never get mad: Contrary to popular belief, regardless of how we choose to parent, we will all feel a variety of emotions — including mad, sad, or angry. The difference between a conscious parent and a traditional parenting method is that a conscious parent prioritizes their regulation first. They understand their triggers and they know how to regulate them more often than not. On the contrary, traditional parenting methods would show up not realizing why they're so triggered by their child's big feelings; often leading to power struggles, yelling, shame, guilt, and sometimes even abandonment (ex. go to your room until you act good, I'm tired of dealing with you).
Conscious parents don't enforce any rules: This couldn't be any farther from the truth. Conscious parents rely on clear, healthy, and safe boundaries to maintain a healthy relationship with their children.
Conscious parents are raising weak children: On the contrary, conscious parents are raising children with emotional intelligence. These powerful everyday tools of knowing how to understand, cope and manage all kinds of feelings are beneficial for ALL family members involved.
Research continues to support conscious parenting. Now, I know you're probably wondering "well…how do I become a more conscious parent?".
Luckily, the online conscious parenting course I'm about to share takes parenting to a deeper level. A level where you'll learn the very basics of conscious parenting in an applicable way to your everyday life so you can STOP trying to control your children's behavior and start to understand their behaviors beyond the surface.
Recommended for you >>> 10 practical ways to be a calm mom (without driving yourself crazy)
Transformational Conscious Parenting Course (Workshops)
If you're ready to feel more connected with your children, heal from your own childhood wounds, and feel more confident as a parent — this is where you can begin.
These live virtual parenting workshops were created by Bryana Kappadakunnel, an LMFT (Licensed Marriage and Family Therapist) who specializes in conscious parenting, child development, and maternal mental health.
They are affordable workshops (at the moment less than $40) put together in a way that is easily digestible and not overwhelming for parents to take in.
Benefits of Taking a Conscious Parenting Workshop
Taking this conscious parenting workshop was the best decision I've ever made. As a mother, my journey into parenthood started a bit rocky (as I think they all do in some ways).
I found myself faced with continuing old habits or being given a choice to break the cycle and become a better parent. Now, I'm not perfect. I'm only human. I have many days where I'm simply pushed past my limit, but still, I can focus on making choices that matter such as repairing that connection with my child if I do snap or making sure to set my pride aside to apologize and admit when I've made a mistake.
Those are just some ways conscious parenting can help us model these positive new skills to our children. Here are some other important benefits:
Helps both parent and child reduce stress/anxiety.
Encourages children to embrace and trust themselves as whole beings.
More effective communication.
Skills to feel comfortable setting clear and concise personal boundaries.
Reduces 'negative behaviors'.
Can help parents and children heal from emotional old wounds (and acknowledge their own inner child).
Strengthens the bond between child and parent.
Encourages parents to meet their own needs as well as their child's needs.
Brings together the family unit as a whole.
What to Expect from This Live Workshop
The BEST part about these conscious parenting workshops is that they're all broken down into 90-minute live zoom sessions (60-minute presentation and 30-minute Q&A) spread across 4 workshops per year.
This makes all the information easy to digest. It also allows parents to ask questions LIVE during the workshop. Once the workshop ends, parents who signed up will get access to the replay along with the workbooks provided.
Parents will walk away with key strategies and tools to implement in their everyday lives. Take a look at the course materials for this workshop, Consciously Managing Meltdowns. I mean, it is loaded with information.
Now, these conscious parenting courses are NOT a "what is conscious parenting" FAQ kind of course. They are practical and applicable to real-life problems that many toddler parents experience.
These workshops have transformed my motherhood experience. I've learned to be more patient with myself as I navigate my own inner child wanting to come out at times. I've learned how to pause and look beyond my child's behaviors. I only wish I had found these courses earlier in my motherhood journey.
---
As my friend Bryana always says, "there is no right or wrong way to parent, just a conscious or unconscious way", Are you ready to reach your highest potential as a parent through conscious parenting? If your answer is no, leave me a comment — what's holding you back? If your answer is yes, I'm so excited to be on this journey with you!
Read more motherhood articles here: