How To Combine Breastfeeding and Pumping – Tips For Success
This post may contain affiliate links that I may receive a commission from if you click & buy. In addition, the information on this site is NOT intended to be medical advice. See my full policy for more information.
One of the most common questions new moms will ask lactation consultants is, "can I bottle feed my breastfed baby?" While not every breastfeeding mom uses a breast pump, the vast majority do, and they want to know how to combine breastfeeding and pumping. That's exactly what you'll learn in this article.
The thing is, when moms hear the words, exclusive breastfeeding, they often think of a baby who is only nursed at the breast. However, breastfeeding can be done by breast or by the bottle (aka pumped breastmilk).
Did you know, that approximately 85% of US mothers with healthy babies use a breast pump in the first 4 months after birth? That means it's another good reason to learn how to combine breastfeeding and pumping for your baby.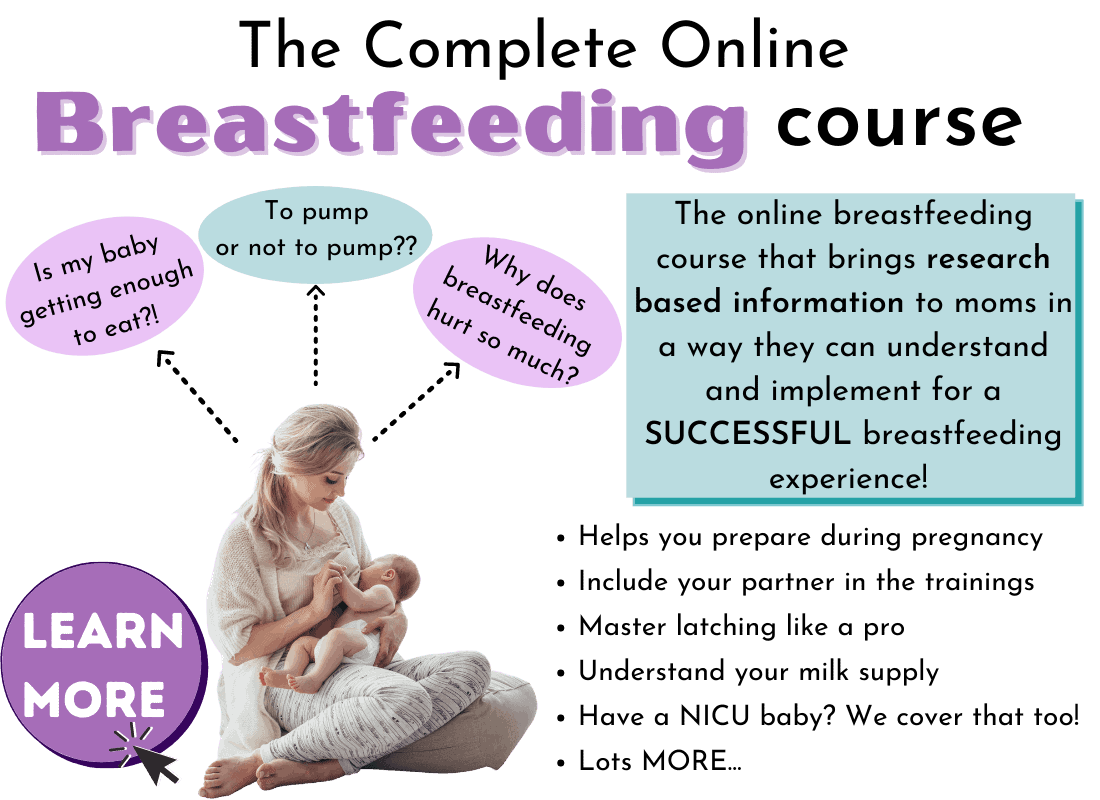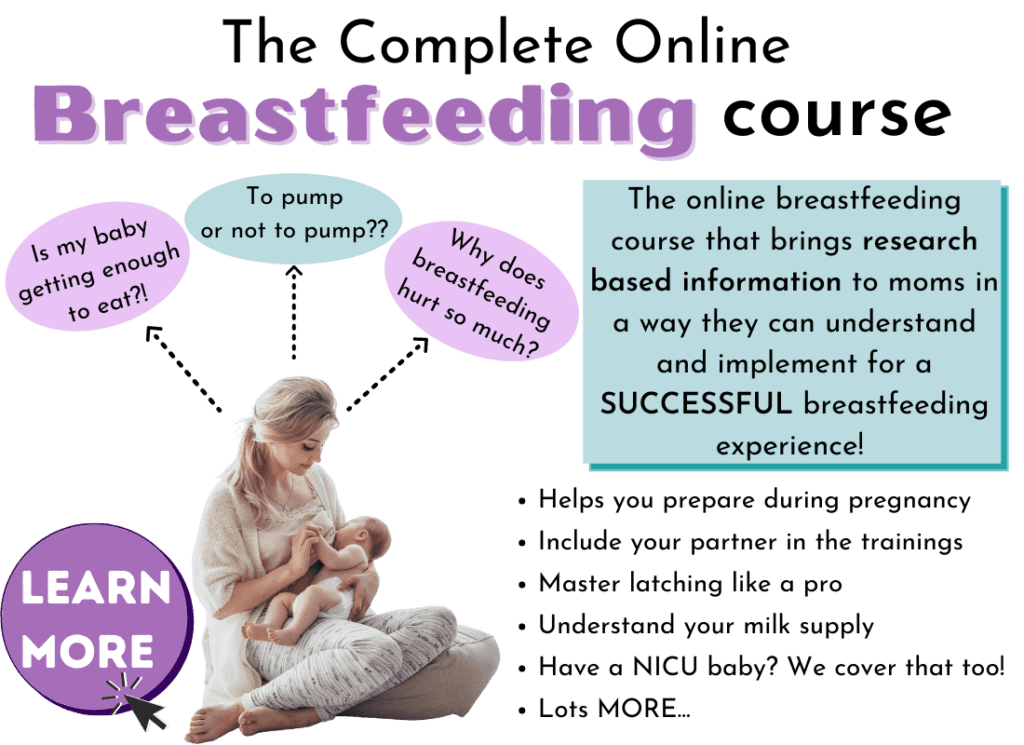 How to Combine Breastfeeding and Pumping
If you're planning to practice combination feeding by nursing your baby at the breast and pumping for them, you're not alone.
One of the best ways to master the art of breastfeeding and pumping is to stick with a pumping schedule that aligns with your nursing sessions. You'll also want to ensure you've researched your options of electric breast pumps and even a manual pump in case you ever have to deal with a clogged milk duct.
These, however, are just a few tips to help you get started.
Top Reasons Moms Combine Breastfeeding and Pumping
Having enough milk is a common concern of new breastfeeding moms. So it comes as no surprise that keeping up their milk supply was stated as the most common reason for pumping (Source).
Some moms struggle to nurse their babies and without the proper lactation support, they resort to primarily pumping instead.
Another frequently cited reason women express their breast milk is so that someone else can feed their baby (Source).
Working moms who want to continue to breastfeed make up another large percentage of moms who combine breastfeeding and pumping.
Some moms experience recurring mastitis and clogged milk ducts. Pumping can help to alleviate clogs and discomfort.
14 Tips to Combine Breastfeeding and Pumping
1) Pump After Breastfeeding: If you're planning to nurse and pump, it's ideal to pump after a nursing session. This way, your baby can naturally draw out the amount of milk they need. Once they're finished, you can begin your pumping session. Keep in mind, that this will likely increase your milk supply as it's signaling to your body that more milk needs to be made.
2) Try a Manual Breast Pump: Manual breast pumps (like the Haakaa) are great for a number of reasons. If your little one typically nurses from one side, you can attach your Haakaa to the other breast to catch your let down and even suction a little more without fully emptying (if you don't need to completely empty). You can also use a handheld pump like these to make pumping on the go 100x easier.
3) Use Proper Storage Containers: Trust me when I say, you don't want to use the cheapest storage bags. I experienced firsthand losing frozen milk all because I used the cheapest bags that (shocker) would end up easily tearing and end up a huge mess when thawing. Opt for a reliable storage bag like Lansinoh or Kiinde. If you're using a hands-free pump, you'll likely have to use the bags they come with (like these) which are great (I know, I used the willow for a long time).
4) Be Aware of Nipple Confusion: You've probably heard of nipple confusion before, but is it actually a thing? I'm here to tell you that interchanging bottle feeding and nursing MIGHT cause some preferential changes, but the baby is not necessarily confused or struggling to drink from the breast. They often just prefer to drink from the bottle because, well, it's a lot easier and requires a lot less effort.
5) Utilize Manual Compressions: If you're nursing and pumping for your baby and having a hard time expressing any milk after nursing, that's a good sign! It means your baby took all the milk they needed and clearly, emptied your breasts. However, if you want to squeeze out a little extra milk, try manually expressing from the top/back of the breast down towards the nipple. If you're prone to getting clogged ducts, this can be another great way to prevent them, too.
6) Use Heat: Heat is another great way to open up those milk ducts and empty out some milk. You can even apply heat during your breastfeeding session prior to pumping by using these highly rated handheld warming and massaging breast pads.
7) Have a Quiet Place to Pump: Having a calm environment to express milk is great whether you're pumping or nursing your baby. It can help you feel relaxed, in turn helping the milk flow more easily and it can also minimize distractions as your baby gets older and curious about their surroundings.
8) Practice Pace Feeding: Pace bottle feeding is a technique that slows down the flow of milk and allows your baby to be more in control of their feeding (essentially, mimicking the way a baby would nurse at the breast). Here is a great video on how to pace bottle feed a baby.
9) Have an International Board Certified Lactation Consultant (IBCLC) on Standby for Support: You can never have too much support in your corner. This is why I always suggest breastfeeding mothers have an established connection with a lactation consultant or lactation educator so that if any problem arises, they won't need to go through anyone else to try and find help.
10) Buy the Right Baby Bottle: When you're a mom who is (nursing) breastfeeding and pumping, you want to make sure you're selecting the right baby bottle. You don't want any sort of fast-flow nipples at all. Instead, opt for a bottle like the "Breast Flow" baby bottle — which offers a unique design to mimic the same latch and suction as a baby would need to do while nursing at the breast.
11) Drink Plenty of Fluids: When you're pumping or nursing alone, keeping hydrated is important. When you're combining both — you guessed it, even more important! Make sure you have a water bottle around at all times because it's thirsty and hungry work to feed your baby.
12) Stick to a Schedule: When it comes to establishing a schedule, keep in mind that most babies breastfeed every 2 to 4 hours depending on their age. That said, your schedule might look like this: 5 am Nurse Baby/Pump, 8 am Nurse Baby, 10 am Nurse Baby, 1 pm Nurse Baby, 4 pm Nurse baby/Pump, 7 pm Nurse Baby/Pump. It truly can vary depending on how much extra milk you're trying to store away for later and how much milk your current supply is providing.
13) Use a Reliable Breast Pump: It's true, that having a quality breast pump can make or break your pumping success. You can read more here about which breast pumps I personally suggest and what to look for when choosing a pump.
14) Learn How to Properly Store any Leftover Breast Milk: Lastly, you'll want to become a pro at storing your breast milk properly. The last thing you'd want while putting in all this hard work and effort is to have to waste the milk you expressed due to improper milk storage.
When To Start Pumping When Breastfeeding
A new mom should start pumping (with a high-quality breast pump) when she has a reason to pump. A mother who gives birth prematurely should start pumping within the first few hours after giving birth. Other mamas won't need to start pumping until their baby is several weeks old
If breastfeeding is going well for you in the early days, focus on getting comfortable with the basics before thinking about how to combine breastfeeding and pumping.
Learn how to breastfeed in two or three different positions
Master getting a good latch
Learn your baby's feeding cues
Recognize when your baby is swallowing
Become aware of signs that your baby is full
Once a mama feels like she has an easy rhythm established with her new baby, she can start to work on combining breastfeeding and pumping.
The Best Time To Pump For Baby
If you are going to miss a feeding, you will want to pump as close to the missed feeding as possible. If you are working on building a freezer stash of breast milk, the ideal time to pump is right after a feeding at a time when your milk supply is most abundant.
Most women have their most abundant milk supply of the day during the early morning hours or late at night. Although you might get more milk if you pump right after the 2 am feeding, you will probably be happier to pump after the 8 am feeding.
The rationale for pumping right after a feeding is because prolactin levels are typically higher approximately 30 minutes after nursing (as you can see in this study). You don't want to take milk away from your baby's next feeding. Moms who pump between feedings will get more milk, but their baby will get less milk at his next meal.
Some moms who have an abundant milk supply and only feed on one breast at a feeding may be able to pump from the other side.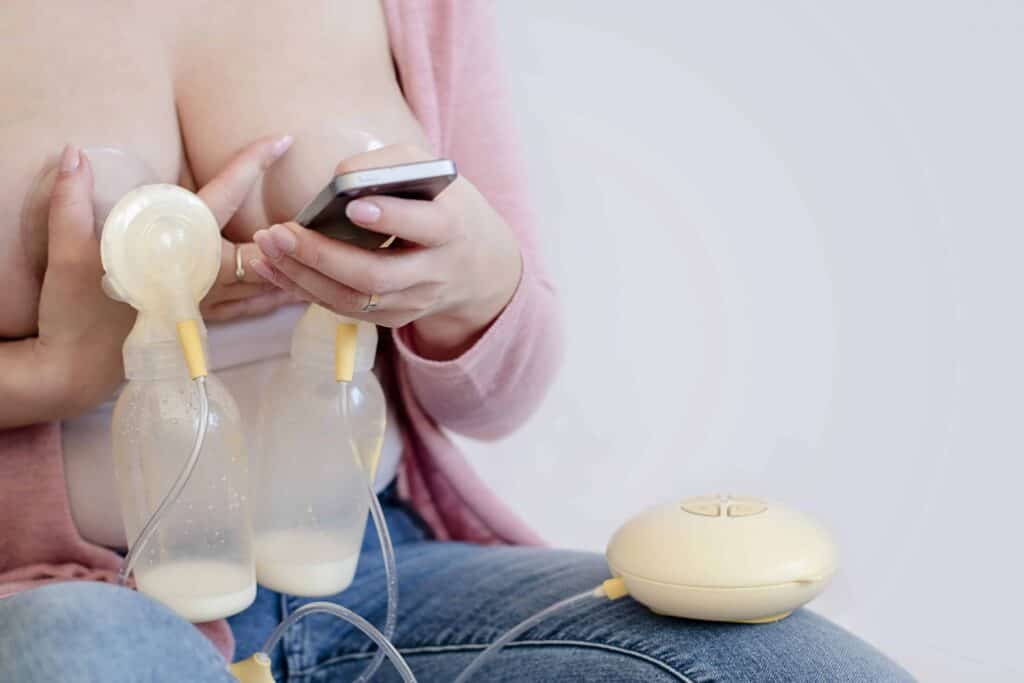 How Often Should I Pump?
The pumping frequency should be individualized according to your needs. Your goal for how much milk you need and your timeline will help you determine how often you need to pump.
Are you pumping for a bottle for date night, or are you trying to build a freezer stash in preparation for going back to work?
You may only need to pump once or twice for the date night bottle. Building a freezer stash will take more time.
To build a freezer stash, consider these variables:
How much do you typically get when you pump?
Do you have a deadline for when you need the stash?
Start by pumping once a day. Increase the frequency if your stash is not growing as quickly as you need.
If your baby is sleeping a stretch longer than 4 hours at night you can experiment with pumping an hour or two after her last feeding. If she begins to shorten the length that she sleeps you will know to go back to pumping after feedings.
Moms who tend to overproduce may want to only pump every few days to avoid making an oversupply problem worse.
Other Tips on Nursing and Pumping for Baby
Put a little bit of

lanolin cream

or

nipple butter

on the inside of the pump breast shield right where the shield bends to make pumping more comfortable.
Freeze your expressed milk in two to four-ounce amounts to minimize the need to discard unused milk.
You can combine milk from different pumping sessions.
When adding milk to frozen milk, refrigerate the new milk for at least one hour.
Never add a larger volume of milk to what is already frozen.
Which Pumped Milk Should I Use When Feeding My Baby?
Freshly pumped milk is always the best option.
Any milk in the refrigerator will be the next best choice.
When using frozen milk, you should use the oldest milk.
Must-Have Pumping Accessories
When combining breastfeeding and pumping, there are some products that can make your life easier.
An alternative is a wearable breast pump that goes right into your bra, like the Willow 3.0
A clean mat or towel, so you have a clean place to put your pump parts on.
Spare parts – different pumps have different pieces that have to be replaced regularly. Find out what these are for your pump by reading your pump's manual and having extras on hand.
Does the combination of breastfeeding and pumping mean you'll have an oversupply?
Depending on when and how you structure your nursing and pumping routine, it could impact how your breast milk supply is established.
For example, if you're nursing and pumping back to back (within the first 6 weeks after your baby is born), there is a good chance you may increase your milk supply beyond what your baby actually needs.
However, if you only pump WHEN NEEDED, you'll have a much better chance of establishing a normalized supply.
Things To Keep In Mind When Combining Breastfeeding and Pumping
It can be very satisfying to a new mother to see her breast milk fill up bottles when she pumps. It can be very reassuring. However, while some moms love pumping, other women hate pumping. Neither feeling is right or wrong.
Don't compare how much you can pump with other mothers. Some moms like to show off by posting their freezers full of milk on Instagram or Facebook. Your supply is perfect just by making any milk for your baby.
With these tips and some planning ahead, you should be able to combine breastfeeding and pumping successfully.
Other BREASTFEEDING Posts You'll Love: