15 Easy Baby Costumes for Halloween
This post may contain affiliate links that I may receive a commission from if you click & buy. In addition, the information on this site is NOT intended to be medical advice. See my full policy for more information.
Halloween is just around the corner, and it's the perfect time to get your baby dressed up in a cute and adorable costume! Whether it's your baby's first Halloween or you're looking for an easy DIY baby costume for your little bundle of joy, we've got some easy baby costumes for Halloween ideas for you, so keep on reading.
I'll never forget my baby's first Halloween. We got the cutest little pumpkin onesie and beanie set from Target — and though he looked adorable, he was absolutely NOT having any of it. So, lucky for you, this list will have you covered in the event your first idea doesn't go as planned.
From DIY baby Halloween costumes to animal-themed outfits, we've got you covered. Plus, we'll explore some family costume options and matching costumes for mama and mini. So, let's dive into the world of spooktacular Halloween cuteness for the babies!
DIY Baby Halloween Costumes: Simple and Sweet
When it comes to dressing up your little one for Halloween, a DIY baby costume can be a great idea. Not only do you get to show off your creativity, but it's also a fantastic way to involve older siblings or the entire family in the Halloween fun. Plus, who doesn't feel extra accomplished after putting together some DIY halloween costumes?
DIY Baby Costume Idea: Baby Shark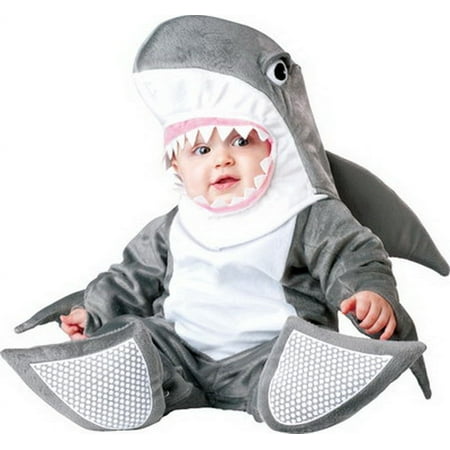 "Baby Shark, doo doo doo doo doo doo…" This song has become a household favorite (not by parents), and dressing your baby up as a baby shark is a fantastic and easy costume idea. All you need is a red onesie and some white fabric or felt pieces to create the shark teeth. Use fabric glue or a sewing machine to attach the teeth to the onesie, and you've got an adorable baby shark costume that'll be the hit of the Halloween party.
Shrimp Salad Circus pulled off one of the cutest DIY Baby Shark Halloween costumes — you just have to check it out!
DIY Costume Idea: Baby Yoda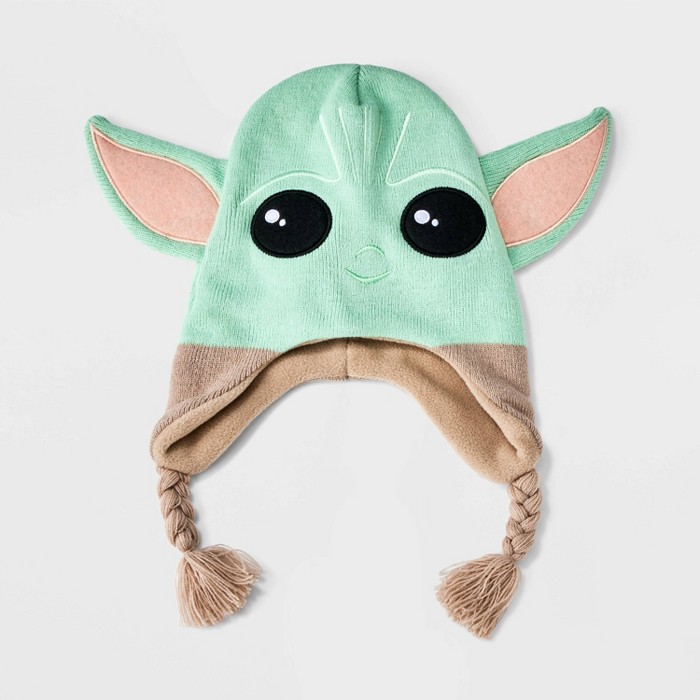 The force is strong with this one! Baby Yoda from "The Mandalorian" has captured the hearts of many. To create this adorable look, you'll need a solid-color onesie, preferably in green, layered with a tan or brown jacket (to be the robe). Then, fashion some black felt eyes onto the front of the hood and some large, pointy ears out of green felt or fabric and attach them to a matching hat or beanie.
To save some time, you can also snag this adorable baby Yoda cap and bootie set for your baby. Your little one will look like the cutest little green alien in the galaxy and it's just that simple.
Mummy Baby Costume DIY
Here's another super simple DIY costume for baby — a mummy costume. All you'll need for this adorable costume is a white onesie, a few pieces of gauze, and some large googly eyes.
String the gauze across the front of the onesie so it looks like baby is wrapped up like a mummy. Then, use some fabric glue to adhere the googly eyes (this will make it look like someone is peaking out). There you have it, one of the easiest DIY Halloween costumes to put together.
Don't want to make it yourself? Snag this premade mummy onesie right here!
Animal Costumes for Baby: Wildly Cute
Animal costumes are a perennial favorite for babies on Halloween. They are easy to put together and create an irresistible level of cuteness. Here are a couple of animal-themed Halloween costume ideas for your baby.
Owl Costume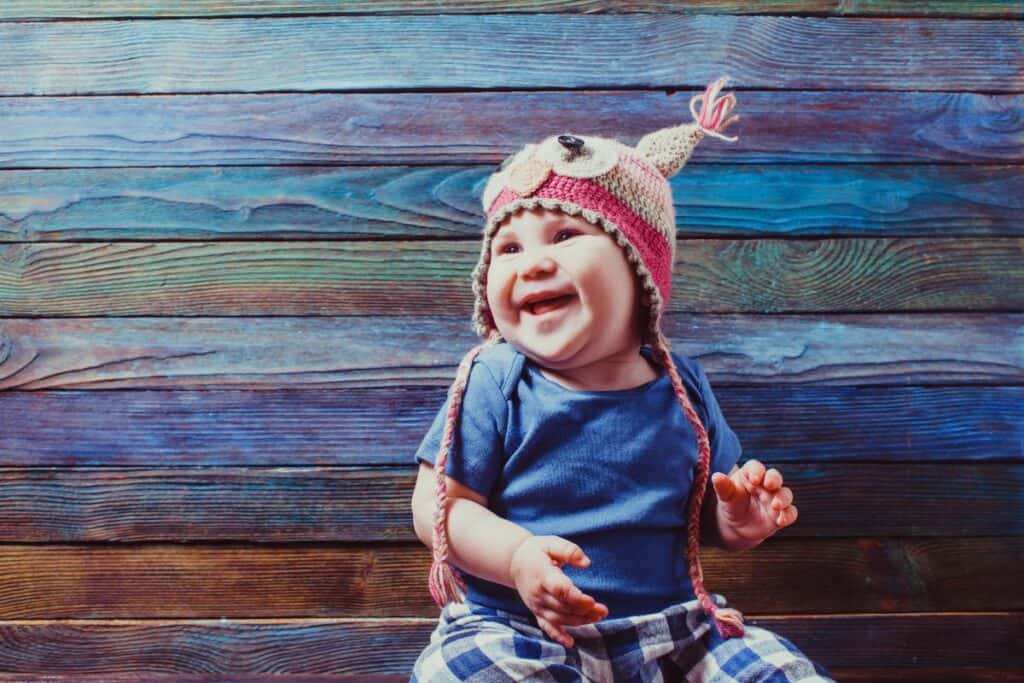 Who can resist an adorable baby owl? To create this costume, you'll need a white or brown onesie and pants as the base. Snag one of these ultra-adorable knit owl beanies from Etsy and your costume is complete! It's a hoot of a costume that takes minimal effort to put together!
Black Cat Costume
A black onesie, some cat ears, and a clip-on cat tail are the main items needed to pull off this adorable baby costume. Use a hot glue gun to attach the cat tail to the back of the onesie, place baby's cat ears on their head and you've got a mini panther ready for treats!
Baby Bat Costume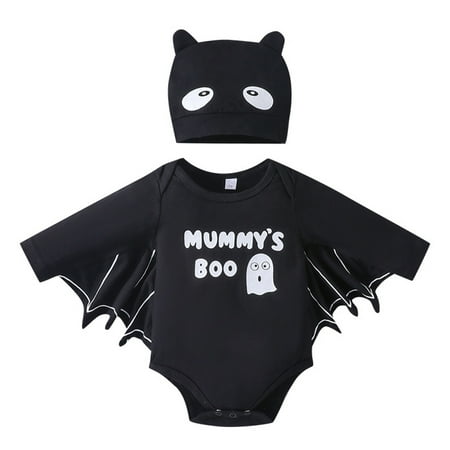 Nothing is more cute than your little one dressing up as a baby bat for Halloween! Best of all, this costume is easy to throw together on a whim! Simply order a black onesie and some black bat wings! Your little one will be ready to join in on the trick-or-treating with the rest of the family.
Baby Elephant Costume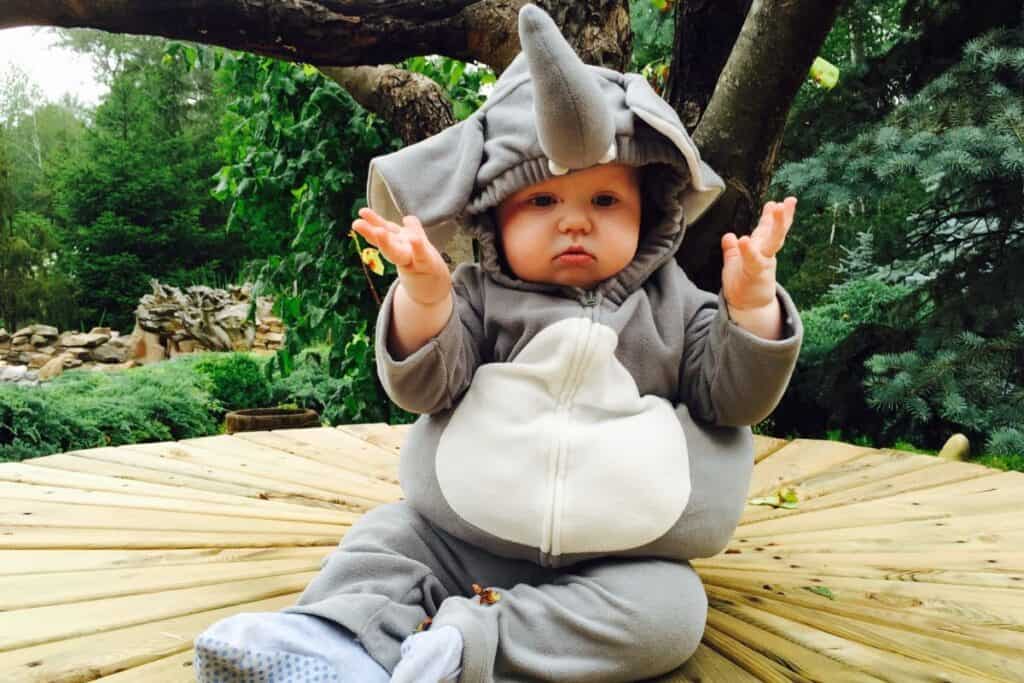 Not quite into the spooky Halloween costumes for baby? Dressing baby up as a cute little elephant is bound to win over everyone's hearts!
Best of all, you can attempt to DIY this costume yourself or buy an already-made costume. Personally, I think this baby elephant costume from Amazon is too cute!
Baby Chicken Costume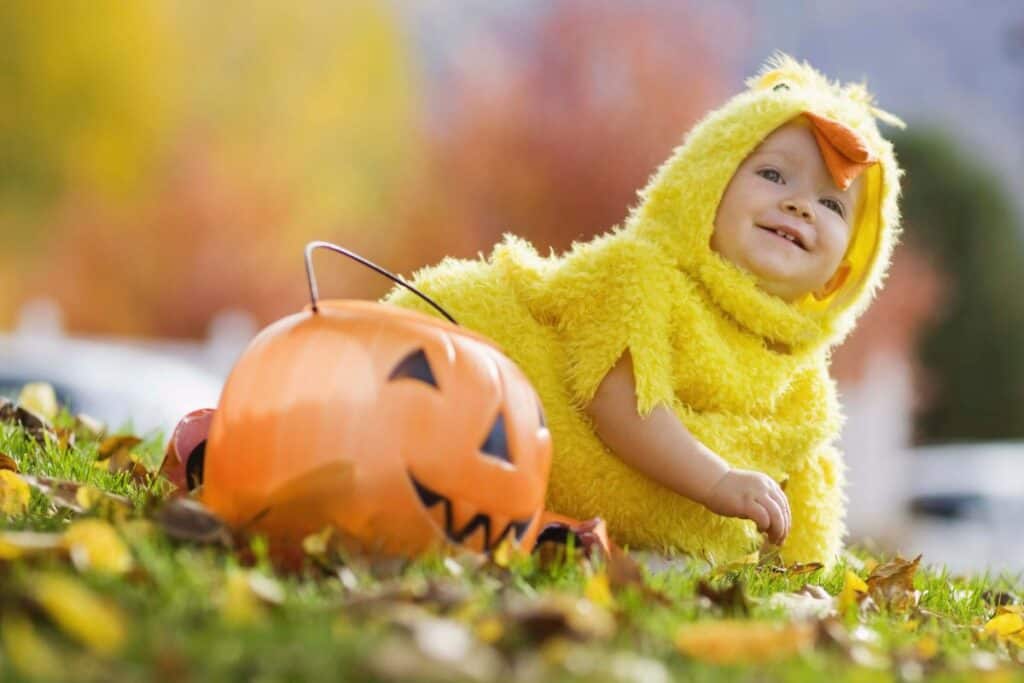 Another great choice for those not into creepy, spooky, or scary Halloween costumes!
The baby chic costume is a great choice if you're looking for an adorable farm animal to dress them up as. You can even get yourself a mama chicken costume and go as a pair together!
You might also like to read >> Fun Halloween Baby Shower Ideas to Celebrate Mom To Be
Newborn Halloween Costumes: For the Tiniest Trick-or-Treaters
Newborns can be a bit trickier to dress up for Halloween, but there are plenty of adorable options to consider. When choosing a costume for your little bundle of joy, comfort and easy diaper changes are the key factors. Here are some more cute ideas for your newborn's Halloween costume.
Adorable Avocado Costume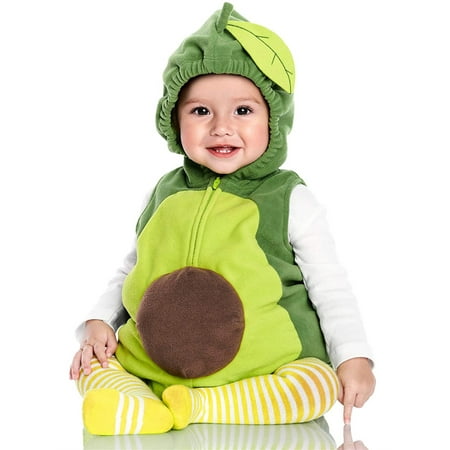 Dressing your newborn as a little avocado is not only easy but also a fun idea! In fact, the entire family can be a bundle of avocados!
Start with a yellow onesie as the avocado flesh and use a dark green felt cutout for the skin. Your baby will look "guac-tastic" in this costume, and it's perfect for keeping your little one snug and comfortable during their first Halloween out and about.
The Very Hungry Caterpillar Baby Costume
This has to be one of my favorite Halloween costumes for babies — not only is The Very Hungry Caterpillar a classic children's book, but it makes for one adorable Halloween costume.
Best of all, you can grab the costume from Etsy for an affordable price. Then, the rest of your family can dress up as the variety of food items this hungry caterpillar decided to munch on in the original story. How cute is that?
Mom's Morning Coffee On The Go (Baby Coffee Halloween Costume)
This baby costume is perfect for all the coffee-loving moms out there. Your baby will look like your favorite Starbucks coffee on the go!
All you need is this super cute Etsy costume and you and your grande hot coffee are ready to win best dressed at all the Halloween parties! If you really want to wow the crowd, dress yourself up as a Starbucks barista and you'll be the ultimate mama and mini Halloween pair!
Baby Skeleton Costume (Onesie)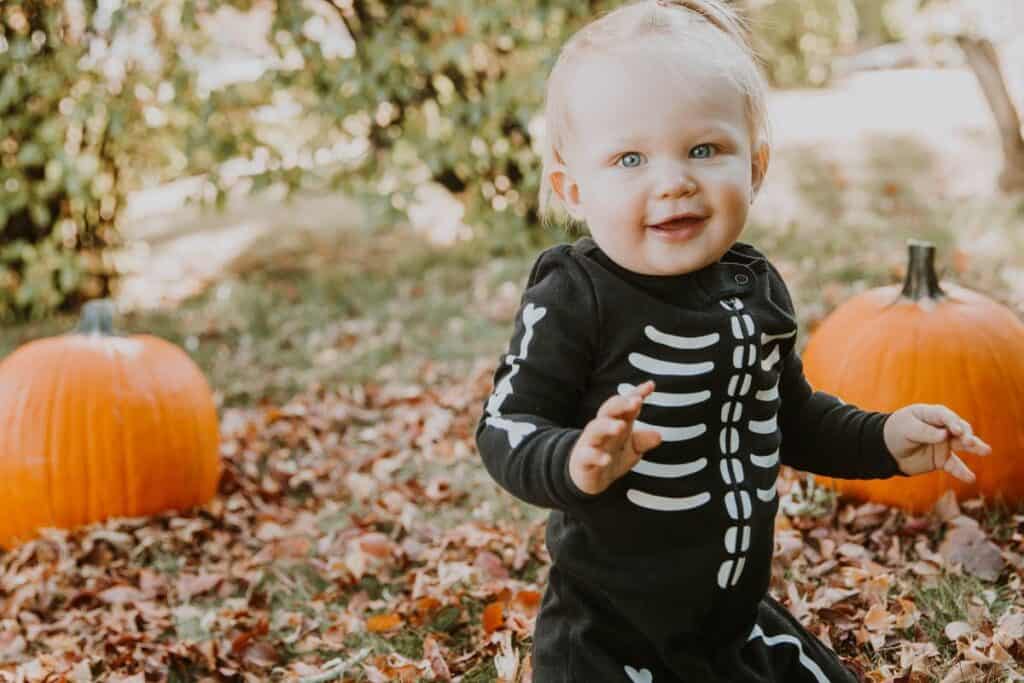 A skeleton costume is another easy Halloween costume choice for babies and infants. That's because all you have to do is throw on a skeleton onesie and call it a day!
If you want to be extra creative, you can order the black onesie yourself and use a silver or white fabric paint marker to draw on the skeleton bones yourself.
Baby Pumpkin Halloween Costume Idea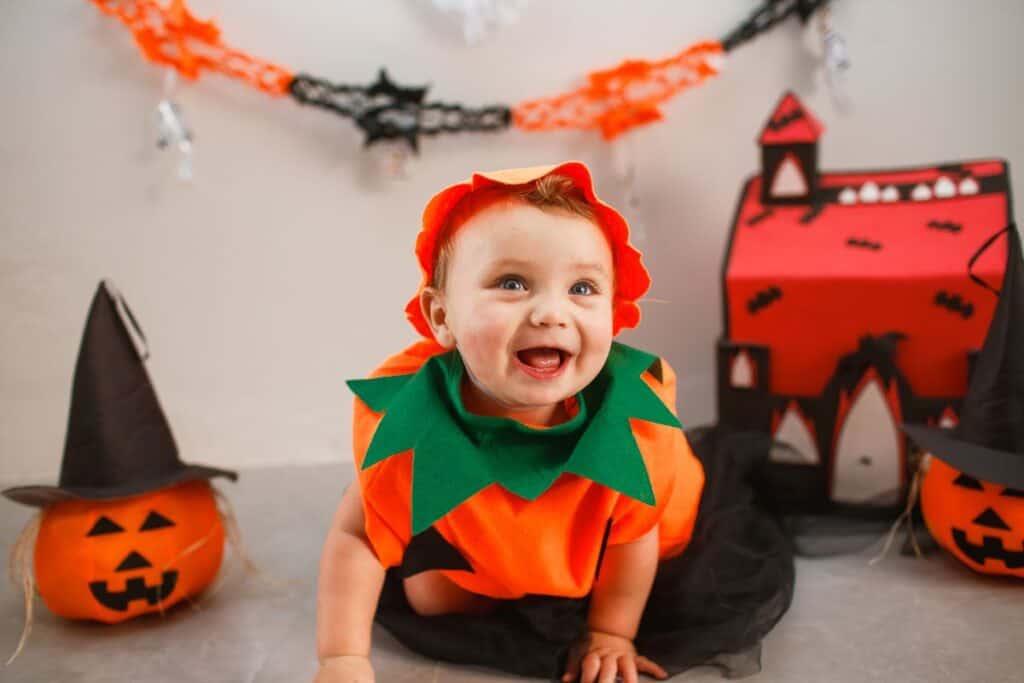 it doesn't get better than this Halloween classic costume: the pumpkin. I mean, you have to admit it, babies dressed up as little pumpkins are pretty darn cute. Best of all, there are tons of pumpkin costumes to choose from! Whether you shop at Target or online at Amazon — the options are limitless!
To make your life easier, here are our favorite baby pumpkin Halloween costumes:
Mama and Mini Matching Halloween Costumes: Double the Fun
If you're looking to coordinate your Halloween outfits with your baby, there are plenty of cute options available. Mama and mini matching costumes are a great way to make a statement and have fun with your little one. Here's a fantastic idea to consider.
Hot Dog and Ketchup
Dress yourself as a hot dog, and your baby as a bottle of ketchup! This matching costume works perfectly because it's simple and hilarious. You can buy or create a hot dog costume for yourself and have your baby wear a red onesie with a "Ketchup" label attached. It's a dynamic duo that will surely make everyone smile.
Mcdonald's Combo Meal — Matching Halloween Costume
You can't get any more creative than you and your baby being a matching McDonald's combo meal. It's pretty simple too…baby can be a small fry and you can be a large fry or soda! You can even get the whole family involved and add a cheeseburger to the meal too! This matching costume set is bound to give everyone a good laugh and most definitely a smile this Halloween.
Best Places to Shop For Your Baby's Halloween Costume
You can find many adorable baby Halloween costumes at your local costume store, baby boutiques, or online retailers.
However, if you're feeling crafty and want to create your own, craft stores are a great place to start to gather up supplies. They offer simple materials, fabric glue, felt, and other supplies you'll need for your DIY homemade costumes.
Remember, the best part of Halloween is spending time with your little one and making memories. Dressing up your baby in a cute costume is a wonderful way to celebrate this spooky holiday together — but if they're not feeling the whole dress-up thing, don't make it a big deal.
Instead, focus on all of the other fun things you can do on Halloween with your little one and your family, together. Wishing you and your family a Happy Halloween!
Read more holiday articles here: