How to keep a clean house with kids & pets (ALL YEAR LONG)
This post may contain affiliate links that I may receive a commission from if you click & buy. In addition, the information on this site is NOT intended to be medical advice. See my full policy for more information.
As a stay at home mom, one of the bonus perks I get to enjoy is the everlasting challenge of how to keep a clean house with kids (and our 2 dogs).
And boy, do I have some household cleaning tips for all you busy moms out there!
First, I do need to give some credit to the handy cleaning products and tools that make my life SO much easier on a daily basis! For instance, my personal ALL time favorite is the Dyson Ball Animal 2 Upright Vacuum!
This vacuum is the ONE and ONLY vacuum that can clean up my shedding labrador's hair every single day, multiple times a day without breaking down.
It's a lifesaver!
The vacuum we had before (which is also a well-known brand) broke down within months of using it. I'm telling you, our labrador sheds more than any dog I know. So if you have pets with hair all over the home, the Dyson will NOT let you down!
How to keep the house CLEAN and ORGANIZED – Products you need!
Before we get into too many tips, I wanted to jump in and share my other favorite cleaning tools that save my life on a day-to-day basis being a mama of a human and furbabies!
Our life consists of drool from both baby and dogs, dog hair, food, and whatever else random secretions these wild creatures throw across the floor. These tools below make it a breeze to clean up!
Bissell Power Fresh Steam Mop
Most of our flooring is hardwood/stone floors. With dirty dog paws, feet, baby drool, food and what other nasties are on the floors, NO THANK YOU! This baby is steam ready within 20-30 seconds!
You have the option of using just water with high or low steam or you can add the scented discs for a nice refreshing scent throughout your home! Ours came with 2-floor pads (one for more surface cleaning and other for deeper grooves).
Microfiber Floor Mop
I like comparing these to the Swiffer. The exception is, you don't need to buy refill pads every week.
You simply wash the microfiber pad and reuse it over and over again. This great for quick messes or just collecting my dog's fur off the ground before letting our son crawl around!
Tips to keep your house clean with dogs and a baby:
Let's move into some helpful tips, shall we?
We can get a million products all day long, but if we don't take the time to use them, we'll they're basically pointless.
So let's dive into how you can apply some basic household cleaning tips to keep your house mess-free!
Brush your pets daily (or at least weekly)
As I complained about in the top half of this post, our dogs shed SO much. I love them dearly, but my goodness these creatures and their hair can drive mama bananas!
Nothing, I repeat, nothing can help with shedding more than a consistent brushing schedule. When I brush these fur dropping animals daily, the shedding in the house greatly reduces.
I personally love using the Furminator for its ease of use to brush and expel the hair from the brush itself. However, you don't need anything fancy. You could get away using a regular dog brush.
Know how to clean dog drool off hardwood floors
My favorite trick for quickly cleaning up dog drool off the hardwood floor is by using our dry mop (mentioned above).
Now, I know the point of it being a 'dry mop', however, when dog drool is involved, you have got to use your all-natural cleaning solution to wet the area, then scrub away with the dry mop!
Just toss your mop head into the wash or rinse off in the sink and you're good to go!
Leaving a nice, clean, dog drool free floor!!
Develop a daily house cleaning schedule
So this is a work in progress for me if I'm being honest.
However, I've found that when I keep a schedule of chores to tackle on a daily basis vs weekly basis vs monthly basis, it helps me to get them done.
I think part of it is because I'm a very visual person – so visually seeing a plan in front of me is amazing.
If you're a planner like me too, I'd encourage you to check out this A-M-A-Z-I-N-G Home Organization Planner!
It has over 80 pages to keep every aspect of your busy home life organized!
I mean, see for yourself below!
I mean, does this not just scream "HELLO MY LIFE IS ORGANIZED A.F." or what?!
Have a 'home' for every item in the house (storage bins).
Having a designated spot for items can make pickup up around the house so much easier, especially with kids.
Are kids done playing? Great, chuck those toys back in the toy bin.
Dog's done chewing their toys? Awesome, back in the dog toy bin they go!
You don't need anything crazy either, we reused one of those giant popcorn tins (yes, the big ones you get during the holidays) and turned it into a toy bin for the dog's toys.
You can also get one of those fabric bins (the kind you'll see on shelves or in the closet) as they store nice and compact and are really cheap!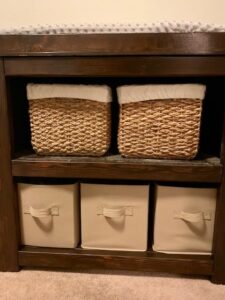 Tackle kitchen mess as you go (including the dishes).
In the moment of a meal prep or dinner preparation, it's way easier to throw your dishes in the sink and deal with them later.
That is until later turns into your baby losing their bananas and now you're all tied up with a list of chores to finish.
Yeah, don't put yourself in that scenario!
Instead, wash your dishes or place them in the dishwasher as you go! I started doing this a few months back once I found myself in the tied-up situation, and wow has it made a huge difference for me being able to keep our house clean and organized.
Pickup while you play!
This is an easy little hack that requires no product or money spending!
Not to mention, a great habit to get your little one to learn how to do as well!
Instead of always pulling out toy after toy for playtime, cooking, dinner, etc…try to pick up as you go!
A simple example, once you finish playing with one toy, put it back in it's home and move onto the next!
Invest in an automated vacuum cleaner
Now, I never lie to you guys and I definitely do not have one of these automated vacuum cleaners. They're on the pricier side and at this time it isn't on my priority list.
BUT if you're busy enough that you don't have the time to manually vacuum multiple times as I do, this could be a really helpful option to consider.
I have a few friends that own one of these and they constantly rave about them.
Maybe one day I'll finally take the plunge to see what it's all about myself!
Save old toothbrushes for cleaning grout and in between tiles.
Instead of throwing away old toothbrushes, save them and repurpose them to clean that nasty grout between your tiles!
Yes, they sell special brushes you can buy, but why not save the extra money and repurpose what you already have?
Stock up on lint rollers
If you're a pet parent, you already know the days when you're trying to get out of the house without dog hair on you come to find your legs are covered in fur by the time you get to your car.
Lint rollers to save the day!
Make it a point to stock up and strategically place the lint rollers around your home where you're most likely to need them!
For instance your cars, the garage, your living room, and a closet/dressing room.
Those are all the little day to day hacks & cleaning tools I use to keep our home looking pristine all year long! I'd love to hear your tips too!
Read more motherhood articles here:
How do you keep a clean house with kids or pets?