10 Practical Ways to Keeping a Clean House With Kids and Pets
This post may contain affiliate links that I may receive a commission from if you click & buy. In addition, the information on this site is NOT intended to be medical advice. See my full policy for more information.
Maintaining a clean house when you have a bustling family with children and pets can feel like an ongoing battle. Trust me, as a stay-at-home mom, I get it. Toys scattered across the living room, pet hair accumulating on the furniture, and a kitchen counter that always seems to be in disarray can make it seem impossible to keep your home clean and tidy. However, fear not! With the right strategies and some helpful tools, you can achieve a clean and inviting home, even amidst the chaos of family life.
Now, before we dive into the best tips, I also want to remind you that even if you have the most perfect weekly cleaning routine, give your kids daily chores, or use the best cleaning tools — there will be times when it's still not enough. And that's OK.
Be mindful to give yourself some grace in the busier seasons of your life, and remember there's more to living than just a clean home. Now, let's dive into those clean home tips.
Must-Have Cleaning Tools for a Tidy Home
In order to maintain a clean home when living with children and pets, you'll need a few trusted tools in your corner. So, let's talk about all the essential cleaning tools that will make your life easier:
1. Vacuum Cleaner with Attachments
Invest in a good vacuum cleaner, preferably one designed to handle pet hair. Attachments for upholstery and crevices will help you clean various surfaces effectively.
Before my husband and I had kids, we went through countless vacuum cleaners that would get destroyed by our dog's hair. It would work great the first 3-6 months, then despite deep cleaning it, replacing parts, etc…. it would lose suction and before you know it, stop working altogether.
That's why I say invest in a GOOD vacuum cleaner. Here are our favorites:
Dyson Ball Animal 2

Pros:

Exceptional suction power for pet hair and debris.
High-capacity dustbin (it's very easy to wipe clean also).
Radial Root Cyclone technology prevents clogging (one of my favorite features).
Self-adjusting cleaner head for various floor types.

Cons:

Relatively expensive (but keep your eyes out for Costco, we got ours on sale there!).
Miele Complete C3 Cat & Dog

Pros:

Powerful suction and exceptional filtration.
Electrobrush for deep carpet cleaning.
Odor-fighting Active AirClean filter.
Durable and long-lasting build.

Cons:

Very high initial cost.
Bags need to be replaced periodically.
Shark Navigator Lift-Away Professional (most affordable)

Pros:

Strong suction and anti-allergen sealing technology.
Lift-Away feature for versatile cleaning.
HEPA filtration.
Brush roll shutoff for transitioning from carpets to hardwood floors.

Cons:

May require more frequent maintenance.
It's a bit loud compared to the other 2 on this list.
2. Microfiber Cloths and Mops
These microfiber cloths are your secret weapons for tackling spills, dust, and grime. They are gentle on most surfaces and highly effective at trapping dirt.
These cloths also come in handy for wiping down any glass or delicate countertops you might have.
3. Broom and Dustpan
Of course, every house needs ol' reliable. A good ol' broom and dustpan. For quick clean-ups, a sturdy broom and dustpan are invaluable, especially in high-traffic areas like the kitchen and living room.
I can't tell you how often I end up reaching for the broom because it's convenient and easy to quickly sweep up the mess and be done.
4. All-Purpose Cleaning Supplies
Now, I'll be first to admit that I try to stick with eco-friendly cleaners. Sometimes, it doesn't do the trick, but for the sake of this article, we'll stick to the child-safe and natural cleaners.
Below, I've listed out some of my favorite cleaning products to help keep your kitchen counters, bathroom counters, and other surfaces that need daily attention clean and spotless:
Eco-Sponges: Made with all plant-based biodegradable materials that can be easily decomposed.
Grove Co. Multi-Purpose Cleaner: Made with 92% plant based ingredients and 100% natural fragrances.
ECOS Bathroom Cleaner: Keep your shower, bathtub, and tile clean and free from soap scum using a bleach-free, natural, and Certified Safer Choice formula.
5. Laundry Basket or Hamper
Having a designated spot for dirty laundry helps to keep clothes from piling up around the house.
Now, I can't promise you your young children will always remember to put their dirty clothes inside the laundry hamper, but practicing every single day is a good place to start.
In fact, we make it a game! I tell my boys, "see if you can throw your laundry in the bin! If not, we'll have to try again or gently place it inside". They always have so much fun trying to throw their closed inside and feel so proud that they lent a helping hand.
6. Storage Solutions
Invest in storage containers, shelves, and bins to keep toys, books, and other items organized. These are essential for tidying up play areas quickly, especially when your kids are familiar with there all of their toys go.
Now that you're equipped with the right tools, let's explore the best ways to maintain a clean and tidy home while living with little kids and pets.
The Daily Cleaning Schedule With Kids: A Clean Home Is Within Reach
1. Embrace Daily Sweeps
Set aside a few minutes at the end of each day to do a quick sweep through common areas if you have hardwood floors. This simple routine can make a world of difference in maintaining a tidy home that's free of dirt and crumbs.
Of course, you may not always have the time, but it's a great little routine to get into after a long day. If you have a robot vacuum, you can schedule it to do a quick run at the end of the day too — making your life that much easier. I personally have a Roomba robot vacuum, but I have heard amazing things about the Eufy being a high-quality, more affordable brand.
2. Get the Whole Family Involved
Cleaning the home doesn't have to be such a boring chore, make it fun and get the family involved. Yes, you can assign age-appropriate cleaning tasks to family members, including older kids and younger kids. This not only lightens your load but also teaches responsibility and good habits.
However, you can make these tasks fun by cranking up the music and having a dance party while you're cleaning. That'll turn any bad day around in a heartbeat all while keeping your home a clean and organized place.
3. Prioritize High-Traffic Areas
Focus your cleaning efforts on the areas that see the most action, such as the kitchen floor and the living room. These spaces are where messes accumulate the fastest.
As a mom of two toddlers, I spend the most time doing laundry and cleaning up the playroom, kitchen, and living room. Focusing on these rooms helps me carve out time throughout the week to tackle the less busy areas.
4. Utilize Nap Time and Screen Time
When younger children are napping or enjoying some screen time, take advantage of these moments to tackle tricky cleaning tasks or give certain areas a thorough clean.
Of course, if you're running on empty then use that time to shower yourself in a little TLC and self-care instead. The mess can wait.
5. Establish a Daily Routine
Make small efforts of daily cleaning a part of your family's routine. It'll become second nature over time and ensure that your home stays in good shape, even on the busiest days. Plus, when the kids are involved, it takes a little bit off of your plate.
6. Set Simple Rules
Every house needs some basic rules and boundaries around keeping a tidy home. You can enforce rules like "put toys away before bedtime" and "no eating outside of the kitchen" to prevent any unnecessary messes and power struggles.
7. Invest in a Carpet Cleaner
Our Bissell Turbo Clean Carpet Cleaner has been such a life-saving cleaning tool for living with toddlers and pets. I've cleaned up countless spills, stains, and dog pee from our carpet thanks to having a reliable carpet cleaner!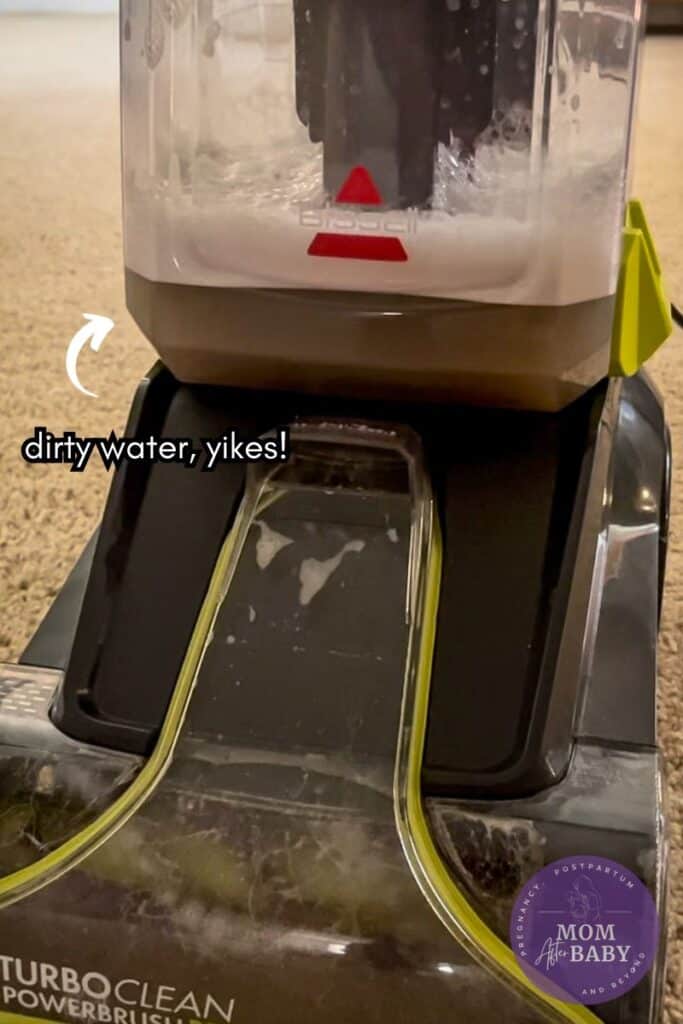 8.No Carpets? Grab an Upholstery Cleaner
If you live in a home without carpet — I'm jealous. However, chances are you still have a bed, a sofa, definitely a dog bed if you own a dog, and probably a car — all of which get dirty from time to time.
To make your life easier, grab an Upholstery Cleaner like the Little Green Multi-Purpose Cleaner by Bissell. I even shared a reel on Instagram here showing how we use ours to keep the house tidy! It's easy to use, and best of all, even the kids, yes the toddlers, can use it too!
9. Make Grooming a Priority
If you struggle to keep your home clean from all the fur your pup leaves behind, take a deep breath because there is a solution. Yes, some dogs shed, A-LOT. If that's yours, one of the best ways to get ahead of this issue is to invest in a regular grooming schedule.
Whether you take your dog to the groomer, have a groomer come to you, or groom your dog at home on your own — be sure you're using the best products to minimize their shedding while supporting a healthy coat.
Here are some of my favorite grooming products for my dogs (and in case you didn't know, I used to be a Veterinary Technician, so I'm quite particular about what I use):
10. Making Cleaning Saturdays a Family Tradition
Consider designating Saturday mornings as "Cleaning Saturdays" for the whole family. This is a great way to tackle deep cleaning tasks that might not fit into your daily routine. Assign specific tasks to each family member, and have a fun outing or some sort of celebration together once the cleaning is done. It's a fantastic way to get the whole family involved in maintaining a clean home and I can tell you that though we don't do this every weekend, whenever we do, my kids are SO excited to clean.

The Long-Run Benefits of a Tidy Home
Maintaining a clean home with children and pets may seem like a daunting task (because it is), but with good products, simple tips, and a little extra time, it can become a manageable part of your daily routine. A tidy home not only creates a pleasant environment for your family but also contributes to your child's development by teaching them responsibility and organization skills.
In the end, remember that a spotless house isn't the only thing that matters. What's most important is the love and joy that fills your home. So, embrace the mess, savor the chaos, and know that a clean home is just one of the good things that come with the territory of being a parent to both human and furry family members. From my often messy yet clean house to yours, I hope you enjoyed these tips.
Read more motherhood articles here:
How do you keep a clean house with kids or pets?