15 Halloween Treats For Toddler Class Parties
This post may contain affiliate links that I may receive a commission from if you click & buy. In addition, the information on this site is NOT intended to be medical advice. See my full policy for more information.
It's that magical time of the year again when pumpkins grin and ghosts go boo – Halloween is just around the corner! Look no further if you're wondering how to whip up the perfect Halloween treats for your little ones' toddler class. Whether you're a seasoned parent, a mom looking for toddler Halloween treats for daycare, or a first-time Halloween enthusiast, I'm here to share some spooktacular ideas that'll not only make the kiddos' faces light up with joy but also satisfy their tummies with wholesome goodness (without taking you a million years to bake or emptying out your wallet).
Now, when it comes to packing Halloween treats for toddler class events or parties — you'll want to make sure the cute or spooky treats you bring are safe for them to eat, not overly loaded in sugar, and not too messy.
Rules to Follow When Bringing Halloween Treats for Toddler Class Parties
Picture this: a room full of excited toddlers, their eyes wide with wonder as they discover the delightful treats you've brought to their classroom.
Now, imagine those treats causing unexpected allergic reactions or concerns that dampen the festive spirit. Not that it's your intention, but that's why we're diving into a crucial and compassionate topic—navigating the world of Halloween treats for toddler classes while keeping safety and inclusivity at the forefront.
Avoid Peanut Butter
Peanut allergies have become one of the most common food allergies among school-aged children. Though many people associate food allergies with a child developing a few hives or itchy skin, for many with this type of allergy — their reactions can be detrimental.
And, the most concerning part for those with more severe reactions is that they don't always need to physically come in contact with the food. Their reaction can be triggered simply by being near it.
An easy way to avoid this is by leaving out the peanut butter and opting for another ingredient or flavor instead. Most schools emphasize this rule throughout the year, but even more so around the holidays when parents will be bringing in snacks and goodies. If your child's class hasn't mentioned it, it's always better to ask and air on the side of caution.
Aim For An Easy Treat
A great way to make bringing fun, spooky treats to your child's class for some Halloween fun is by keeping the treats easy.
This could be as simple as buying already-made Halloween-themed treats or taking something like a Rice Krispy treat and dipping it in some green frosting, adding some silly candy eyes, and bam — done and ready to party!
Opt for Natural Ingredients
Natural ingredients, such as fruits, vegetables, whole grains, and nuts, are packed with essential nutrients that support your child's growth and development.
By choosing healthy Halloween snacks over a fun Halloween snack loaded with sugars and preservatives, you're still promoting a fun celebration without the typical intense sugar crash. And yes, they will still taste delicious.
However, this is one day a year when your child gets to have fun in their classroom parties, so regardless of what you choose, don't feel bad if you opt for the more indulgent snacks.
Bring Enough for The Entire Class
This is a MUST FOLLOW rule or else the little kids getting left out will be very disappointed (and you'll feel really bad despite it being an honest mistake). And trust me, I've been there once before! My son's preschool told me to bring 10 desserts. I brought 12 to account for his 2 teachers. Thank goodness I did, because they forgot they added another child to the roster mid-year and they would have been left out.
So, always be sure to bring extra or double-check the headcount for the sweet treats or healthy snacks you bring in.
Pay Attention to Choking Hazards
Depending on the age of the children in your child's school Halloween party or event — you need to make sure that the foods you bring in aren't choking hazards.
Here are some common foods known to be choking hazards to toddlers:
Popcorn ("Popcorn is one of the highest-risk choking hazard foods for little children.", according to an article on Romper)
Grapes
Hard Candy
Jelly Beans
Caramels
Gum Drops
Hard Vegetables or Fruit
Chunks of Peanut Butter/Nut Butter
Excessively Chewy Snacks
Spooktacular Halloween Treats for Toddler Class Events & Parties
Halloween Chocolate Eyeball Monster Pretzels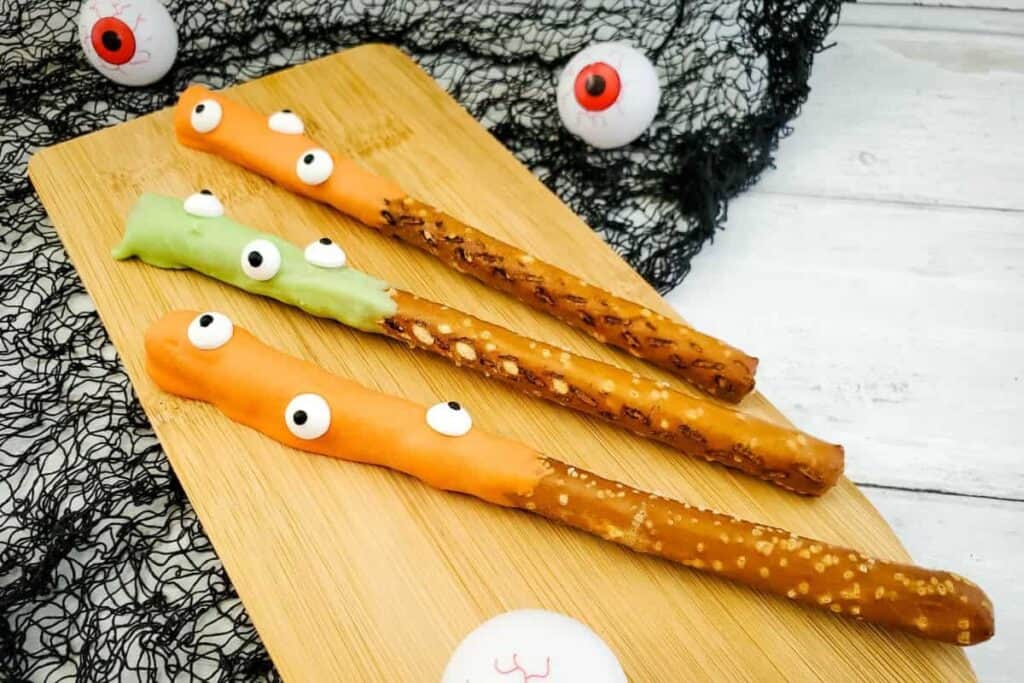 This easy recipe by The Reid Homestead (click for recipe) is perfect for your child's Halloween classroom party! Most importantly, your little one can get in on the fun of making this spooky treat because of how simple it is!
Requiring just pretzel sticks, candy melts, and candy eyeballs (these can also be swapped for any other googly eyes or sprinkles of your choice) — these fun treats are bound to put a smile on all the kids in your child's class (along with satisfying their sweet tooth) this Halloween.
Frankenstein Halloween Rice Krispie Treats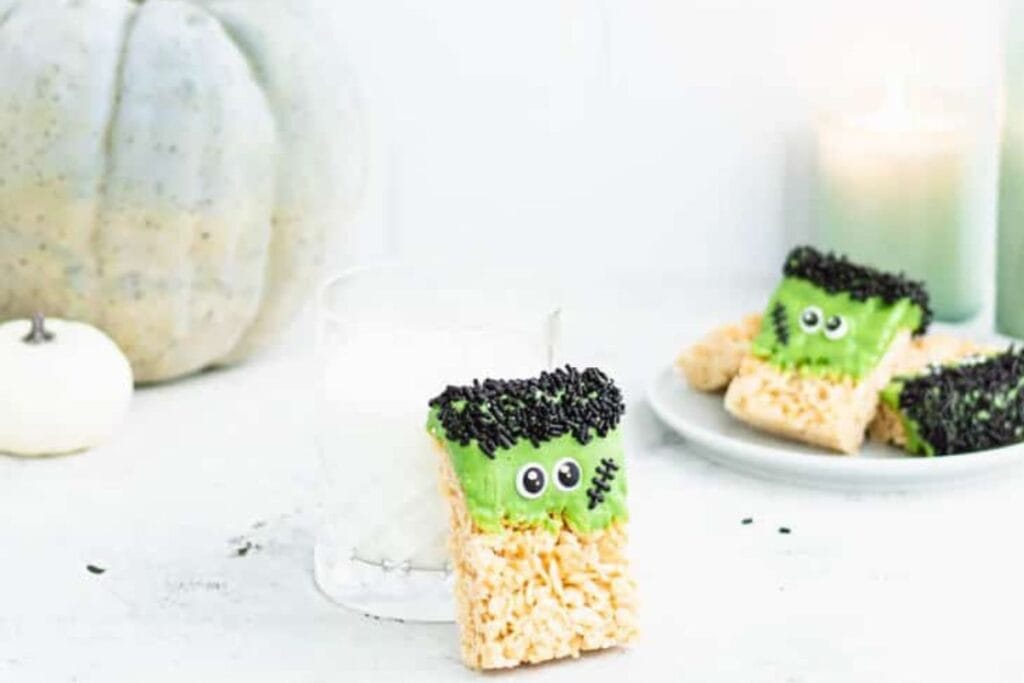 These Halloween Rice Krispie treats by The Simple Sweet Life (click for recipe) are fast to make, easy to assemble, and are made from 7 simple ingredients. To save yourself even more time if you're in a pinch to get your child's class party goodies assembled — grab a pack of already-made Rice Krispie Treats and decorate those instead.
Halloween Fruit Tray Ideas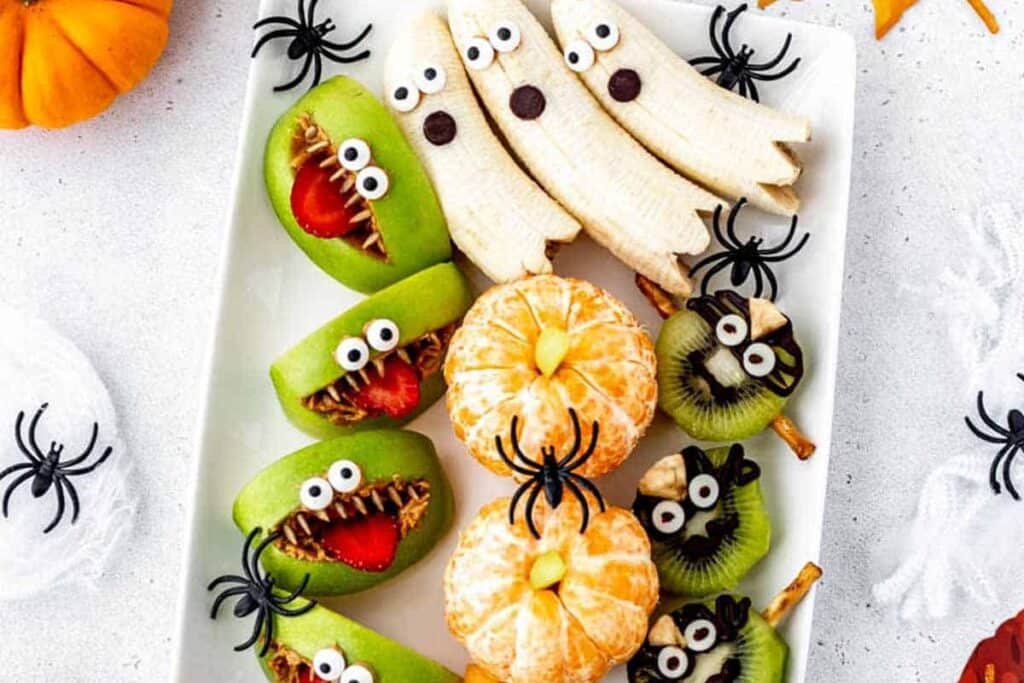 Another great alternative to all the cute, delicious sugary sweets is some healthy treats. I know the sugar overload is real during the holiday months, but trust me when I tell you this Halloween Fruit Tray by Healthy Kid's Recipes (click for recipe) will not leave anyone disappointed at all. This recipe is so much fun to prepare, be sure to have your little ones assist in 'spookifying' all of the fruit on the fruit tray.
Halloween Snack Mix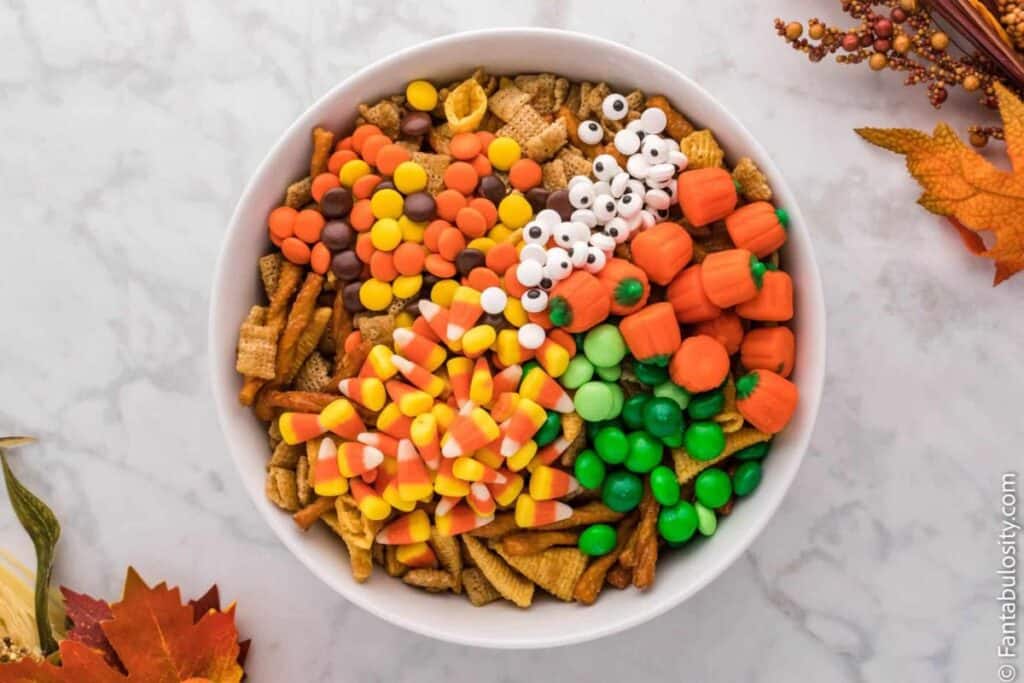 Not everyone is into bringing cupcakes, sweets, and other frosted goodies for a class party. Some enjoy more non-candy Halloween treats and this Halloween Snack Mix by Fantabulosity (click for recipe) does a great job of tying both sweet and savory together. Be sure to read the entire recipe for some great substitutions at the bottom of the article (including swapping out the Reese's PB candies).
Owl Marshmallow Pops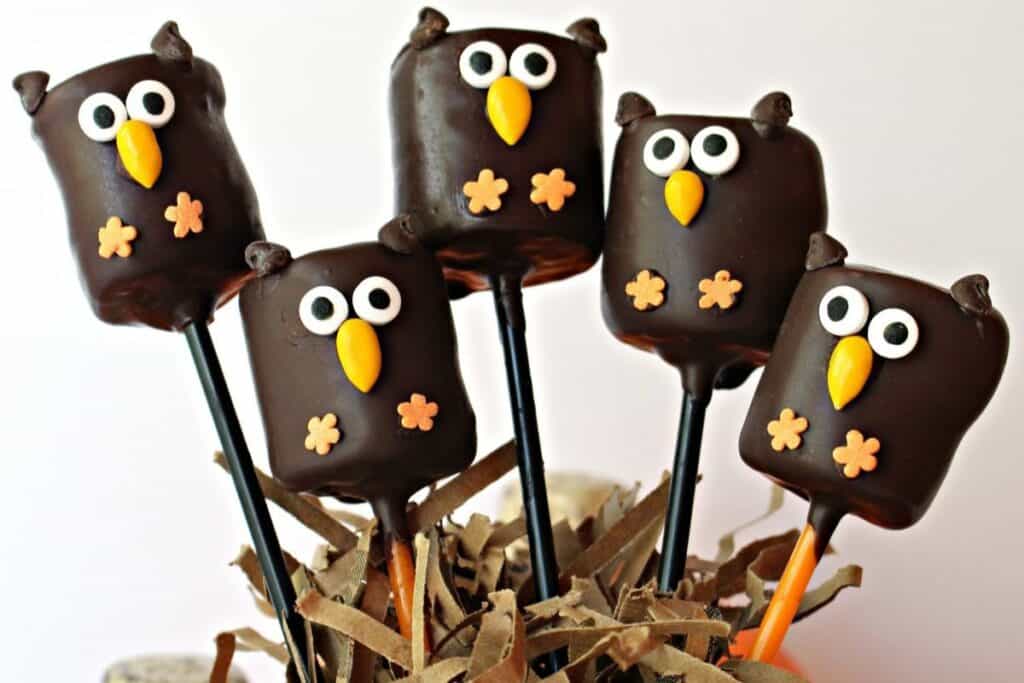 These Owl Marshmallow Pops by The Monday Box are perfect for school parties when you aren't into excessively spooky treats. You want to make something, fun, easy, and of course festive without scaring all of the little kids — and you can't go wrong with these yummy pops. This recipe uses very few ingredients and is another one your toddler can jump right into helping assemble.
Easy Halloween Shortbread Cookies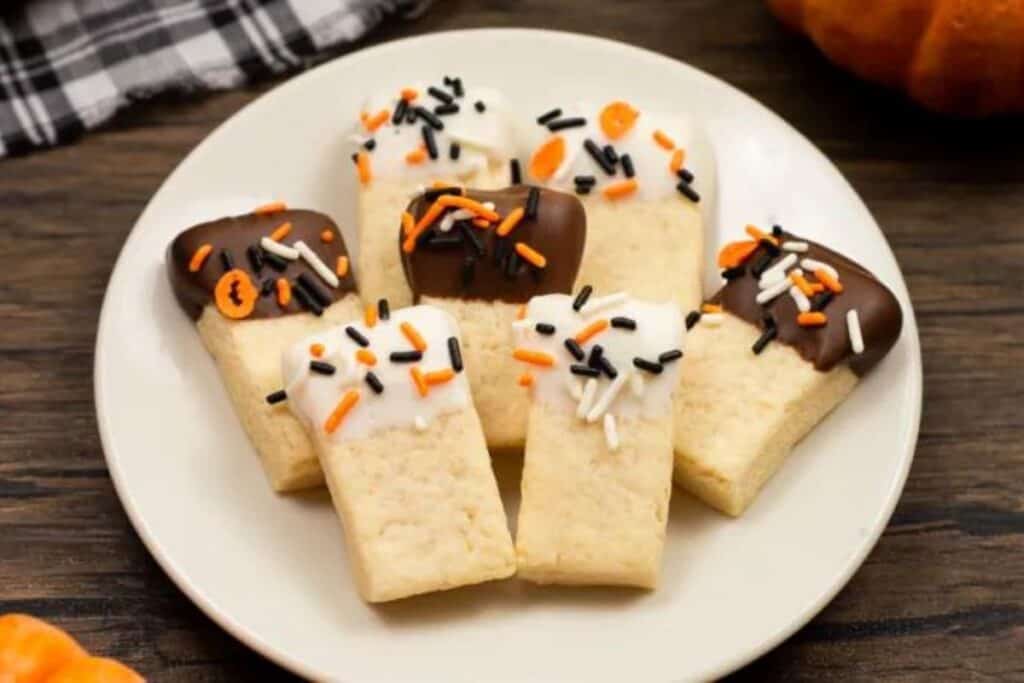 If you love to bake Halloween treats, you'll love whipping up these Easy Halloween Shortbread Cookies by Homan at Home (click for recipe). In total, this recipe takes around 40 minutes to prepare, bake, and decorate. However, if you're stepped on time or just don't want to bake cookies — you can buy already-made shortbread cookies and follow the steps to decorate them with your toddler instead.
Pop Tart Ghosts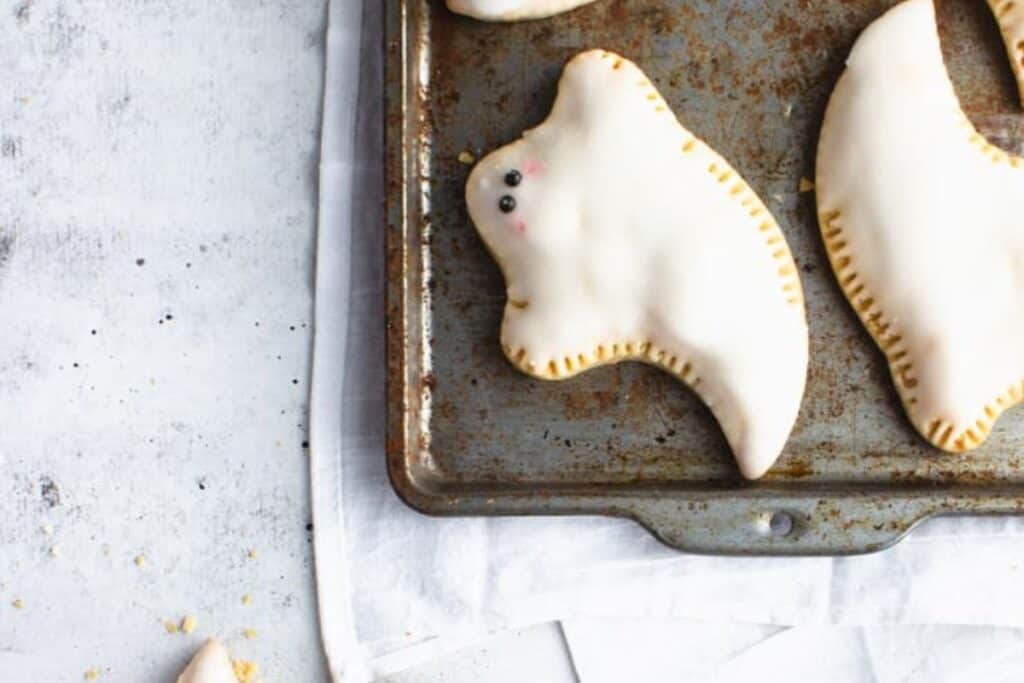 If your toddler loves pop tarts, they will love this Pop Tart Ghost recipe also by The Simple Sweet Life (click for recipe). Think of your favorite traditional pop tart but instead of a fruit filling, it has Nutella inside — yum! I don't know any toddler who will be able to resist these delicious little ghouls.
However, if Nutella is a concern for any allergies, feel free to swap the filling for some sort of fruit or jam.
Halloween Sprinkle Cookies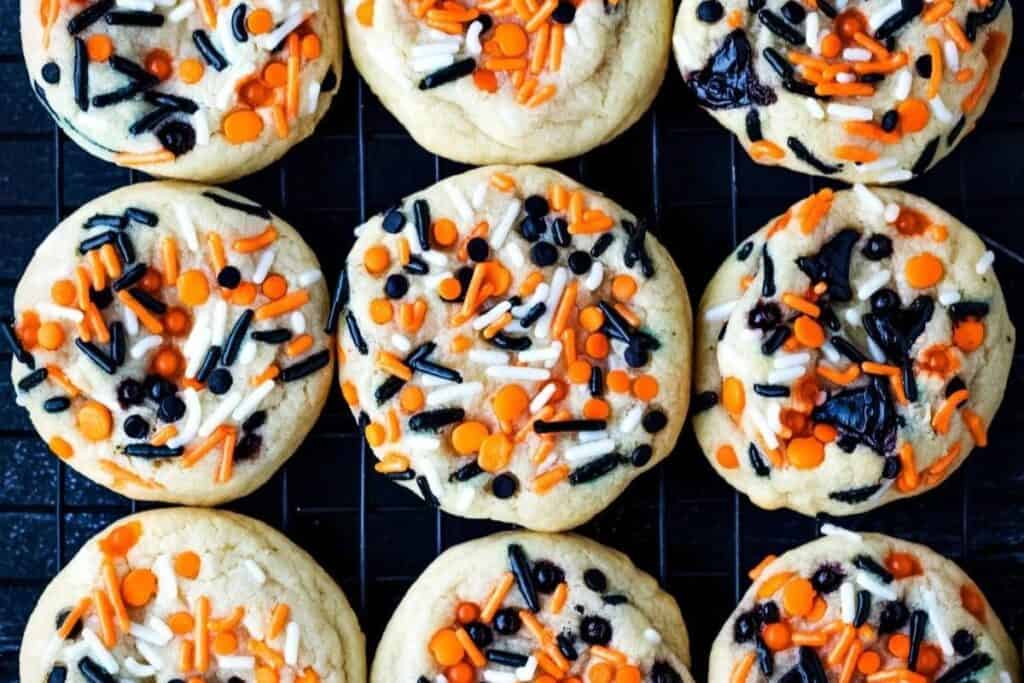 These Halloween Sprinkle Cookies by I Heart Eating (click for recipe) are perfect if you're in a time crunch and need an easy peasy recipe to toss into some goodie bags for your child's Halloween party. Plus, your child will love getting to toss on some cute Halloween sprinkles onto these yummy cookies.
Delicious Cinnamon Roll Spiders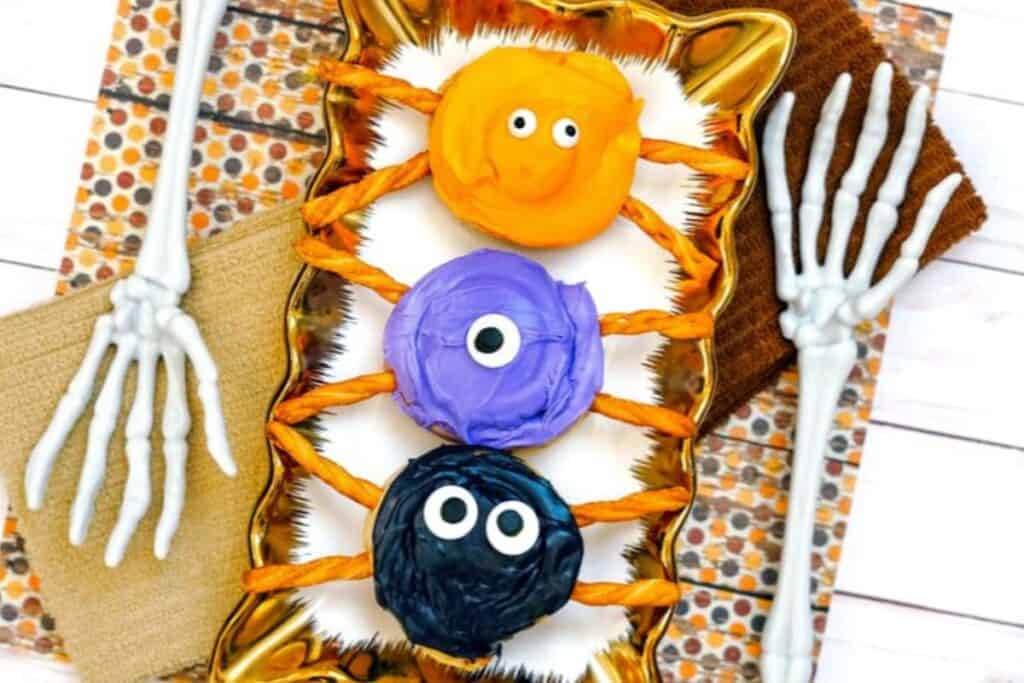 If you prefer to not make your recipes from complete scratch, these adorable little Cinnamon Roll Spiders by Rediscovered Families are such a fun way to make a school treat. All you need is cinnamon roll dough, frosting, candy eyes, food coloring, and some pretzel sticks for the legs — you shouldn't have a hard time whipping up this Halloween treat at all.
Halloween Mini Pizzas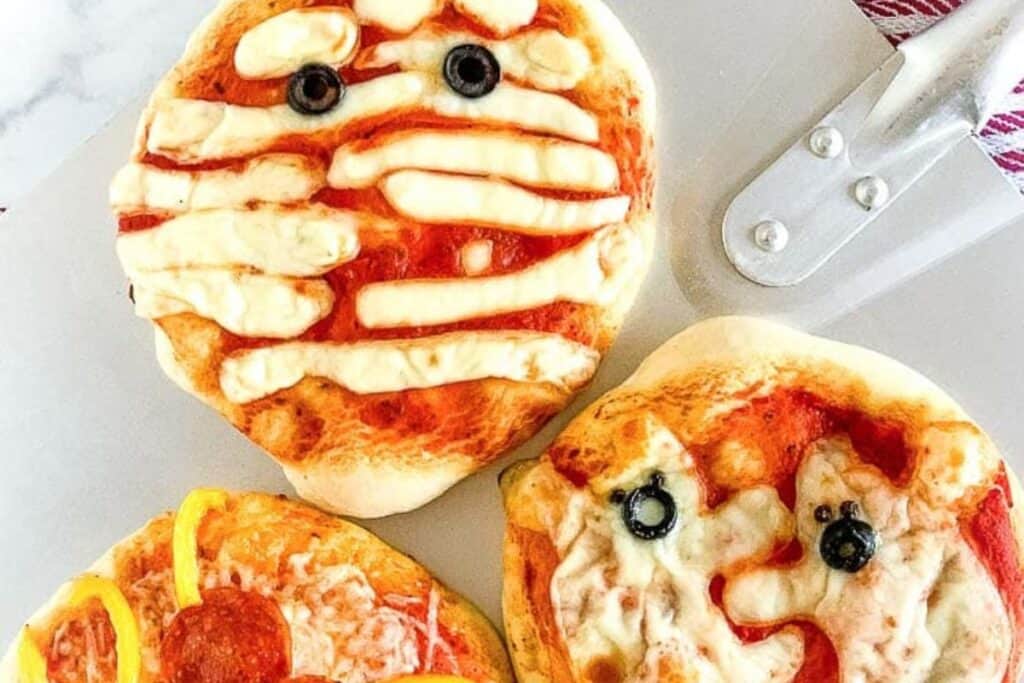 These fun snacks (in my opinion) are way tastier than any sweet treat. Because one, who doesn't love pizza? And two, who doesn't love a Halloween pizza? The kids will be ecstatic to eat these yummy Halloween Mini Pizzas by The Feathered Nester (click for recipe) during any classroom Halloween parties. Remember, bringing a treat doesn't mean it needs to be sweet! Think of it as a fun Halloween twist.
Graveyard Dirt Cups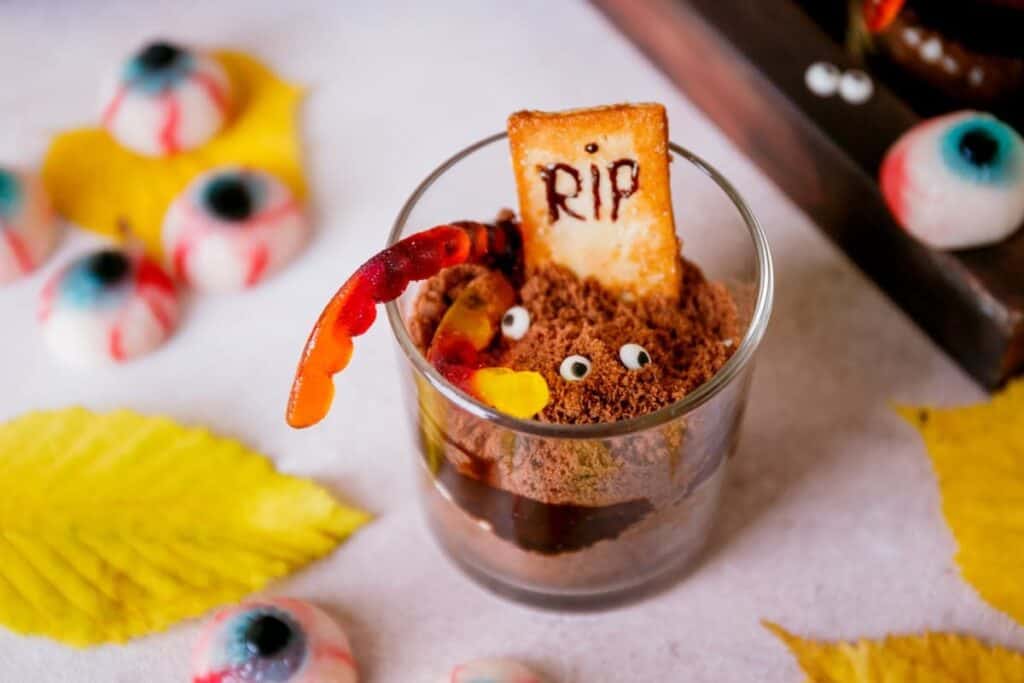 These Graveyard Dirt Cups by Thriving In Parenting (click for recipe) are a great choice if you don't want to do any baking at all! These dessert cups truly embrace the holiday spirit and fun of Halloween without taking hours and hours of your time to spend in the kitchen. They make perfect Halloween classroom treats and can even be paired with a shovel spoon to make it even more fun!
Spooky Mummy Oreo Balls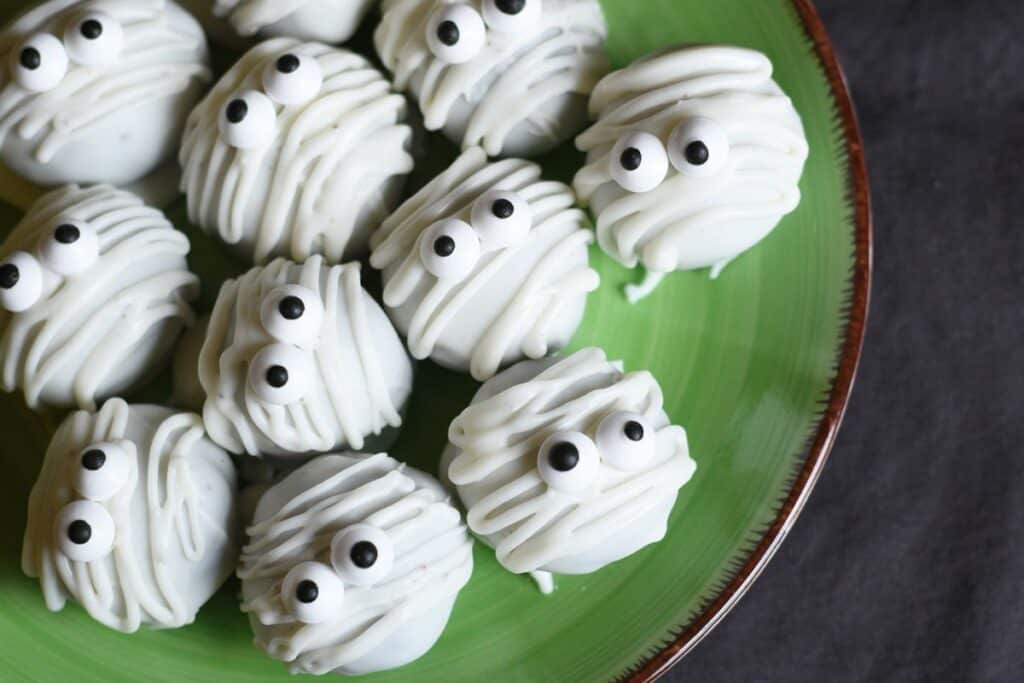 You didn't think we'd leave any mummy treats off this list, did you? Here we have the oh-so-easy, and delicious, Spooky Mummy Oreo Balls by Clan Kitchen (click for recipe). If your child loves Oreo cookies, they will definitely love this treat. However, I doubt you'll be able to save the entire batch for the classroom party without someone grabbing a bite of these delicious Oreo balls.
Halloween Mummy Cupcakes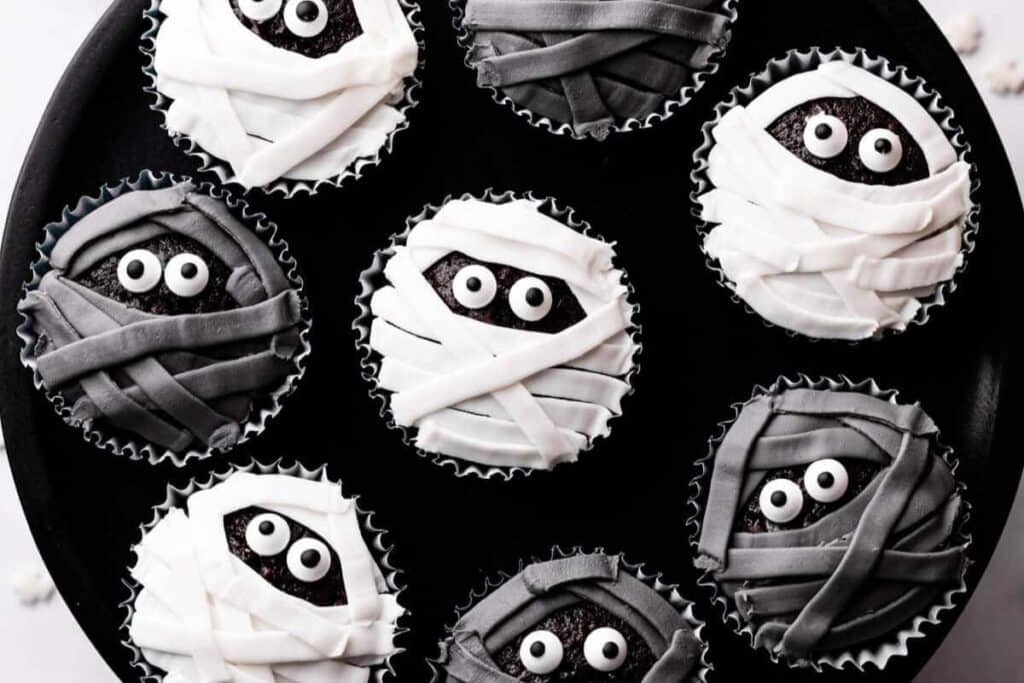 These soft and moist Halloween Mummy Cupcakes by Anna Banana (click for recipe) aren't just some of the best tasting around, they're also very creative and easy for even a beginner in the kitchen to whip up.
Pumpkin Rice Krispie Treats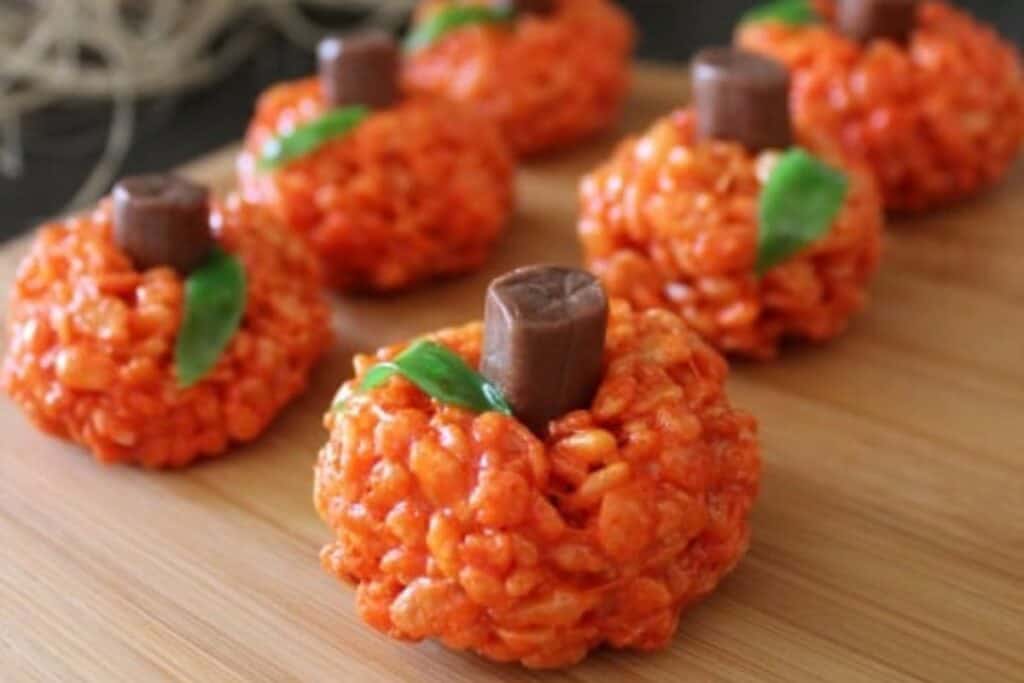 How adorable are these little Pumpkin Rice Krispie Treats by Cincy Shopper (click for recipe)! This recipe is quick and easy to make and is perfect for both young and older children.
Ghost Meringues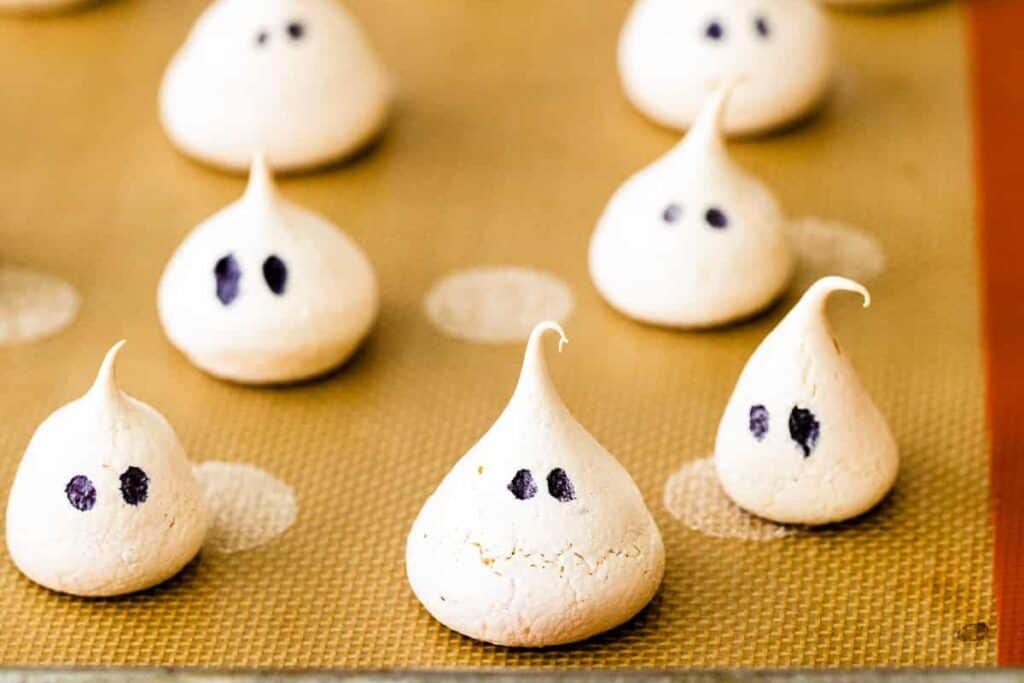 Don't be spooked by the name, these Ghost Meringues by Easy Dessert Recipes (click for recipe) are one of the cutest Halloween treats I've ever seen! They require pretty minimal ingredients making them both budget-friendly and simple to make.
Figuring out what treats, snacks, and desserts to bring to your child's class party can be a little overwhelming. Will the monster face cookies scare someone? Will the Halloween cupcakes be too messy? Don't fret too much on all those details and just try to have fun with it. Chances are, most kids will be pleased with any tasty snacks that are waiting for them.
Now that you know all of the precautions and have the best recipes to make some easy Halloween treats for your toddler's class — which of these easy Halloween desserts will you be making this year with your toddler?
Read more toddlerhood articles here: