Baby Led Weaning Apple Cinnamon Muffins
This post may contain affiliate links that I may receive a commission from if you click & buy. In addition, the information on this site is NOT intended to be medical advice. See my full policy for more information.
It's been a while since I added a baby led weaning recipe on here, so I'm really excited to share these delicious Baby Led Weaning Apple Cinnamon Muffins I recently made for my 7 months old little guy!
These muffins feature Kabrita USA — Goat Milk Porridge in the flavor, Apple & Cinnamon.
Kabrita USA was kind enough to send me some samples of their porridges to try, so I hope you enjoy the recipe I came up with down below!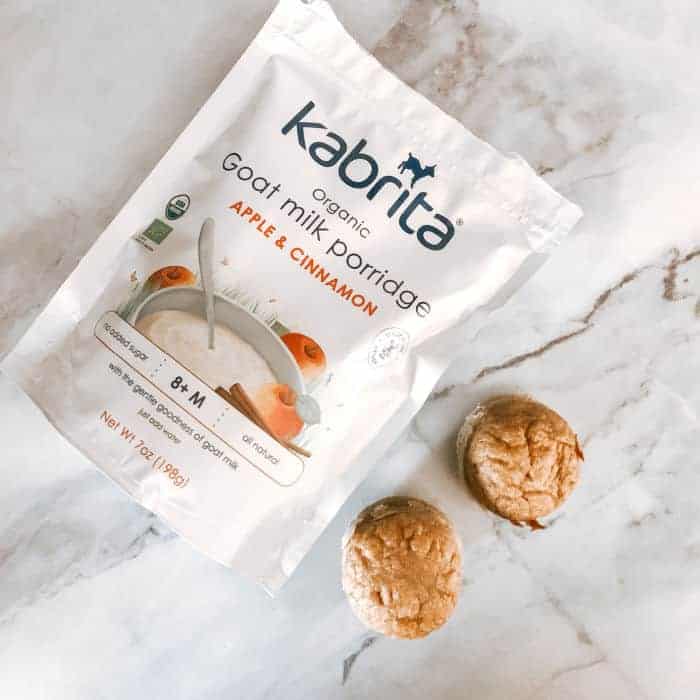 Who is Kabrita & What is Kabrita Goat Milk Porridge?
"Kabrita USA is a division of Ausnutria, a Dutch company with over 100 years of dairy expertise." as stated on their website.
They create goat-milk based foods for littles, in particular formula and porridge.
Goat-milk formula is known to be much easier to digest for babies compared to classic cow-milk formulas due to smaller, easier to break down curds that form in your baby's tummy while digesting.
This is exactly why I was thrilled to try out the porridges they sent me to try.
Since my baby just turned 7 months old, I knew I wanted to start baking him more yummy foods to try such as baby led weaning pancakes or muffins, but I wanted to use ingredients that would be easily digestible.
Plus, they ended up tasting so good, I quickly whipped up the 2nd batch for my toddler who was begging me to make him some too!
Needless to say, these baby led weaning muffins were a hit. They contain the perfect amount of apple with a hint of cinnamon without containing added sugars or unnecessary ingredients for your baby.
I hope you enjoy the recipe below! And don't forget to snag your FREE trial kit to try out some Kabrita USA samples for yourself!
Baby Led Weaning Apple Cinnamon Muffins Ingredients:
½ cup Oat Flour (Can also use whole wheat flour)
1 Large Egg (2 if the eggs are really small)
A small amount of water to help thin out the texture of the mix.
Baby Led Weaning Muffin Recipe (w/ Kabrita Apple Cinnamon Porridge)
The ingredients and recipe for these baby led weaning muffins are extremely easy to whip up.
If you're missing any of the ingredients above, don't be afraid to think out of the box to try and improvise.
For instance, had I been out of applesauce, I would've just baked 1-2 apples in the oven, blended them up, and poured those in instead.
How to Prepare & Bake:
Preheat your oven to 350 degrees Fahrenheit.
Combine all dry ingredients in a small mixing bowl and mix thoroughly.
Then, in a separate bowl, mix all the wet ingredients & slowly pour into the dry. Mix thoroughly.
Once the mixture is in the tray, bake for approximately 12-15 minutes (may need to stay in longer depending on the tray and how many muffins you're making).
Before you know it, these soft, squishy, and moist muffins that are PERFECT for baby led weaning babies will be ready to serve!
Toddler tip — shred or thinly slice up a variety of fruits or veggies to add to these muffins!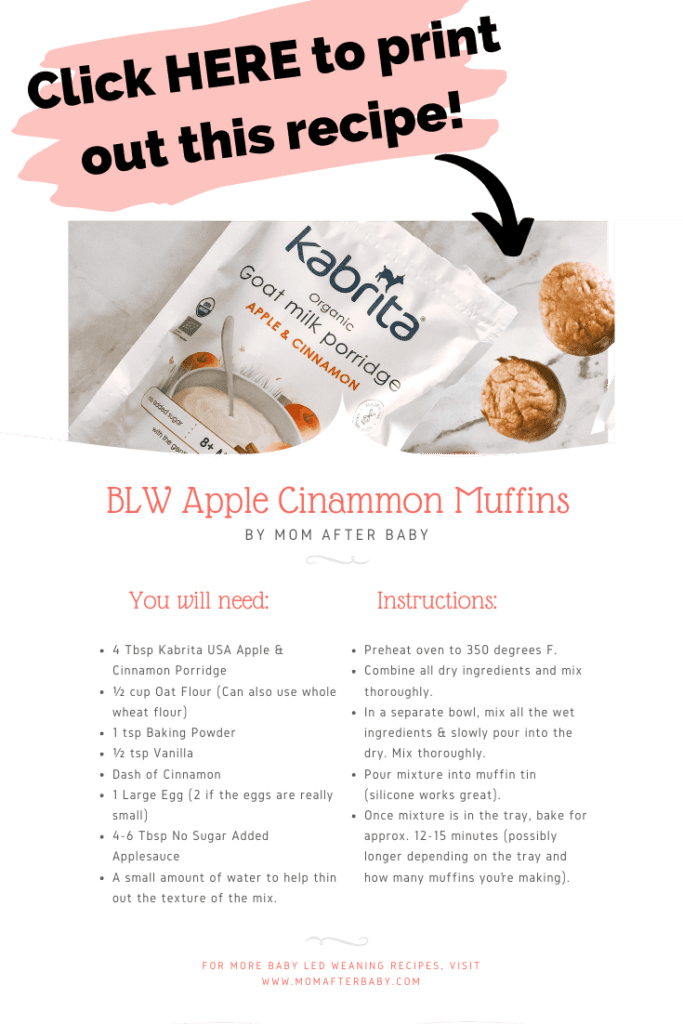 Count: 6 MUFFINS Prep Time: 5 MINUTES Cook Time: 25-30 MINUTES Total Time: 30-35 MINUTES
These baby led weaning apple-cinnamon muffins are so easy to make with minimal ingredients, making them perfect for babies 7 months or older!
Did you try these Apple Cinnamon Baby Led Weaning Muffins? Drop a comment sharing how your little one enjoyed them!