This post may contain affiliate links that I may receive a commission from if you click & buy. In addition, the information on this site is NOT intended to be medical advice. See my full policy for more information.
Your due date is approaching and you've packed your hospital bag, but did you make sure to include lots of healthy snacks for your hospital stay during labor? No to mention, you'll need some hospital snacks for dad (or your partner) too.
Oftentimes, when packing for a labor and delivery hospital stay, many moms forget to pack snacks in their hospital bags. They pack their comfortable clothes, maybe a nursing bra, some toiletries, a phone charger, and more… but where are the snacks? These days, being in the midst of an ongoing pandemic, snacks are a MUST on every mother's hospital bag packing list.
Can I Pack Snacks in My Hospital Bag?
At most hospitals and birthing centers, yes, you can pack snacks to enjoy during labor because labor is a long process for many. However, it's important to be mindful that not all health practitioners allow eating during labor. No, they aren't trying to be mean (though, it's a bit mean), but in the event you need an emergency C-Section or end up getting an epidural — it's been thought you could greatly increase your risk of aspirating stomach content.
The good news is this practice of not eating throughout labor is beginning to be a thing of the past and many more providers and midwives encourage their patients to consume light and easy to digest snacks to help them maintain their energy during labor. This is something you should learn in your childbirth class. If you haven't taken a childbirth class, I highly suggest every mom take this birth course (because it was created by an actual labor and delivery RN).
These days, most hospitals will provide you with a full meal delivered directly to your hospital room for the admitted patient. Sometimes, they'll throw in some small snacks for mom's birth partner. However, that isn't always the case.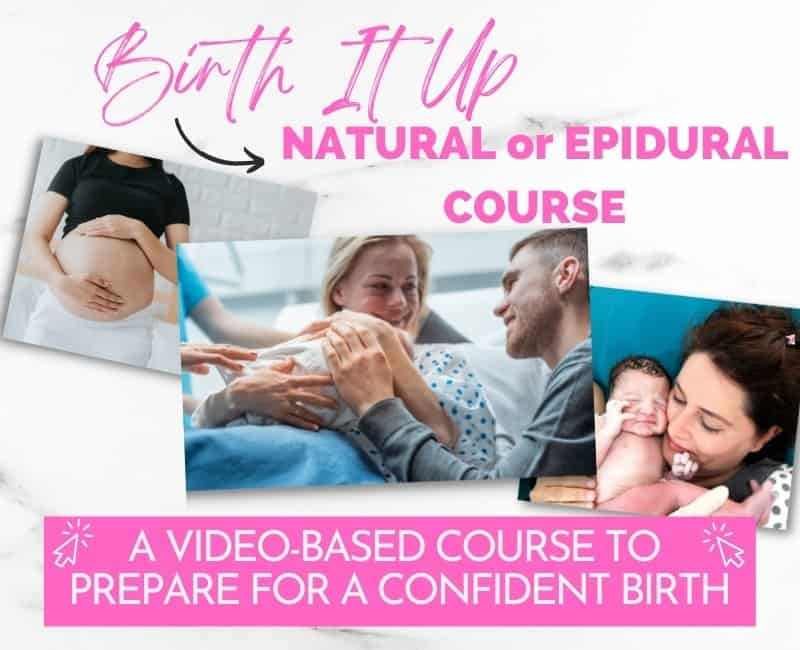 Best Snacks for Hospital Bag:
The best snacks for your hospital bag will be ones that are light for your digestive system, contains healthy fats, proteins, and complex carbs, and of course, won't spoil during your hospital stay.
This list includes a variety of easy snacks to pack and add to your hospital bag checklist.
1. Crackers
Crackers have to be one of my favorite healthy snacks to pack in your hospital bag. That's because they're not only light and easy to eat, but you can pair them with other foods such as fruits, cheeses, or even dips! Once you're in labor you likely won't be able to eat too many heavy foods, but a light snack such as crackers is a good choice. Below are my favorite crackers to pack for the hospital:
2. Dried Fruit
If you know you've been having a sweet tooth, dried fruit is another great snack. Plus, if you end up in the hospital for an extended stay, you can rest assured your snacks won't perish since they're freeze-dried. You can get dried fruit that is chewy or crunchy, the option is totally up to you.
However, I usually suggest going with the crunchy option since the more chewy fruits tend to leave a sticky residue on your fingers which might just feel uncomfortable during childbirth.
3. Granola Bar
Granola bars are really easy to find anywhere making them an easy snack to pack for the hospital. Try to steer clear of the fancy granola bars packed with calories and lots of sugar. These are my favorite granola bars that I think make awesome hospital bag snacks for mom or her partner.
4. Protein Bar
One of my all-time favorite snacks is a protein bar. I mean, it's always a good idea to consume more protein, and what better way to get your protein in at the hospital than through a protein bar! They're easy to pack, take on the go, won't perish, and can be pretty cheap if you buy your favorite bars in bulk.
Plus, consuming a protein bar could potentially help you keep your energy levels up which is perfect for moms to help power through labor.
5. Sandwich
I've always found sandwiches to be somewhat of a comfort food. I'm not sure if it brings me back to elementary school as I ate the cute little crustless sandwiches my mom would pack for me or what, but this snack doubles as a good snack for expecting moms and for their birth partner.
Unfortunately, some items like the cheese can spoil when left out for too long. So if you do decide to bring any items that need to be cold, be sure to stick them inside of a travel-friendly insulated lunch case (just like this one) that way you can stick it in your hospital bag.
6. Fruit Cup
Fruit cups are a great alternative to fresh fruit because fresh fruits can sometimes spoil and go bad. Get a small variety pack from your favorite grocery store and pack 1 to 2 of these yummy snacks. You can even opt for freeze-dried fruits, another good snack that won't perish quickly.
8. Instant Muffin Cups
If you're fortunate enough to stay in a hospital room or birth center that has a microwave, you can pack some of these delicious instant muffin cups. These are basically mini-meals on the go, loaded with protein to keep you full and satiated.
9. Veggie Muffins
Veggie Muffins are an awesome way to have a yummy, filling snack that won't go bad in your hospital bag. No, I'm not talking about a homemade veggie muffin, I'm talking about THESE delicious veggie muffins that come in a variety of flavors!
Seriously, they're so good, my kids eat them. I promise they'll hold you over in the hospital or birthing center when it's labor time.
10. Wheat Thins
Who doesn't love wheat thins? They're so delicious and I love that you can dip them in just about anything and they still taste yummy. Definitely a great hospital bag snack to have on hand for the big day!
11. Apple Sauce
Apple sauce is an easy-to-pack snack for mom-to-be. You can get them in little pouches, cups, or you can simply make your own. Apple sauce is loaded with antioxidants and is overall low in sodium and fat making it a pretty healthy low-calorie snack.
12. Veggie Sticks
If you're a vegetarian or just trying to be calorie conscious, veggie sticks are a good snack. Keep in mind you might not have anywhere to store them and keep them cool so they might not be the best choice for those knowing they'll be in the hospital beyond 1 to 2 days.
13. Cereal
I love cereal as a snack because you have unlimited options to choose from. Need a little guilty pleasure snack? Pack some cinnamon toast crunch. Keeping things on the healthy side? Bring some Special K. You really cannot go wrong with packing a few small snack bags full of cereal to munch on at the hospital.
14. Cheese Squares & Cheese Sticks (String Cheese)
Load up on protein by bringing yourself a few cheese sticks or cheese squares. Giving birth is hard work, you deserve to not feel like you're starving on the big day. Plus, I'm sure your birth partner will appreciate having something to snack on that's not just a cracker too.
If you do want a cracker, you can get these sourdough "cheese sticks" that aren't perishable! They don't taste too bad either despite how odd they sound.
15. Toast
I'm not sure why I never thought of this, but a friend of mine brought herself some toast along with various spreads. She had an avocado, everything bagel seasoning, cream cheese packets, and more! This simple piece of toasted bread was able to provide a variety of snacking options to a mom in labor. Who would've guessed?
16. Graham Crackers
If you need something light but have a bit of a sweet tooth — graham crackers are a good option! Plus, graham crackers come in many different options you can't go wrong with any of them.
17. Rice Cakes
Rice cakes are a delicious, crunchy, and low calorie snack anyone can enjoy. Spruce it up with some peanut butter spread, seasonings, or paired with a protein shake!
They're great snacks on the go because they're not perishable and light enough to give you a quick energy boost without feeling full.
Hospital Snacks for Dad or Partner
Now is a great opportunity to also stock up on some snacks for your birth partner. Make sure you don't forget about them when you're getting all your goodies from the local grocery store. Here are a few ideas to keep them full and satisfied too.
1. Jerky
An easy-to-pack, high-protein snack to hold over any birth partner anxiously waiting for baby to make their entrance. You can usually buy beef jerky individually or in a variety pack which makes it helpful when shopping and packing too.
2. Protein Bars
Yep, protein bars are on here twice because they're literally like a meal in a tiny bar and there are so many to choose from. You can pack protein bars for yourself and for your partner, it's a win-win for everyone.
3. Protein Powder
Protein powder is another good snack to bring (even though it's technically a drink). I've always found it's easiest to pack by getting one of these shaker bottles that way all you have to do is pour your liquid of choice (water, milk, etc…) in later and you're good to go! Protein powder also comes in so much variety. This brand even makes a fruity cereal flavor — talk about delicious!
4. Pretzels
Pretzels are a cheap and easy snack to have packed and ready to go in your hospital bag for your birth partner. You can also bring some peanut or nut butter packs like these to pump up the protein and flavor.
5. Trail Mix
Trail mix is always a savory snack as it combines that salty-sweet flavor. You can buy already packaged snack bags like these ones or you can make your own by getting all the ingredients and mixing them up yourself! If you make your own, you can use all your favorite ingredients (such as swapping M&M's for a sugar-free chocolate chip, swapping raisins for freeze-dried berries, etc…).
One last thing, don't forget to order yourself a delicious splurge-worthy meal for your post-delivery indulgence! At the end of the day, the most important thing is that you don't feel like you're starving and you do feel energized throughout your labor.
Which of These Healthy Snacks To Pack In Your Hospital Bag Will You Pack In Yours?
Read more pregnancy articles here: