First Day of Preschool Checklist — For Overwhelmed Parents
This post may contain affiliate links that I may receive a commission from if you click & buy. In addition, the information on this site is NOT intended to be medical advice. See my full policy for more information.
The first day of preschool is an exciting milestone in your child's life and today is the day. You're feeling all the nerves, stress, and anxiety, but you're trying to keep it together for your precious child. I get it, mama. To help you stay organized and alleviate any last-minute jitters, we've put together the ultimate first day of preschool checklist. From essentials to comfort items, we've got you covered!
Now, chances are, you've been waiting this big day for some time. You enrolled your child into a preschool program months ago and have been frantically trying to ensure you are 100% ready for this day. Most preschool teachers will give you a school list of things to bring to class on your child's first day.
However, some things slip through the cracks. And, if you didn't get a list, this ultimate first day of preschool checklist will have you prepared for a successful first day of the new school year.
Ultimate First Day of Preschool Checklist
You've met the preschool director, you dropped off your tuition and fees, and it's your child's first day of school. Make sure they're ready to go with all of the necessities they'll need below:
1) Backpack
Depending on your child's preschool, some will ask you to provide your child with a smaller 12-inch backpack, while others will ask for a 15-inch backpack. Be sure to clarify the size needed so that you aren't having to spend any extra money on a backpack. Look for one with adjustable straps and a water bottle holder. Most likely, your child's teacher will be sending home school announcements, artwork, and any reports — but your child likely will not have any homework in preschool.
2) Spill-Proof Water Bottle
Staying hydrated is crucial, especially during active play and busy learning sessions. It's also a great idea to opt for a spill-proof water bottle that your child can easily open and close. Make sure it's clearly labeled with their name to prevent mix-ups in class.
3) Change of Clothes:
Having an extra change of clothes is almost always requested by teachers to ensure your child has something to wear in the event they need a backup set of extra clothes. Accidents and messes happen, especially during those early preschool days. Pack an extra set of spare clothes, including underwear and socks, in case your child needs a change due to spills or mishaps.
4) 2 Plastic Bags
In addition to bringing extra clothes, you can easily pack them in a plastic labeled Ziploc bag to make sure there are no mixups. The 2nd plastic bag is to remain empty and can be used for the teacher to place any dirty or soiled clothes that need to return home and be cleaned. If you want to ensure your label is clear and identifiable, grab yourself an affordable label maker like this one — it's such a game changer, you'll have everything in your house labeled before you know it!
5) Comfort Items:
Preschool can sometimes feel overwhelming for your little one, especially during those initial days. Think about it, it's a new environment, it may be their first time being away from you, and they'll be around other young children. Packing a comfort item, such as a favorite stuffed animal, a small blanket, or a family photo, can provide a sense of security and familiarity. These items can be a great source of comfort during drop-off for a successful transition or even nap time if they'll be attending a full-day class.
6) Spare Underwear and/or Pullups:
If your child is still undergoing potty training, don't forget to pack extra pull-ups for them. Even if they're fully potty trained, some children can have accidents during times of transition like starting school, so don't let it be a surprise if they come home in the backup undies you packed. Just communicate with the preschool about their potty-training policies and inform them if your child is currently in the process of potty training. Some facilities won't accept children who aren't potty trained, so don't skip out on having this conversation with them.
Are you struggling to potty-train your child? Learn the signs that they aren't ready to be potty trained and what you can do instead!
7) Snacks
Snacks aren't always necessary to send with your child depending on the school policies and the hours. However, we all know when our little ones get hungry, having a snack on hand can most definitely save the day. Be sure to check with the school staff about their snack/lunch policy. If you will be sending your child with a snack, try to pack non-perishable items such as crackers, granola bars, or low-sugar fruit cups.
8) Lunch Box (if requested)
If your child will need a lunch box for school, I highly suggest looking into a Bentgo® Lunch Box. These lunch boxes have 5 compartments, are leakproof, and are dishwasher safe! This means no stinky fabric lunch boxes to deal with or replace whenever a spill occurs. It's a great way to pack snacks, lunches, and you can even bring them along on travel adventures when school is out on a break! Keep in mind, some preschools will provide a delicious lunch for their students as part of your monthly tuition.
9) Child's Medication or Medical Equipment
If your child takes any sort of daily medication or used medical equipment, you'll want to make sure well in advance that these things are relayed to the teacher, and staff, and thoroughly listed clearly on any type of school records (like an IEP, 504, etc…). Often times children with any kind of special needs or treatments may qualify for an aide, so make sure you prepare for that meet and greet as well.
10) Wipes
Many preschools will ask you to provide a small case of baby wipes with your child. This is often to help with clean up and toileting. When my own son started preschool, I brought in a small case of baby wipes and kept a small travel pack of baby wipes like this one in his backpack. Surprisingly he used it often to wipe his hands clean after arts and crafts.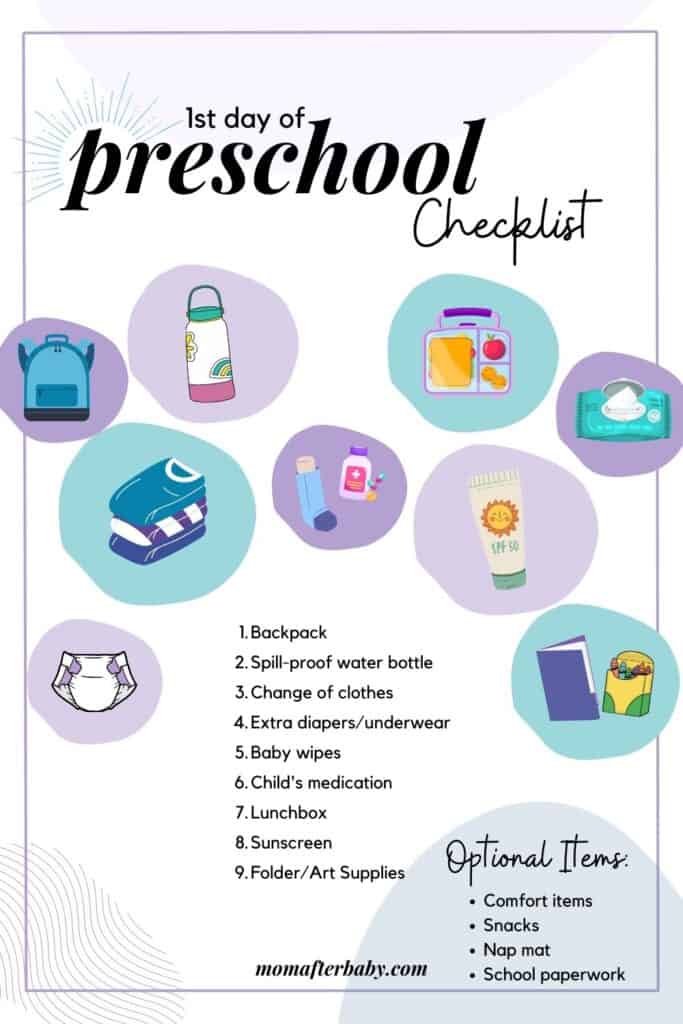 11) Sunscreen
Once summer rolls around, you'll want to send your little one to school with sunscreen to ensure they're well protected from the sun during outdoor time. The key is to not buy a giant bottle in the event it spills or gets lots, but instead to grab a travel-friendly sunscreen (like the sun stick from Tubby Todd) that you can write your child's name on and store safely in their backpack.
12) Art Supplies (if requested)
Some child care centers and preschools will request you bring a basic set of art supplies for your child's classroom. Sometimes they'll ask for a pack of washable markers, crayons, gluesticks, etc…
13) Small Folder (if requested)
One of the ways your teacher will communicate with you is through a folder in your preschooler's backpack. They'll send home monthly newsletters, notes about your child's progress, class artwork, and more. Some schools will provide the folder for you while others will request you provide one.
14) Nap Mat (if requested)
Nap time plays a vital role in our children's development, providing them with essential rest and rejuvenation. By providing a familiar and comfortable nap mat from home, you can ensure your child's sleeping environment remains consistent, promoting a sense of security and comfort during naptime at school.
15) Important Paperwork
If there's one thing that often slips between the cracks when starting school, it's the paperwork. Take some extra time to make sure any and all forms have been filled out and returned to your child's school before or on their first day. This is especially important for any health, medical, or emergency contact forms.
Will My Child's Preschool Give Me a First Day of School Checklist?
While most preschools will provide you with a checklist of items to have ready, you might have to do a little preparation on your own in the event you don't get a list.
​Your child's first day of school is a pretty big deal. It's the very start of their formal educational journey and may be met with a bit of resistance. When you think about the new settings they'll be in and the emotional development they'll experience over the next few months — sending them off to a good preschool, no, a great preschool will be key to a smooth start. Hence, why being prepared with all the things you'll need to send them to school with is just another item to check off your list.
Did you find our First Day of Preschool Checklist helpful? Let us know if there are any items we should consider adding the next time this article is updated!
Read more toddlerhood articles here: