How to celebrate Christmas on a budget when you have kids.
This post may contain affiliate links that I may receive a commission from if you click & buy. In addition, the information on this site is NOT intended to be medical advice. See my full policy for more information.
Do you need money for Christmas gifts this year? I'm going to share some EASY ways you can celebrate Christmas on a budget when you have little ones!
Celebrating the holidays with kids can add up fast! Between holiday parties, school events, baking delicious treats, and of course, the best of all, Christmas presents!
But how can you celebrate when you're on a tight budget? And what if you're looking for some quick and relatively easy ways to make some extra cash for the holidays, don't worry mama, I've got you!
How to celebrate Christmas on a budget
There will likely be years when you have to buckle down and celebrate Christmas on a tighter budget, and guess what? It can still be totally amazing!
Christmas doesn't need to be about all the materialistic things we tend to make them about and when we can start embedding that into our kids while they're young, it'll make them a lot more humble towards what they do get as they get older.
Below, I've compiled a list of some pretty easy ways you can still have a super fun Christmas with your kiddos this holiday season, EVEN when you're on a budget!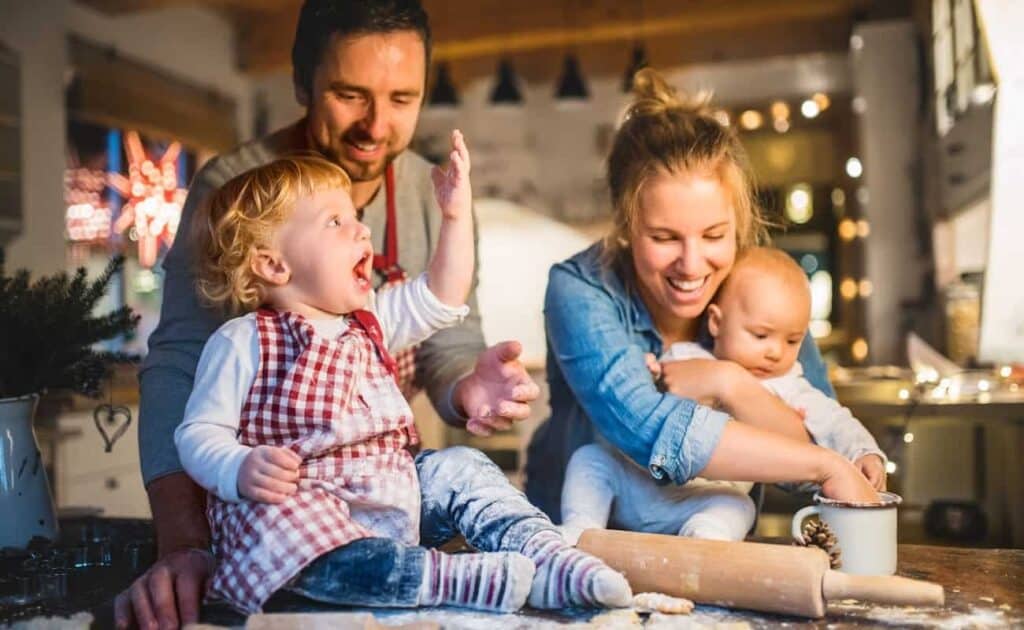 1) Focus on traditions & building memories
Like I mentioned earlier, making holidays about the memories and fun things you can do together as a family compared to buying gifts is great to implement when our kids are young!
Make yourself a list of some family Christmas traditions you can do together, pick a few, and plan to do them this year during the holidays!
Plus, it's another way you can spend some quality time with your kids, especially the little ones, during the hectic holiday season.
If you need help coming up with a list of ideas, here are some family holiday traditions I wrote about last year!
2) Plan Christmas in advance
That's right, start planning months before it's even here!
Did you know, according to an article from Nationwide, more than 20% of items on Black Friday were actually CHEAPER THE WEEK BEFORE?
Yup. Hence the importance of getting ready early. Don't let yourself get caught up in the "I need to wait for all the holiday sales" mentality. Because, chances are, those "holiday sales" aren't as great as you think they are.
Generally speaking, both Amazon & Target have incredible sales year-round, not to mention Amazon's lightning deals they have weekly.
Plus, if you use Amazon Prime, you can order all your gifts with (usually) free prime shipping. If you don't have prime, try it for 30-days.
If you don't want to continue the membership, simply cancel it and you won't be charged when your trial ends.
To recap — Plan ahead and keep your eyes open for deals as they pop-up throughout the year, not at the last minute.
3) Stop buying new Christmas decorations
Every year as a kid, I remember my parents always taking us to get new Christmas decorations. Let me also say, my parents did NOT have lots of money.
So if you're in the same situation, don't feel bad about not replacing old Christmas decorations. Instead, spruce them up yourselves!
If you have some spare glue laying around the house and maybe some glitter or other crafting material, you can change up your decor simply by thinking out of the box!
Here's a few DIY Christmas Decoration ideas to give you some inspiration:
This video below shows 11 different Dollar Tree Christmas items you can use to decorate your home on a budget:
4) Have a potluck instead of hosting the holidays
When you're on a budget, there's no need to try and host the holidays where you feed all the guests.
Simply request family and friends bring a favorite holiday dish so that the responsibility doesn't all fall on you!
Plus, you'll not only save money, but save yourself lots of time you won't need to be slaving away in the kitchen trying to prepare the food for your guests.
5) Out with the old, in with the new
Another great and easy way to celebrate Christmas on a budget is to sell some of your old stuff!
Remember that old sweater you thought was cute, but doesn't fit anymore? How about your kids awesome scooter he/she never even used?
Host a small garage sale or place some of your items on a site like OfferUp where you can sell your items for a low price to make up some extra cash AND extra room around the house for new things!
6) Make your own gifts
If you have toddlers, you know they're entertained by anything.
Instead of shopping for the coolest, most expensive totally IN toy, make a gift instead!
You could gather some household items a make a really cool sensory bin, hop online and make a custom little coupon booklet (you can make one SUPER easy by using a program like Canva), or if you know how to knit/sew — make them a cute little set of mittens or winter beanie!
7) Set a gift limit
Instead of letting your kiddos pick and choose anything they want for a gift, set up a clear gift limit so they know what items they can choose from!
This is a great way to teach some important lessons about money AND will power.
8) Shop at money saving stores
Instead of going out to the popular big name stores, try something smaller like your local Dollar Tree or 99 Cent store!
You'd be surprised what kind of cool things you can snag (especially for the little ones) at an inexpensive cost!
Side Hustles To Try When You Need Money for Christmas!
We talked all about simple ways you can celebrate Christmas despite being on a budget, now lets talk about some easy ways you can make some extra money during the holiday season!
1) Love to create? Sell your creations on Etsy
If you're a mama with a love for creating things, it could be digital goods such as custom Pinterest templates for Canva or even digital files so people can buy and turn them into shirts, cups, etc…
One of the best ways to sell these types of things is on Etsy!
Etsy is one of the leading sites created to support independent creators like yourself!
Keep in mind Etsy does charge some fees to their sellers for using their platform, but if you're in a crunch and want to sell some cute designs, Etsy could be a great way for you to bring in some extra money for the holidays!
2) Earn cash back on your normal spending
Need to do a grocery run or pickup some household items for the week?
Don't miss out on cash back programs such as:
These are my 2 personal favorite cashback shopping apps, in fact, I've earned OVER $200 in both apps just from my normal day to day shopping!
Simply sign up, scan your receipts or items and earn money back, it's literally that easy!
3) Become a freelance writer
If you have experience writing, this is an overall easy way to earn some extra money before the holidays!
You can submit your work to sites like Medium where they'll pay you depending on the kind of traffic you drive or look for clients in various blogging groups who may be looking for content writing for hire!
4) Sell printables
Are you amazing at making custom printables? Well good news, it's EASY to sell them online.
You can use a program like Sendowl or Gumroad to host your product and set up the payment process for you!
They're both very easy to use and are my preferred ways of selling online digital goods to earn some extra money in a pinch!
Want to see an example? Here's a printable coloring journal I sell with Sendowl!
5) Start a youtube channel
Have fun documenting your days, teaching people how to craft or learn new tasks? The limit is endless on what you could start a youtube channel on, but one thing is for sure: IT'S A GREAT WAY TO MAKE SOME MONEY!
Right now, video content is totally in!
Plus, you can use programs like PicMonkey or Canva to create some awesome cover shots for your videos!
6) Get paid for taking surveys
If you really need some fast money, you can sign-up online at a popular survey site, like Survey Junkie, and start earning some quick cash!
Here's other sites you can use to make some quick survey money from:
Most of the surveys are short making them easier to complete, but you can also find more in-depth surveys to fill out that payout even better!
Want to see other HOLIDAY posts like this?
How do you plan to celebrate Christmas on a budget?
I hope these tips have been helpful and that you're able to have the BEST Christmas celebration with your little ones, even when you're on a budget. Merry Christmas!