Signs Baby is Ready to Crawl & How YOU can help them!
This post may contain affiliate links that I may receive a commission from if you click & buy. In addition, the information on this site is NOT intended to be medical advice. See my full policy for more information.
Baby's first-year milestones are such a fun and exciting time. The baby milestone I remember most was when my son was learning how to crawl. But what is the signs baby is ready to crawl?
Days before my little guy finally crawled on his own, he was doing 2 very distinct activities every day.
Things that would, in turn, correlate to him being able to master crawling on his own!
I'm going to share the signs you can look for to see when YOUR baby could be ready to crawl plus activities to help them master this new skill!
Big Signs Baby is Ready to Crawl
When babies get ready to approach new and major milestones, such as babbling, crawling, walking, etc…They almost always display very clear signs a milestone is coming!
Here's the 2 big ones my son did, but we'll discuss them ALL so you can have an idea if your little milestone maker is ready to crawl soon!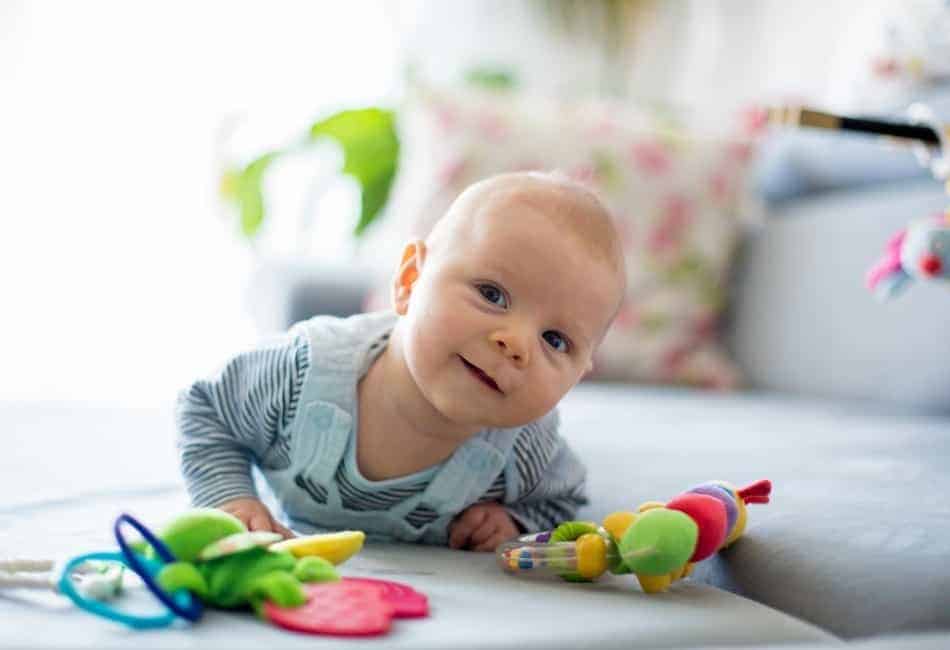 Baby can sit up on their own
When my son turned 5 months old, he began sitting up on his own and became VERY eager to explore during tummy time. It was like a light switch went off where he finally understood he was capable of exploring on his own.
The problem? He couldn't get from point A to point B!
As much as he tried and tried, his little brain and body weren't processing the information to help him get around.
Then he began slowly trying to reach out and army drag himself around while aimlessly shuffling his back legs around.
At that point, I knew crawling was soon to follow his ability to sit up on his own.
That's because, when babies can sit up on their own, it allows them the ability to practice balancing & strengthening their muscles. It also allows them to practice grabbing for items and honing in their vision to focus on said objects!
Baby can support him or herself on all fours
Not long after my little guy was showing a strong interest in wanting to crawl did he quickly learn a new trick.
He began SUPPORTING HIMSELF IN A CRAWL POSITION (on all fours) AND ROCK FORWARD.
It literally looked like he was going to launch his entire body forward. I wont lie, I was a little nervous he might face plant lol.
I could tell he was deep in thought as to "how the heck can I move forward?!" as he looked at me for reassurance.
So I helped him to the best of my abilities.
I supported his belly and slowly drifted him forward and backward, guiding him to move his hands and feet in the correct way.
Within 1 week, this kiddo was full on crawling! Who would've guessed!
Baby can cross crawl
Cross crawling is when babies will move one arm forward along with the opposite leg instead of both on the same side.
This is a classic move little ones do as they slowly become more coordinated with their ability to crawl and move forward.
If your baby begins cross crawling, have no fear they will be crawling in no time!
What age do babies crawl and walk?
Crawling and walking milestones in babies are so independent of your baby.
The average baby crawling age is from 6-10 months old. Meanwhile, the average baby walking age is anywhere from 9-15 months old.
Again, remember that these milestones will and can vary from baby to baby.
Some little ones will focus more on speech and linguistic milestones while others are more intrigued with the physical milestones instead.
And of course, if you're ever concerned with your baby's developmental milestones progress, it's always a good idea to see your pediatrician!
Is your baby crawling? Check out this article I wrote about How to baby-proof your home once your baby is crawling/walking!
What are the stages of crawling? Will my baby just crawl one day?
Generally speaking, most babies go through "stages" of crawling.
They basically do modified forms of an actual crawl until they're able to master the real deal crawl.
HOWEVER, not all babies will experience each stage.
For instance, our little guy never did the backward crawl or the sideways crawl.
SO if your little one takes some extra time, let him have a little bit of time to master his or her new moves.
Regardless, if they're doing any of the stages below, those are clear signs baby will crawl soon!
The stages of crawling are:
The backward or sideways crawl – where they'll scoot themselves backward or sideways.
The commando crawl – this one is funny. Baby will get low as if they're crawling into a tunnel and use their elbows to try and drag themselves forward.
Tent (All fours) Crawl – this is where the baby gets onto all fours and will scoot themselves forward without the coordination of their arms yet. To me, it looks like they're making a human tent, hence why I refer to it as the tent crawl.
The mastered crawl – Congratulations, you officially have a crawler on your hands! Be prepared to baby proof your ENTIRE house and chase after a moving baby!
How to help baby crawl (activities to help baby learn how to crawl)
You're probably also wondering what you can do to help your baby begin to crawl!
There's a lot of activities you can do with your little one to help them prepare for this fun new milestone, crawling!
One way you can help encourage your baby to crawl is by practicing TUMMY TIME.
You can start tummy time with baby as early as you're comfortable (as long as you have no medical reason not to).
I always begin within the first week of bringing baby home.
Tummy time is a great way to help babies strengthen those supporting muscles in their neck, shoulders, back, arms, and legs. In turn, it helps them master some major physical milestones!
In addition, tummy time can help other things like eye coordination as baby begins looking around, pivoting skills, and prevention of a flat spot on the head.
When we would practice tummy time, we'd use a fun colorful activity mat.
This was to help draw his attention to the bright colors and shapes, making it more enticing to want to move his neck around, and eventually crawl!
Sometimes I'd use our boppy pillow to help prop him up. I'd do this for no more than 3-4 mins at a time 2-3 times a day or if he began crying, I'd just try again later.
The key to successful tummy time is to keep your little ones engaged without pushing them past their limit of feeling uncomfortable.
You'd be surprised what kind of silly things I'd have to do sometimes to keep my kiddo entertained!
Begin placing toys within reach in front of your baby during tummy time!
Placing toys out in front of baby during tummy time is an excellent way to encourage them to reach out in front of them!
As they start reaching out, they'll begin strengthening their upper body muscles to work towards the toy they're trying to grab.
I did this activity a lot with my son. He seemed more intrigued by just touching or kicking the items versus grabbing them, but hey, your baby may really enjoy this one!
Practice tummy time in front of a mirror.
There's nothing more entertaining to a baby than their own reflection! You'll find that baby is so eager to investigate the "other baby" in front of them in the mirror they may surprise you by bringing themselves close to the mirror.
Don't have a mirror to use? This little portable toy mirror works great! It's also nice and soft so in the event baby's wild uncoordinated arms knock it over, they won't hurt themselves.
Help baby do a push up
You may notice that with all this increased tummy time, your little one is trying to push themselves UP into the crawl position.
Not entirely on all fours, but with their front arms.
If you find your little one is struggling, you can gently place your hand with 2 fingers on their chest to provide light support as they maneuver themselves up.
Providing small assistance and support for them is one of the best ways you can encourage them with any milestone!
Be patient with them and remove them if they begin to get frustrated.
As baby is slowly learning to exist in this new world while developing these milestones, it's important to let them do so at their own pace.
When you notice baby is getting overly frustrated, don't force them to keep doing the activity. It's ok to end the activity and move on to something else whether it's feeding time, nap time, or just anything else to help take their mind off their frustration.
They should always feel encouraged, not forced as it will boost their confidence as they get older knowing they have your support.
Related Post >> Natural Sleep Remedies for Babies Who Struggle to Sleep (Yes, They Actually Work)
Baby's sleep may be interrupted (developmental milestones affect baby sleep)
Whenever babies approach major milestones, you might find their normal sleep patterns are off.
This could look like:
Having difficulty falling asleep
Wanting to sleep with or close to a parent for comfort
Why exactly do these milestones affect their sleep?
Between the hard work your baby is putting in day after day to master a new milestone, plus their inability to shut their little brains off from the skill they're trying to master, this can lead to interrupted sleep.
Don't worry though, with the 3 C's (consistency, comfort, and calories — because most babies get hungrier after all the work they're doing to master a new skill) your little one should be well on their way back to their normal sleeping habits soon!
In fact, one study showed it could take up to 3 months after a developmental milestone for baby's sleep habits to return to normal.
So try to be as patient as you can for your sake and for baby.
How can I stop my baby growing up so fast?
Well…unfortunately I don't have any tips to prevent this, BUT you can remember that these moments do fly quickly so make sure you cherish each and every one of these milestones while you can!
What signs did your baby show he/she was ready to crawl???
Read more baby care articles here: