Best way to disinfect toys & keep them clean for baby!
This post may contain affiliate links that I may receive a commission from if you click & buy. In addition, the information on this site is NOT intended to be medical advice. See my full policy for more information.
These days, between all the germs and bugs going around, keeping your little one's toys extra clean has probably crossed your mind. More specifically, how to keep baby toys clean without using excessively harsh chemicals?
So don't worry mama. I'm going to cover a VARIETY of ways that you can start doing at home to make sure your baby's toys stay clean and clear of those icky germs (at least, to the best of our ability).
Best way to disinfect toys for baby
One of the best ways to disinfect baby toys without leaving any chemical residue is by utilizing the appliances you have at home such as your dishwasher & washing machine!
How often should you clean baby toys?
This is a big question and it's important. How often should we be cleaning and disinfecting our little one's toys?
The important thing to keep in mind here is going to be their age. Think about it, toddlers and babies (say 4 years or under) will likely be more inclined to put toys (or any random things they play with) in their mouth WAY more often than older children.
Knowing that I would safely try to disinfect my baby's toys at least once a week (which is actually what I currently do as my son is 1.5 years old).
As he gets older, I'll probably cut back to maybe once every other week and eventually 1-2 times per month.
But to be completely honest, there isn't a wrong answer here. If you prefer to be extra clean depending on how many kids have played with your baby's toys, their age, etc…then more power to you mama!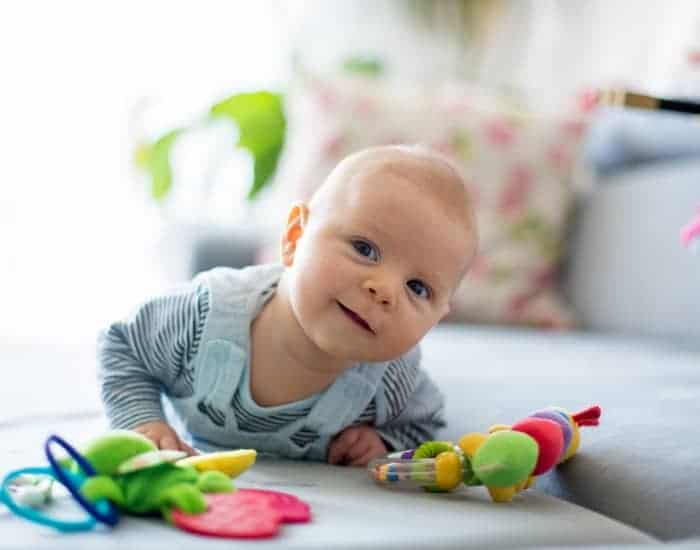 How do you disinfect baby toys naturally?
There's a big divided world when it comes to disinfecting baby toys, cleaning the home and what chemicals to use these days and to be honest, I am NOT here to judge how you choose to disinfect and clean your home.
So instead, I went ahead and researched a TON of information about natural disinfection (regarding to baby toys) along with using things like Clorox wipes or cleaning sprays.
First up, the natural way! You see, there are a few different ways to keep baby's toys clean with natural ingredients with the most popular being: WHITE VINEGAR.
If you're into videos, this video below by Thrive Market is a great one displaying a variety of ways to help keep your baby's toys nice and clean the all-natural way!
Thrive Market is an online market place where you can shop for healthy and natural goods while saving big, without the hassle of expensive shipping!
If going out in the middle of a pandemic stresses you out, opt to get your gentle cleaning solutions through Thrive Market! Right now, you can get a FREE gift (up to $22) just by signing up for one of their membership plans (which are no-obligation, cancel any time!).
If you don't want to miss out on the free gift and lots of savings, give Thrive Market a try today!
How to clean baby toys with vinegar
There's a few ways you can use or make a white vinegar solution to disinfect your baby's toys naturally such as:
Making a sanitizing spray
Mix up the following ingredients in a spray bottle (like this one) & shake well:
Optional* 15-20 essential oil drops
You can also spray or pour this mixture onto a washcloth to make your own cleaning towelettes which makes the toys much easier to wipe down!
One of the best things about this solution is that is can also be used on plastic, wood, large, small or even bath toys!
Lastly, a quick mom hack is that you can make yourself a small portable bottle to keep in your diaper bag when on the go — making it an easy way to spray down and clean any mess that gets in the way!
How to sterilize plastic baby toys
Boiling water to sterilize toys (or even pacifiers and bottles) is probably one of the easiest ways to keep your little one's things nice and clean!
However, not all toys or baby products can withstand that heat!
Make sure to read your toys and baby product packaging before boiling them for specific instructions, but ideally, 3 minutes of boiling is enough time to get them nice and clean!
Cleaning baby toys with cleaning wipes
It's no secret there are some big companies on the market that make convenient cleaning wipes for the entire home, including those icky dirty toys!
Some of these include:
To be honest, I do use these wipes for the sake of their convenience. And because I also have 2 big stinky messy dogs who are ALWAYS managing to get their mouths on my son's toys.
However, I don't use them all the time. I like to rotate between these wipes and the vinegar solution above.
And I will usually use these wipes to my initial wipe down of everything, let them sit for maybe 30 minutes and then run them through a warm soapy water rinse (as long as it's not a toy that will get water residue stuck inside or something overly porous).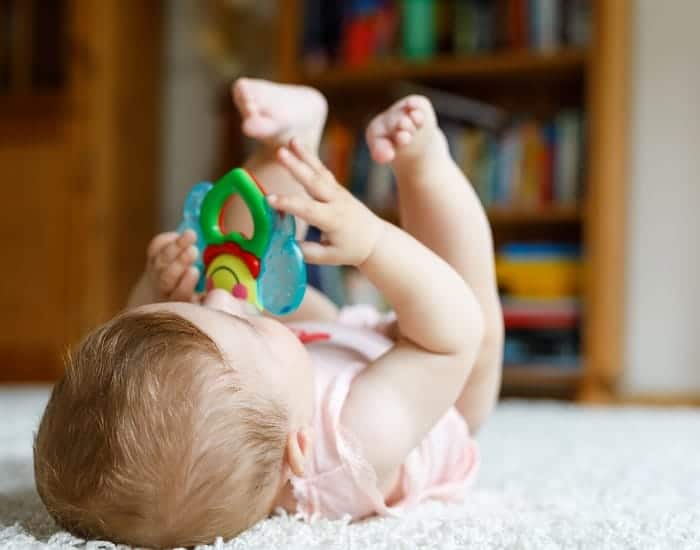 Using soap and water to clean baby toys
The good ol' fashioned soap and water. Which, you can honestly never go wrong with!
However this doesn't always work for those bigger toys that don't fit in the sink, so for those I'd stick to the sprays or wipes.
For the smaller items, load them into your sink with a warm soapy water mixture, let them sit a few minutes, scrub them down and rinse!
How to clean fabric baby toys
Fabric toys can be a bit tricky because you can't really spray or wipe them off easily.
SO – my simple hack is as long as they're not an electrical toy (like a talking teddy bear), I will load them into the washing machine on a gentle, but warm cycle and let them get clean that way!
Wondering which detergent you should use? Great question! I use PURACY Laundry Detergent!
I switched to using the PURACY Laundry Detergent a couple months back after finding out it ranked very well on the EWG (environmental working group) website — see for yourself.
For drying, it will depend on the texture of the toy as some could get ruined in the dryer. But my personal preference is to stick them in the dryer WITHOUT FABRIC SOFTENER and on low heat. It works almost ALL the time in my personal experience.
You can also use a mesh laundry bag to keep those soft plush toys extra safe – there is one set I got off amazon that I do use for my son's smaller or more delicate fabric toys. I've has this mesh laundry bag set for about 1 year now and it works great! Sometimes, I'll even use it for my own delicate items!
Feelin' like you know the best way to disinfect toys for baby?
Comment your GO-TO Cleaning tips below if you have more to add to this!
Other BABY posts you'll find helpful: