Postpartum Essentials Checklist of Must-Have Items After Birth (For Mom and Baby)
This post may contain affiliate links that I may receive a commission from if you click & buy. In addition, the information on this site is NOT intended to be medical advice. See my full policy for more information.
Looking for a postpartum essentials checklist to make sure you can properly help your body and baby recover from birth? Good news, you're in the right place!
As a mom of two myself, I know all too well which items are a MUST and which are a bust when it comes to recovering from childbirth.
The thing to keep in mind is that this is a period where you likely won't feel a lot like your "normal" self. The items on this list won't magically make you feel "normal", but they will help you heal and feel comfortable during this uncomfortable time.
How can a Postpartum Essentials Checklist be Helpful for a First-Time Mom?
You might be wondering why you need this checklist anyways. So here it is.
Postpartum life involves a lot of moving pieces. Your physical recovery is just a small part of the piece.
When you're able to put the cruise control on for a bit and use a postpartum necessities list like this one to quickly gather all your postpartum supplies — it's one less thing to think about as you're getting ready for one of the biggest days in your life.
Postpartum Essentials Checklist for Mom
1. Postpartum Mental Health Guide
Ok…this isn't necessarily a go-to-the-store and bring home kind of product. It's a mental health guide for new moms created by a Clinical Psychologist who specializes in Perinatal Mental Health!
Here's a fact — at least 1 in 7 women will experience postpartum depression and/or anxiety throughout pregnancy or postpartum.
The good news is that you can prepare yourself ahead of time. Familiarize yourself with what the signs and symptoms of these perinatal mental health struggles look like. Know what to do if it is happening to you.
Lastly, understand the different ways you can get help if you're struggling. Knowledge is so much power, especially for a new mom.
That is why the Postpartum Mental Health Guide is number ONE on my list of postpartum essentials.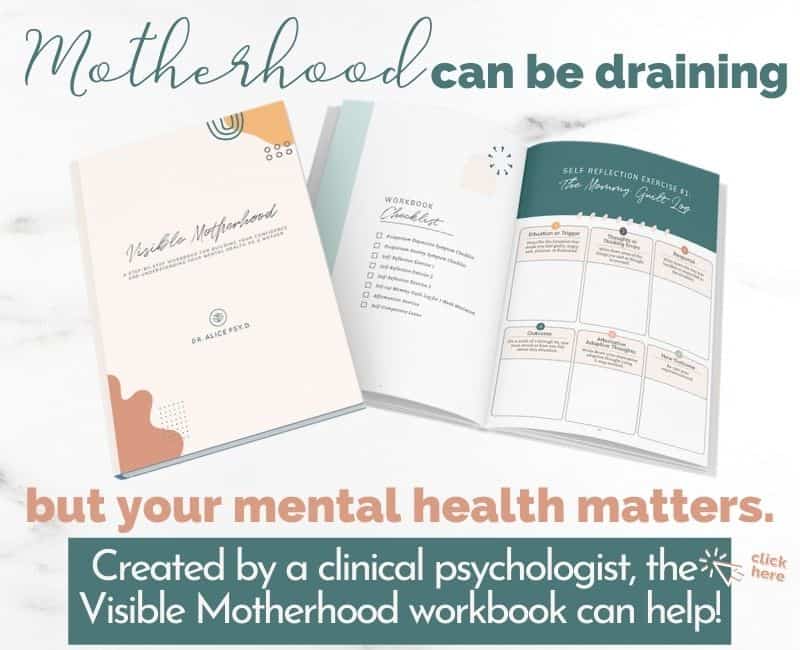 2. Depends (Adult Diapers)
Those first few days after birth will be followed by some pretty heavy bleeding. Don't worry, your hospital or birthing center will likely provide you with massive maternity pads, but they're not the most comfortable.
Instead of shoving giant pads into loose mesh undies, pick up a bag or two of some ultra-absorbent Depend underwear instead! Not only are they much more comfortable and stay in place, but they look a bit more discreet too.
3. Peri Bottle
A peri bottle will soon become your best friend after having a new baby (especially if you had a vaginal delivery).
In the early days of postpartum (right after birth) you will be pretty sore and messy 'down there'. Wiping with toilet paper will cause discomfort and irritation, therefore, the best option is to use a peri bottle (one with an extendable washer like this) to wash yourself off.
One tip I always found helpful after my own births were to do a ratio of half warm water and half witch hazel in the bottle. It not only kept me clean after labor but provided another means of pain relief.
4. Comfortable Postpartum Clothes
Giving birth is far from comfortable. After having my son and getting all settled into my recovery room, I vividly remember just wishing I could change into my comfy loose clothing.
This will be especially true for cesarean deliveries too. Anything tight and compressing along your midline you can forget about. Loose, soft, and comfortable? You bet! That's why it's number three on my postpartum essentials list for mom.
If you need a few suggestions, here are some of my favorite postpartum outfits for mom:
5. Strong Support Circle
Having a group of supportive individuals as you are about to bring a new life into the world is crucial. In fact, it's a lifeline for postpartum moms.
Repeat after me: A supportive circle of friends or family is a non-negotiable item on my postpartum essentials checklist.
Sure, you might have your partner, but at some point, they're bound to feel a little overwhelmed too — then what?
I always encourage pregnant mothers to try and make more friends and really find that "tribe" to help them get through tough things. It doesn't always have to be friends either.
It could be a family member, some co-workers, anyone you know that can be relied upon and trusted is a winner. You don't need a friend that is inviting themself over for lunch after you barely had your baby 2 weeks ago and then asks where the food is.
You need a friend that will call to check in and ask how YOU are doing and if there's anything they can do to help.
Need some help finding your circle?
Find a local prenatal class to socialize with other expecting mothers
6. A Postpartum Recovery Kit
It'll be a good idea to make yourself a mini postpartum recovery kit or basket that you can keep in each bathroom and next to your bed. This way, you'll have easy access to all the essential postpartum items from this list in a convenient spot.
For instance, if you wake up from lots of pain down there, it'll be helpful to have your pain medication close by to take. If you feel yourself leaking through your pad or underwear, having a little basket full of your sanitary items (maxi pads, mesh underwear, perineal spray, stool softener, witch hazel pads, etc…) will come in very handy.
If you don't want to make your own little kit you could ask a friend OR pick up an already made postpartum kit like these.
7. Postpartum Care Plan
What the heck is a postpartum care plan? I know I never knew I should have one either.
Turns out, the same way you have a birth plan, you should also have a postpartum plan. This is to help you have ALL the fine details laid out in one plan.
Some examples of what you'd find on your plan is:
Who is on-call to help you during the first couple of weeks of motherhood?
8. Nursing Pads
That's right, whether or not you choose to breastfeed (and if you do, you should totally check out this post) your breasts will likely leak.
And nobody enjoys walking around with a soaked shirt full of breastmilk.
So stock up on these breast pads for at least the first 1 to 2 months postpartum as you may have recurring leaky breasts until your milk supply regulates.
9. Easy Frozen Meals
You're probably wondering how frozen meals will help you recover…and they won't help you recover, but they will make the recovery process easier!
No more wondering what to make for breakfast, lunch, or dinner while you're healing after birth. Instead, have your postpartum meals prepared and ready to heat, then serve within just a few minutes.
My personal favorites are the subscription meals, like Fresh n' Lean, where the meals are already prepped for you and all you have to do is grab, heat & eat!
10. Donut Cushion
Let me tell you if you had a vaginal birth, these donut cushions are SO AMAZING!
They allow sitting with ease and comfort without putting pressure on your ouchie downstairs!
I honestly think every mama needs one. Plus if you get one the first time and plan to have more kids, you can just store this away until its time for use again!
11. Perineal Cold Packs
I'm pretty sure we covered the fact that your private lady bits will be feeling a bit roughed up.
So, another great way to combat that discomfort is by keeping it cold. AKA – using a perineal cold pack!
I swear by these ice packs, they will do wonders and give you such relief during that first week of recovery.
12. SITZ Bath Soak
I actually didn't use the SITZ baths too often, mostly because the one I had was too small for our toilet lol
BUT I have heard amazing things about them! I did use the actual SITZ bath soak itself in a shallow bath for relief at times which was nice and calming.
Regardless, it's still a good way to help you recover and feel less discomfort during those painful first days.
13. Breathable Postpartum Panties
Soft, comfortable postpartum underwear is going to be a non-negotiable item. I had a couple of pairs that I personally believe are the best. One is a bit of a 'cheaper' pair, and the other I'd consider more 'luxurious' pair.
If I had to choose between the two, of course, I'd choose the more luxurious ones!
By the time you've ditched the disposable undies, you probably are still gonna be filling a little sore and raw down there.
There will be NOTHING worse than a pair of panties that aren't soft and breathable, trust me!
Grap a pair of each, or stock up on whichever you can afford, but definitely do it for your poor lady bits. She deserves some comfort down there.
14. Nipple Cream
Yikes, your breasts are going to be a bit sore during the early postpartum period. They'll feel big, heavy, and pretty tender (especially if you're breastfeeding).
If you find yourself dealing with dry, stinging, or cracked nipples — a nipple cream can help.
One of the hardest parts of the earliest days postpartum was breastfeeding. My first has a horrible lip and tongue tie preventing him from efficiently latching onto my breast or a bottle for weeks.
Needless to say, it was painful and I wanted to give up.
I absolutely SWEAR that this nipple balm saved my breasts. It has a non-sticky texture making it easy to apply. Not to mention this brand is one of my all-time favorites for anything mama or baby-related due to their all-natural & safe ingredients.
If you're struggling with continuous latching issues (which can hinder your milk supply in those early days), make sure to reach out to your local IBCLC for support.
15. Belly Band
There are different types of belly bands out there. Some you may have heard referred to as a "belly binder" or "abdominal binder".
These types of belly wraps are commonly used for postpartum mothers that underwent a cesarean delivery. However, they can be used for vaginal births too.
A belly band has quite a few postoperative benefits, such as:
Helps to hold muscles (and pelvic floor organs) in place
Minimizes swelling around the c-section incision
Can help to increase bloodflow
All important effects that need to occur for a smooth and safe recovery.
---
Between all of these items on the postpartum essentials checklist, you are well on your way to having a wonderful postpartum experience with your newborn baby. So, which of these childbirth must-haves are you stocking up on today?