Bobbie® Vs. Enfamil®: Similarities & Differences
This post may contain affiliate links that I may receive a commission from if you click & buy. In addition, the information on this site is NOT intended to be medical advice. See my full policy for more information.
This article was verified by Jenny Altman
Whether you just gave birth at the hospital or you're several months into motherhood, introducing baby formula sometimes comes with mixed feelings. Between recalls, shortages, and all the formula options available, knowing which baby formula is best for your baby can feel tough to figure out. To make it easier, we're comparing Bobbie formula vs Enfamil formulas— which are two popular choices to nourish your growing baby.
I remember being a new mom with my firstborn in the NICU— I didn't have time to learn about baby formulas when the hospital staff told me they'd be offering him what they had on hand. I had just given birth, I wasn't producing any milk yet, my baby needed to eat, and my emotions were running so high. Of course, I said, "Yes, feed him whatever he needs!"
Fortunately, our experience using baby formula for a short period turned out fine.
In fact, my little guy is a healthy 3.5-year-old getting ready to celebrate his fourth birthday, but I look back and still wish I knew a little bit more about formula before having to make such a quick decision.
By the time you finish this article, you'll have a solid understanding of Bobbie formula vs Enfamil formulas to help you make an educated choice of which might be best for your baby.
About Bobbie Organic Baby Formula
Bobbie baby formula was born out of two moms' frustration with wanting to feed their babies safe, high-quality infant formula. So in 2019, Bobbie was officially launched.
Its European-style milk-based formula uses lactose as the only form of carbohydrate. Bobbie contains no added sugars, has added DHA and iron, is USDA organic, Kosher, and is easy for your little babe to digest. Bobbie is also free of palm oil and corn syrup.
Did you know that Bobbie is the first baby formula to have received the Clean Label Project Purity Award and the Clean Label Pesticide-Free Certification? Yep, you can be sure your baby is steering clear of dangerous chemicals and pesticides that don't belong in baby formula in the first place.
Unique to other formula brands, Bobbie began as a subscription-based company before expanding to select stores and Target nationwide. Even during the 2022 formula shortage, they've been dedicated to supplying enough formula to meet their subscriber's needs which is just amazing!
Lastly, Bobbie has a big focus on sustainability and quality. Bobbie organic infant formula is manufactured in the United States and uses premium ingredients like grass-fed milk from pasture-raised cows on Organic Valley Farms. And rest assured, your concerns are their concerns — thanks to their innovative team of scientists, innovators, and regulatory experts who are also moms.
About Enfamil Baby Formulas
Now, we know you've seen Enfamil baby formula at almost every store around, so let's learn a little bit more about Enfamil baby formulas.
Enfamil baby formulas are manufactured by Mead Johnson and Company (which was acquired in 2017 by Reckitt Benckiser). Enfamil's infant formula is fortified with DHA to help support your baby's healthy brain development and growth. While most of their infant formulas are not certified organic, their Enfamil Simply Organic formula is in fact made with USDA-certified organic milk.
Enfamil isn't just limited to infant formulas. In fact, they carry a variety of infant formulas in powder and liquid form, specialized formulas, electrolytes, and even toddler nutrition products.
Enfamil infant formula can be found at most retail locations and is available for sample at some pediatrician offices, hospitals, and online.
Comparing Popular Formulas: Bobbie vs. Enfamil
Enfamil has three routine infant formulas and one organic formula to choose from. Meanwhile, Bobbie has one product. So, how does Bobbie compare to Enfamil Enspire, Enfamil NeuroPro, Enfamil routine, and Simply Organic? Let's break these comparisons down below.
Best Standard Formula: Bobbie Vs Enfamil Routine
You might be thinking that Bobbie and Enfamil products look pretty similar. And they do, but there are some key differences between the products you need to know about.
Enfamil Enspire and Enfamil Neuropro have added milk fat globule membrane and lactoferrin, this is a substance also found in human breast milk. Bobbie on the other hand does not include these added ingredients in its formula.
DHA (docosahexaenoic acid) is an important addition to infant formula as well as during pregnancy, this is why both companies supplement it in their baby formula. Did you know that low brain DHA levels are associated with higher levels of anxiety, aggression, and depression as well as cognitive deficits?
Both Enfamil and Bobbie have added DHA to support baby's brain and eye development. Bobbie includes 20 mg of DHA per 100kcal of formula, while Enfamil NeuroPro has 17mg of DHA per 100 kcal of formula.
These infant formulas are supplied in various ways as seen below:
Bobbie formula is organic and non-GMO and offered in powdered form.
Enfamil products are non-GMO but not all are organic; available in a variety of forms.
Enfamil NeuroPro is also available as a liquid.
The original Enfamil formula comes in all three forms: powder, liquid, and concentrate.
And yes, both Bobbie and Enfamil products are FDA regulated, as are all infant formulas legally marketed in the United States.
So what makes Bobbie vs Enfamil routine formula different from one another?These two routine formulas have quite a few similarities, however, Bobbie offers an easy-to-digest organic formula with more DHA for a developing baby's brain.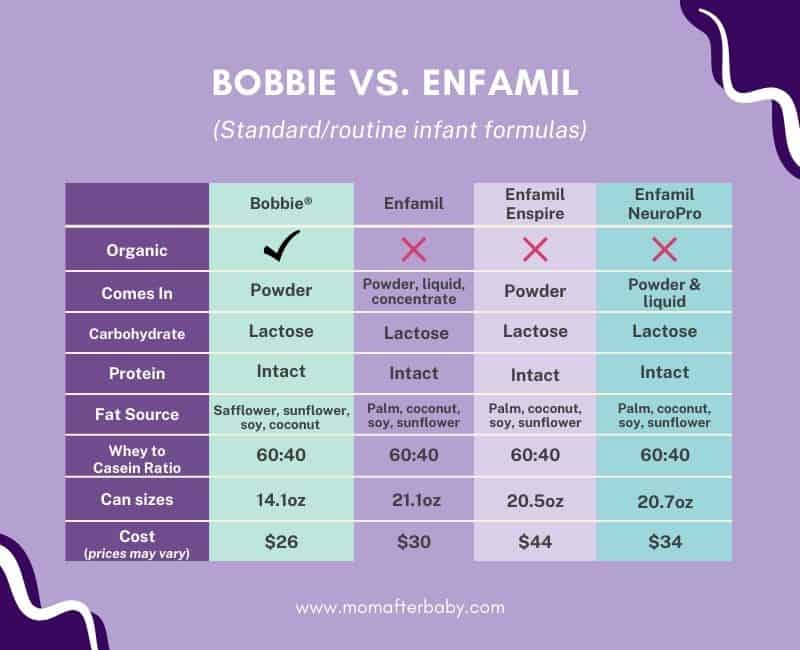 Best Organic Formula: Bobbie Vs Enfamil organic
Bobbie formula is USDA-certified organic. Enfamil also makes one organic formula option.
If an organic baby formula is important to your family (whether it's for health or sustainability reasons) Bobbie may be a better choice. Bobbie never uses palm oil which is a contributor to deforestation and negative environmental effects.
In an effort to mimic breast milk's whey to casein protein ratio, Bobbie formula adds whey protein concentrate to the formula.
Enfamil Organic, on the other hand, has a whey to casein ratio closer to cow's milk because they don't add in the whey protein concentrate.
Bobbie is a great choice for any family looking for a lactose-based infant formula that values sustainability and a formulation as close to breastmilk as possible.
Enfamil Organic may be a good choice for those with babies who have difficulty digesting lactose and needs another carbohydrate source.
Best Non-GMO Formula: Bobbie Vs Enfamil non-GMO
All organic formulas are made with non-GMO ingredients. There are a few of Enfamil's infant formulas that are specifically non-GMO, but not certified organic. Enfamil Enspire routine non-GMO and Enfamil NeuroPro routine non-GMO are the two that include only non-GMO ingredients.
The Bobbie and Enfamil Simply Organic are both made with dairy sourced from grass-fed cows, which limits the trace GMOs that could be present in animal feed.
To take things another step further, Bobbie uses dairy sourced from Organic Valley Farms (a certified grass-fed organic dairy) in its organic, non-GMO formula.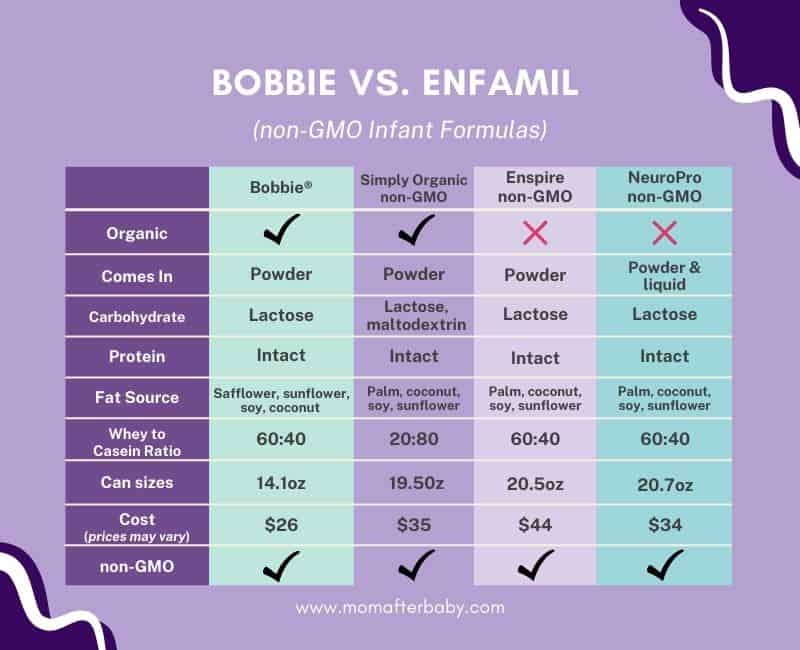 Best Gentle Formula: Bobbie Vs Enfamil Gentlease
Bobbie was not created as a gentle baby formula, but as a routine, everyday formula. Their formulation includes a 60:40 whey to casein protein ratio, closest to breast milk, with your baby's comfort in mind.
Enfamil NeuroPro Gentlease is formulated to be gentle on a baby's sensitive tummy. They do this by using partially hydrolyzed nonfat milk in the formulation.
In Conclusion: Bobbie Vs. Enfamil – Our Formula Recommendation
Just by reading this article alone, you can see that we've compared over 6 infant formulas. These are a lot of baby formula options to consider, and we don't want you to feel frustrated or overwhelmed by these options.
When it comes to finally making a selection, choose the baby formula that best suits your baby's needs as well as your values around health, sustainably, and of course affordability.
If it's any reassurance, Bobbie makes it easy to know exactly what you're getting in their baby formula thanks to the rigorous testing, product security, and tracing that they do. They also have a lot tracker that lets you enter the code on your can to see when your product was packaged, its expiration date, and quality test results.
Thanks to their organic lactose-based formula & additional DHA supplementation, you can rest assured your baby's digestion and immunity are prioritized with a choice like Bobbie.
Read more articles just like this one, here: