5 Tubby Todd Products That Will Make Your Baby's Skincare Routine BETTER!
This post may contain affiliate links that I may receive a commission from if you click & buy. In addition, the information on this site is NOT intended to be medical advice. See my full policy for more information.
If you're looking for skincare products for your little one that is all-natural, clean, and gentle enough for the most sensitive skin — I've got some Tubby Todd Products to share with you!
After I gave birth to my first baby, it wasn't long before we found ourselves in the emergency room due to a weird rash he had developed. I know now that it wasn't an emergency, but the nurse's line asked us to come in just to be safe, so we did.
That night, we learned our son was having a rash likely due to heat or possibly due to the fabric of his clothing irritating his skin. Thankfully, the rash never seemed to bother him, nor did his clothes, but I quickly learned the rash wasn't from either of those things.
On his next bath day, he ended up with the exact same rash! That's when I realized it had to of been the body wash I was using. I quickly tossed it away and began searching for a better alternative, that's when I stumbled across Tubby Todd (pssst. don't forget to read the whole article for a special discount to save 10% off your purchase of Tubby Todd Skincare)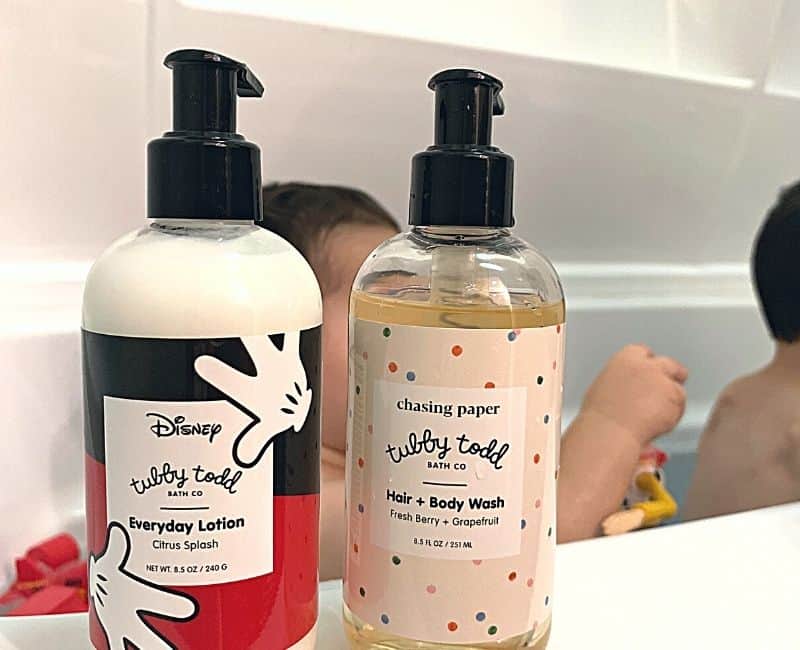 Who is Tubby Todd?
Tubby Todd is a family-owned skincare brand. They create gentle, clean, and effective skincare products for little ones and pretty much the whole family. Plus, the main reason Tubby Todd was created was to find a solution for their own family's sensitive skincare needs.
If there is ONE thing I love most about Tubby Todd products, it's that they use such clean ingredients! Not a single product contains parabens. Instead, they use natural, plant-based preservatives — pretty neat, right?
Now that you learned a little bit about why Tubby Todd is so awesome, let's dive into my favorite products that have transformed my little one's skincare routine!
5 Tubby Todd Products We Can't Live Without
1) All Over Ointment
I listed the Tubby Todd All Over Ointment as number one because it is my absolute favorite product. Not just for my baby's skin, but also for mine!
This creamy ointment was made for eczema-prone, cradle cap-prone, and sensitive skin for all. In fact, some parents even call this the "Tubby Todd Eczema Cream", but that's not its name, just FYI.
It was also one of the ointments I used to help my son's rash get better. Not even one day after applying this ointment, the redness had gone down and the rash appeared to hardly be present.
After using it for almost 3 years now, I've had a great experience when using it to help with dry skin during the winter and red chapped cheeks during the warm summer months. Thanks to the creamy texture, it always glides on and smooths in with ease without any oily residue.
If you're wondering why Tubby Todd's All Over Ointment works so well for so many, it happens to contain Beeswax (Cera Alba) which is known for its strong antibacterial properties to help heal wounds.
It also contains Camellia Leaf Extract (Camellia Sinensis leaf extract) which is known for its antioxidant and skin conditioning properties. It has many other natural ingredients that work hard together to keep your sensitive-skinned babies' skin safe and moisturized. And yes, I keep a travel-sized one in my diaper bag.
Click here to learn more about Tubby Todd's All Over Ointment
2) Hair and Bodywash
My favorite bathtime product is easily the Hair and Bodywash (though, my kids will probably disagree that it's the bubble bath because when aren't bubble baths a total party?!).
Not only does this wash smell so relaxing, fresh, and clean with its subtle lavender scent, but it's made with such gentle ingredients I NEVER have to worry about it irritating my boy's skin. This hair and body wash also comes in a fragrance-free option for anyone sensitive to the lavender scent.
Now, you might be thinking "this bottle looks so small", but let me assure you, a little goes a LONG way with this product. Unlike others, it lathers onto the skin so soft and gently — you truly won't need much for a full head to toe wash. This will make the product last around 2 months. Between my two boys, one 8.5 oz bottle lasts me anywhere from 1.5-2 months long, sometimes a little longer!
Like their other products, this one also contains nothing but clean and natural ingredients, making it a staple bath product for us.
Click here to learn more about Tubby Todd's Hair and Bodywash
3) Bubble Bath
If you're tired of being let down by cheap bubble bath products with nasty ingredients and minimal bubbles — problem solved! Thanks to the Tubby Todd Bubble Bath, your little one's next bath will be loaded with lots of bubbles! Hence, why it's both of my boy's favorite Tubby Todd products.
The ingredients in this Bubble Bath are just as gentle and clean as the rest of their natural products. What is also convenient, is you can grab the Tubby Todd Bubble Bath in one of their bundles to save a little on the cost, too!
Click here to learn more about Tubby Todd's Bubble Bath
4) Everyday Lotion
What better way to keep your little one's skin so soft and smooth after the bath than with the Tubby Todd Everyday lotion! It's perfect for all skin types and you can snag a bottle on its own or in their popular regulars bundle for additional savings. Just like the All Over Ointment, I can't help but use some for myself every once and a while too. Plus, it never fails to keep my skin nice and smooth.
I also love that it currently comes in 5 different fun scents while still maintaining its non-Irritating, gentle, and natural ingredients.
Click here to learn more about Tubby Todd's Everyday Lotion
5) New Mama Hand Cream
Lastly, my all-time favorite hand cream, is the New Mama Hand Cream. It reminds me a lot of the All Over Ointment with the exception that it's a little bit thicker and even more creamy. It also smells like lime with a hint of ginger, I wasn't expecting to enjoy the scent as much as I do.
I never have to use more than a small dollop of this cream and it leaves my skin moisturized for hours! Now, I don't know about you, but I wash my hands a lot during the day. Between dishes and cleaning up messy spills, my hands are prone to having very dry irritated skin.
With the New Mama Hand Cream, I'm able to put a little on and feel the dryness be replaced with moisture almost instantly. However, I must be honest. I haven't replenished this cream in quite some time.
Though I do love it, I do find the price a bit steep for a 3.5oz tube. Yes, a little goes a long way, but 3.5oz isn't very much. Since I know the other items for my toddlers are a must, I only get this cream for myself every once and a while.
Click here to learn more about Tubby Todd's New Mama Hand Cream
Conclusion: Are Tubby Todd Products Worth It?
This is the big question I know you're all waiting for me to answer, are Tubby Todd and their amazing products worth it? Absolutely! Between their clean ingredients and bundle options, there are many ways you can stock up on your favorite product without overspending.
Now, I know not every single person will have the same experience with these products that my family has, but that doesn't mean it's not worth a try! If you are ready to try baby skincare products that offer good, clean fun — you should give Tubby Todd a try today.
Other popular Tubby Todd Products parents rave about:
Sweet Cheeks Diaper Paste – Contains 14% zinc oxide to help treat and prevent diaper rash from your little one's sensitive skin; helping to make diaper changes less stressful for all.
Organic Chest Rub – The smell of this rub is so relaxing which is why so many parents use this as their go-to soothing chest rub when they have sick kids at home. Some parents even expressed using this as part of the bedtime routine — sick or not.
Want to save 10% off your Tubby Todd order? Use THIS LINK to shop. No code is needed, an automatic 10% off will be applied during checkout.
---
Which Tubby Todd Products are YOU most excited to try for your family?
Read more baby care articles here: