Why THIS Collagen Protein Shake for Moms is One I Can't Live Without
This post may contain affiliate links that I may receive a commission from if you click & buy. In addition, the information on this site is NOT intended to be medical advice. See my full policy for more information.
If you're searching for a delicious collagen protein powder AND you're a mom like me, look no further. I've tried MANY collagen protein powders for women and for moms, and I'm happy to report I found one that tastes good, is expert-formulated and doesn't leave a nasty aftertaste! This article is a sponsored review of the Ella Beauty Collagen Protein Powder.
Before motherhood, I was an avid weightlifter. You could find me working out at least 5 days a week. I would literally plan my days around my workouts and health routine.
That said, I am no stranger to protein powders, however, for whatever reason, I never tried or used collagen protein!
At least, not until after I became a mother. You see, becoming a mom opened a new door to learning about health, hormones, nutrition — you name it!
And it was through that journey I discovered the incredible benefits of collagen protein, especially for moms. And though I've had my favorites over the years, I've never found one that both TASTE GOOD + MIX WELL.
Until recently, when I discovered Ella Beauty Collagen Protein Powder.
*Disclaimer: These statements have not been evaluated by the Food and Drug Administration. Please consult with a healthcare professional before consuming (especially if you are pregnant or breastfeeding).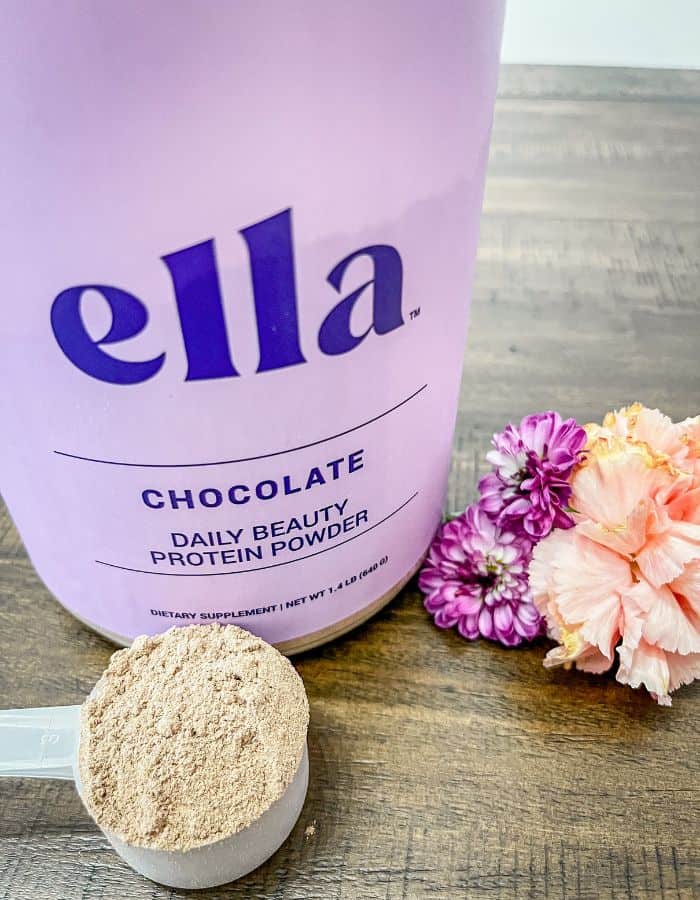 Why Should Moms Consume Collagen Protein?
If you're unfamiliar with collagen, it's the most abundant form of protein in the body and has a very important role.
Collagen can be found in the body's connective tissues such as skin, bones, and cartilage. It is essential for maintaining the structural integrity of these tissues and plays a crucial role in skin elasticity, joint health, and bone strength.
Collagen is also a major component of hair and nails, and it helps support their growth and strength (hey postpartum moms, I'm lookin' at you).
Moms should prioritize the use of collagen protein because it can provide many health benefits, especially as we get older.
Over time and as we age, our bodies produce less collagen. This can lead to the development of wrinkles, sagging skin, and even joint pain.
Therefore, by supplementing with collagen protein, moms can help support their skin's elasticity, improve their joint health, and also meet their protein intake needs.
Collagen protein is also beneficial for postpartum recovery, as it can help support tissue repair and reduce inflammation (which I talk about even more in this article). Adding collagen protein to your daily routine can be an easy and effective way to maintain your health and vitality as a busy mama bear.
Why Ella Beauty Protein Powder?
Ella Beauty Protein Powder is a Collagen + Organic Seed Protein for women created by Naked Nutrition. If you've heard of Naked Nutrition before, you're probably aware of their best-selling Naked Whey!
Naked Nutrition was founded by former cross country and track All-American Stephen Zieminski in 2014. Their core message is to "give people control over their health and fitness journey by using pure ingredients that are easy to understand and as few of them as possible."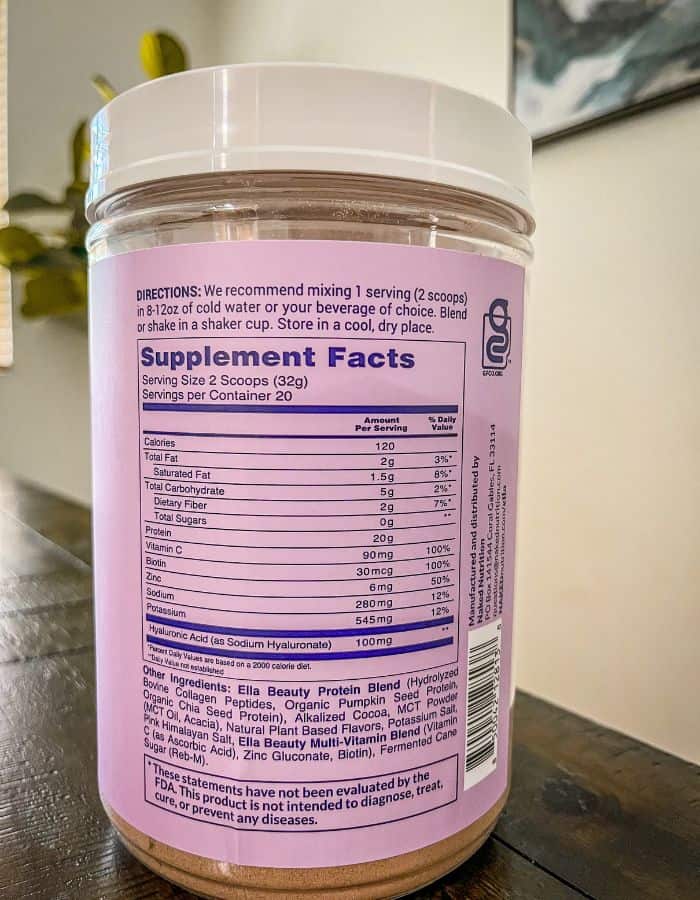 Now I won't lie, it was very reassuring to know the vision behind the brand is really to empower us, as humans, to take back control over our health. And with quite a few of their Naked protein powders on Amazon featuring over 10,000 positive reviews, it was evident to me I needed to give their new supplement (Ella Beauty Protein Powder) a try.
Here are a few reasons I'm loving this protein collagen powder:
It helps Me Consume Enough Protein Daily
One of the hardest parts for me, as a mom, is ensuring I'm meeting my nutritional protein needs throughout my day.
I often find myself skipping meals and feeling exhausted. So being able to use this collagen protein supplement to blend up a quick shake (I'll share my favorite recipe at the bottom of this post) has been a total game changer.
Collagen is also well known to be gut-health-friendly. As someone who has experienced many digestive issues in the past, especially when I used to drink whey protein concentrate.
Supports My Hair, Skin, and Nails
This is mostly a dedication to all you postpartum moms out there wondering when your nails will ever stop being so brittle again or when your thinned-out postpartum hair will look LUSH, but let me tell you. Collagen is your friend.
Not only does Ella Beauty Protein Powder contain collagen, but it also contains zinc, biotin, and vitamin C to help promote thicker, stronger hair, skin, and nails.
And just a little FYI — collagen is fantastic for overall skin health and recovery after birth!
Blends Well With Most Liquids
Lastly, I loved how Ella Beauty Powder mixed oh-so-well in the different drinks I made. I tried everything from:
Adding it to my coffee
Mixing it with water
Using it to make protein pancakes
Blending into an iced shake
Mixing it in a shaker bottle with some almond milk
And let me tell you, it mixed well with them all! The only one I noticed a slightly chalky taste with, was when I mixed it with water.
Granted, I don't tend to have high expectations of most protein powders mixed with water. So that aside, I really enjoyed the variety of ways I could consume this collagen powder.
My favorite way to incorporate this protein into a shake is by blending it with my coffee in the morning, adding some crushed ice, pouring in my favorite low-calorie creamer, and enjoying a high-protein blended coffee. Hits the spot really well in the morning.
Ella Beauty Powder — Chocolate Protein Pancakes
I don't know about you, but breakfast is my absolute favorite meal of the day. Now, if I can eat one of my favorite foods (ahem — PANCAKES) with some added protein powder that supports my hair, skin, nails, and overall health, you can count me in.
Below, you can find my favorite recipe which I've been enjoying almost daily for the past 2 weeks.
Ingredients You'll Need:
Your favorite pancake mix (you can make this by scratch, but as a mom of two toddlers — I use a premade pancake mix)
1 scoop of Ella Beauty Protein Powder in Chocolate
1 Egg
Approximately 3/4 cup water or milk (depending on your premade pancake mix)
1 tsp of Vanilla Extract
Non-stick cooking spray
Sugar-free maple syrup
You'll also want to make sure you have a medium non-stick pan.
I find with pancakes that they always cook best on a non-stick pan to prevent them from falling apart when it's time to flip and also cook evenly throughout.
Chocolate Collagen Protein Pancake Recipe
Making these yummy directions are simple!
Make sure to follow the instructions on your pre-made pancake mix plus, add in your collagen protein. If you notice your mixture is thicker, keep adding water or milk to achieve the perfect batter texture.
For this recipe, here is what I did below:
1) Preheat a non-stick pan on low/medium heat.
2) Combine all dry ingredients in a large measuring cup and mix them together.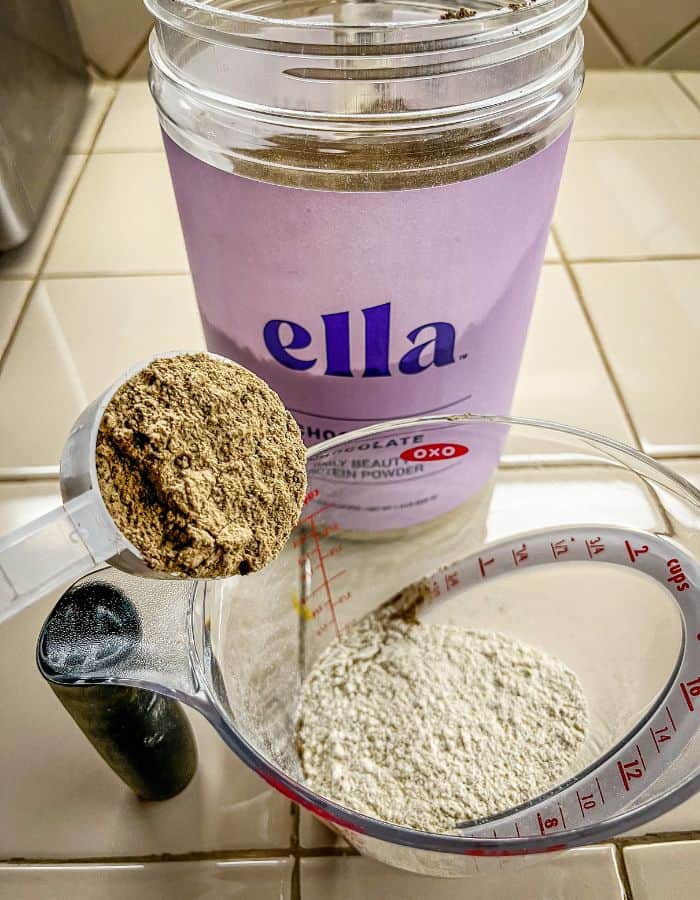 2) Add in 1 egg and mix.
3) Pour in wet ingredients and mix until the batter is a creamy consistency, thin enough to easily pour into a pan, but thick enough so it's not overly runny.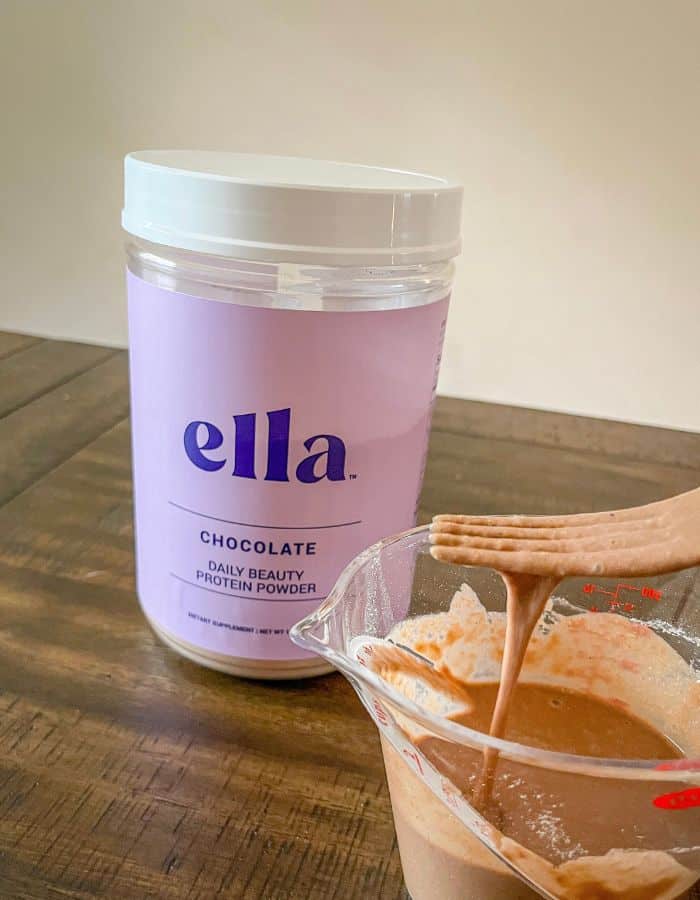 4) Then, spray your non-stick spray into the pan and pour in the batter.
5) Cook for approximately 3-5 minutes per side.
6) Remove from the pan and stack these fluffy, delicious, pancakes up for breakfast and enjoy with your favorite toppings (I love mine with sugar-free maple syrup!)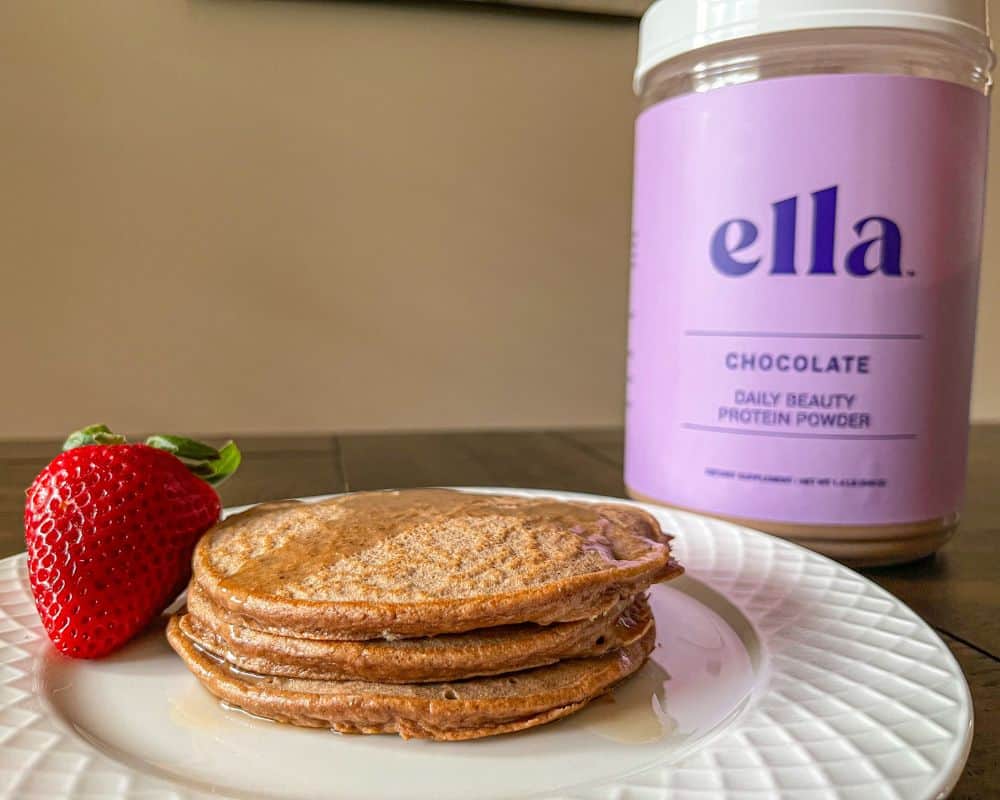 These pancakes are such a convenient way for you to make sure you're kicking off the day with a healthy (and tasty) start!
And if you're looking for a convenient way to support your protein intake without relying on protein shakes, supporting your gut health, and new moms experiencing hair loss, then give Ella Beauty Protein Powder a try today.
Read more motherhood articles here: