5 of The Best Postpartum Workouts New Moms Should Know About
This post may contain affiliate links that I may receive a commission from if you click & buy. In addition, the information on this site is NOT intended to be medical advice. See my full policy for more information.
As a postpartum mom, it can be hard finding workouts and exercise plans tailored to the changes your body is experiencing. That's why we rounded up the Best Postpartum Workouts for New Moms.
One of the hardest parts about finding a workout program after having a baby is that there aren't too many around. Sure they have regular exercise DVDs, high-intensity exercise programs, and even gym membership programs — but they weren't entirely created for a new mother.
If you're the type of mom that gets her exercise through gentle walks around the neighborhood with your baby in tow, that's a great thing! Don't fix what's not broken.
However, if you're a pretty active mom looking for a post-pregnancy workout that takes hormonal changes, pelvic floor muscles, and the postpartum period in mind, you will love the specific exercises we've rounded up for you.
The BEST Postpartum Workout Program After Birth: How to Choose?
These five are a few areas you'll want to be mindful of when it comes to your workout program selection.
I'm going to break them down so it makes sense and can hopefully help you find a workout routine that fits your lifestyle and overall health!
What's your fitness level?
If you're a total novice who's never worked out before (besides mild walking or some yoga back in the day), you need to be mindful of choosing a routine that isn't overly advanced for you.
The good news is, that most postpartum workout plans are designed with novice – advanced levels of fitness in mind!
However, if you find a program that "looks cool", maybe guarantees you some weight loss results, and boasts its 10 mins per day commitment, I'd caution you to think twice.
Typically if you're newer to working out, you'll likely spend a little more time going through the movements, learning what they feel like and how your body reacts to them — not the opposite.
Finding a program that can efficiently guide you through the process (even if the results trickle in slowly) will have much more benefits than a program that rushes you through and isn't geared specifically for postpartum moms.
Risks of exercising too soon postpartum
Yes, you CAN jump back into exercising too soon.
Before selecting ANY kind of program, you'll want to make sure at the very least, you get medical clearance from your doctor.
If you rush into things too quickly, you could end up being faced with:
Intestinal hernia (more common for post-cesareans if not healed completely)
Vaginal tears/episiotomies not healing all the way or becoming infected
Cesarean incision infection
Heavy postpartum bleeding
Physical injury while working out
Those are just a few of the "bigger" things you'll want to avoid by not working out before you're ready.
Are you breastfeeding?
Contrary to popular belief, working out does NOT directly lower your breast milk supply.
However, there are some reasons many moms experience a sudden drop in milk production after they resume working out again.
Not consuming ENOUGH calories — breastfeeding alone requires an additional 300-500 calories per day, when you add in a workout, you need to increase that number a bit in order to maintain your milk supply! Otherwise, you may notice a decrease in milk production
Not drinking ENOUGH water — many women struggle to drink water as is, but when you add in a workout, it's important you don't skimp on keeping yourself hydrated. I like to use my thermoflask (just as good as a hydroflask, but half the price) to carry around with me and make sure by the end of the day that I've consumed at least 2 full containers worth. Otherwise, a good rule of thumb is to drink to thirst!
Skipping nursing/pumping sessions — making time to workout in addition to your nursing/pumping schedule for baby can be tricky. However, it's key that you don't skip any of your nursing/pumping sessions as you're pretty much telling your body you don't need it to make milk (remember, if the breasts stay full it signals you don't need more milk). I like to wear a nursing/pumping bra that way if I must stop in the middle of a workout, it's easy to nurse or pump and get back to my workout!.
Now that we got through 3 pretty important pieces of what you need to consider before selecting a workout program, let's take a look at the 3 BEST postpartum workout programs for moms!
The Best Postpartum Workout Plans for New Mothers

These 5 are the BEST postpartum workout programs for moms — hands down.
Each provides a unique approach to helping you recover and strengthen your body after giving birth, but I'll list all the specifics as we go over em'.
Mutu System Program for Moms
The Mutu System has been around since 2009, making it one of the MOST recommended & leading postnatal workout programs for moms!
The Mutu System was specifically created as a 12-week program to help moms:
Say GOODBYE to leaking urine
Build up their body confidence
And have all the support any mom could need in her postpartum fitness journey!
One of the other great parts about The Mutu System is that you do NOT need any kind of gym membership!
Knowing moms are often pressed for time and preoccupied with little ones, this program was designed to fit into your hectic schedule where you can stream it from ANY of your favorite devices!
Need to see some of the many moms like you and I who have seen incredible results? Feel free to check them out here!
Juna App Workout & Nutrition for Pregnant/Postpartum Moms
The Juna Workout & Nutrition App is one of the newest, but highly raved about fitness programs for pregnant and postpartum moms!
Although being newer, they are truly one of a kind because you won't find any other app that provides the amount of high-quality fitness AND nutritional content tailored to moms from pregnancy to postpartum!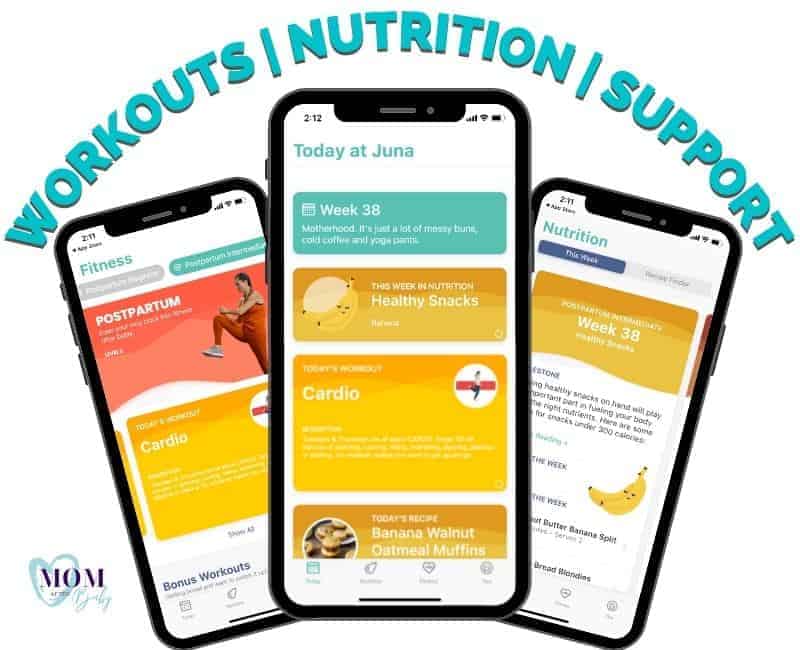 After personally using this app myself after my 2nd son was born, I can't help but rave about them!
One of my personal favorite parts about Juna is that you don't blindly select a workout program.
Instead, you enter your due date (or when the baby was born) so that it can take you through guided workouts & provide nutritional + rehabilitative exercises for you based on where you're at in this motherhood timeline.
When using the Juna app, you can expect:
Curated content from industry experts such as a Pre & Post Natal Exercise Specialist, Pelvic Floor Physical Therapist, Fertility + Pregnancy & Postpartum Registered Dietician, Certified Lactation Educator- Counselor, Certified Personal Trainer, and Labor and Delivery Registered Nurse.
200+ follow along workouts
Encouragement to stay active, find support and motivation through their private Facebook group
Nutritional tips & "Food of the week" highlights including recipes and snack tips
Baby Tracking & Milestone tips
Daily diaphragmatic breathing to help you prepare for labor AND recover from birth!
Because I was really into strength training prior to having kids, I really enjoyed that this app does focus a lot of its workouts around the strength training aspect.
Jena Bradley's Postpartum Ab Rehab
Jena Bradley is a Doctor in Physical Therapy who started her own 12-week exercise program to guide & educate postpartum moms all about how to exercise having a baby and how to do it safely!
What stands out about this postpartum fitness ebook compared to the rest, is that Jena takes you through what to expect and how to handle those first few days postpartum beyond just a "fitness routine".
She also does a really great job about explaining how your abdominal muscles work from being pregnant to now working out. It's really helpful (and fascinating).
The breakdown of this workout program includes:
How to handle the first 48 hours after giving birth
What to expect the first 6 weeks after birth during the "waiting period"
Approaching fitness after birth if you had a cesarean
How to understand and correct diastasis recti
Educate on the importance of eating a well balanced nutritional diet
Unlike the other programs, this one is in an e-book format. So if you like courses and having the material in video format, this one won't be for you.
But if you enjoy that slower paced reading then applying what you've read — this option is perfect for you!
You can check out Jena's 12-week Postpartum Ab Rehab Program here!
Every Mother (Therapeutic Postnatal Programs)
Every Mother is a research-based, on-demand platform providing exercise therapy regimens for moms starting as low as $9.95/month.
Their programs are unique in that they are exercised focused with a therapeutic approach so that you can get active with some light exercise while rehabilitating parts of your body that need it most.
This new exercise program was started in 2018 and has plenty of moms raving about it. In fact, that's how I heard of this program, by word of mouth. Unfortunately, I haven't had the chance to try it firsthand, but I have no doubt it's a wonderful addition to your postpartum recovery.
Some of the postnatal workouts they offer to help with certain issues include :
Prolapse
Diastasis Recti
Pelvic Pain
Sexual Health
Incontinence
Surgical Recovery
See any categories above you could use support with? Check out Every Mother today!
Get Mom Strong (total body fitness program for moms)
Get Mom Strong was created by a pregnancy and postpartum exercise specialist with a mission to help moms regain their strength, health, and confidence. Oh yeah, she's also a mom.
What I love most about this program when I was researching all the details, is that there is a massive emphasis on rehabilitating and strengthening a woman's core and pelvic floor throughout all phases of motherhood: preconception, pregnancy, postpartum, and beyond.
This is unfortunately a postnatal exercise and postpartum body fitness program I haven't tried myself, but it has some raving reviews and after researching it myself, I can't imagine I'd be disappointed.
It's as easy as signing up for a subscription (of course, after your healthcare provider gives clearance) and then going through the 6 programs and nutrition guide at your own pace.
Here is a breakdown of the 6 programs Ashley offers in her subscription plan:
Level 1: Core Basics — this is where the foundation to healing your diastasis recti, pelvic muscles, prolapse, leaking, painful sex, back pain and guess what? They're only 15 minutes long.
Level 2: SLAM Bridge — here you'll focus on building strength and stamina, regardless of how many months postpartum you are.
Level 3: SLAM30 — these 30-minute total body workouts are a great way to get your heart rate up and break a sweat (especially if you're a busy mom always on the move).
Level 4: SLAM — this part of the program combines strength and conditioning while being mindful of your core and pelvic floor.
Level 5: SLAM Advanced — challenge your body with these home workouts created to kick up the intensity and feel amazing changes throughout your entire body.
Exercise Plan 6: SLAM Pregnancy — these workouts are tailored to each week of pregnancy; including health tips from a variety of birth workers to prepare your physical strength and mental health for the big day, labor.
SLAM Nutrition — say goodbye to diets that never work and the scale that leaves you feeling anxious and instead, focus on learning simple nutrition tips to help fuel your body.
If you're looking for a well-rounded postnatal workout program that can be valuable long past the postpartum stages, this is your go-to.
Postpartum Fitness Program FAQ:
What Are The Benefits Of Using a Postnatal Workout Plan?
Using an exercise program for postpartum women is an excellent tool to help moms move their bodies, prioritize their health, and strengthen muscles that may need a little TLC after birth.
I don't know about you, but having a plan in front of me that tells me exactly what to do also makes it way easier to show up and be consistent. If getting into a solid postpartum exercise routine is one of your goals, try using a postpartum workout plan like the ones above.
What Type Of Exercise Should Moms Do After Birth?
Right after childbirth, the important thing to focus on is your recovery. Once you get clearance to add in some more physical activity during your 6-8 week postnatal check, then you can start using a postpartum workout plan.
Remember, when you're starting out, you want to emphasize gentle exercise as you strengthen your body to take on more. If you're experiencing signs of a weak pelvic floor or core, you'll want to emphasize the recovery there, and personally, I'd suggest being seen by a pelvic floor therapist to ensure your recovery is heading in the right direction.
---
Finding a workout routine that really resonates with you as a postpartum mom can be tricky, but there are some great options out there. Hopefully, you'll find the best postpartum workouts here on this list.
This article was updated on June 21st, 2022.
Looking for more POSTPARTUM resources? Check these out below: