10 Ways to Survive Pregnancy During the Summer
This post may contain affiliate links that I may receive a commission from if you click & buy. In addition, the information on this site is NOT intended to be medical advice. See my full policy for more information.
If you've ever been through a summer pregnancy before, you probably already know how tough it can be! If this is your first, you might be in for some work ahead of you! And by work, I mean constantly trying to stay cool and survive pregnancy during the summer.
The good news is if you're in your first or second trimester during the prime peak of summer heat, it may not be too bad! However, if you're in your third trimester, you can expect to feel a little uncomfortable.
When I was pregnant with my first son, I was in my third trimester during the peak summer and honestly, that was probably the worst part of my pregnancy.
I dealt with constantly feeling hot and sticky, swollen feet, difficulty sleeping (due to being so hot) and could just never get comfortable.
So, I'm going to share my TOP 10 Ways YOU Can Survive a Summer Pregnancy!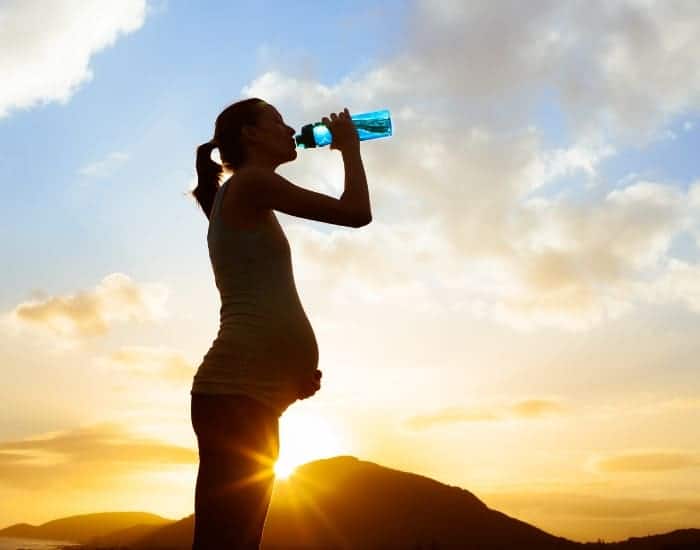 What to Expect Being Pregnant During Summer
Did you know your body temperature naturally increases during pregnancy due to all that extra blood flow?
So not only do you have to deal with naturally feeling a bit more on the warm side, BUT you also have to deal with the actual summer heat, UGH!
Some common things to expect during a summer pregnancy include:
10 Ways to Survive a Pregnancy During the Summer
1) Stay Hydrated
It's pretty easy to become dehydrated while pregnant, especially during those hot summer months!
Your growing baby puts a lot of stress on your body demanding nutrients and fluids to stay healthy as they grow into a little human! Pair that with some heat and you're in for it!
That's why it's very important to make sure you're staying on top of your hydration and consuming lots of fluids throughout the day
I absolutely love how much water it holds (although it's a bit on the heavy side when full). It's a great way to keep your water cold and refreshing!
Just to be on the safe side, if you notice any of these signs, they could indicate you're dehydrated:
Braxton Hicks Contractions
Dry or sticky throat/mouth
Feeling tired/sluggish after being in the heat
2) Wear comfortable maternity clothes
Ok, the key to surviving a hot summer is definitely to invest in some extra light and comfortable maternity clothes!
I'm not a huge dress person, but I did get some cute light-weight maternity dresses from Amazon that made the heat 10x more bearable!
Below, is a list of some great options to consider to keep yourself and that baby in your belly nice and cool:
3) Try to stay in the shade
As a pregnant mama, being in the heat can be exhausting. Being in the sun can magnify the exhaust.
If possible, try to find yourself some shade if you know you'll be out in the sun.
If you know you'll be inside, try to stay close to the fans or the A/C! It'll be well worth it!
4) Use sunscreen to protect yourself from getting sunburnt
Ouch! Nothing stings more than a sunburn while already dealing with the aches of pains of pregnancy!
Since you, unfortunately, can't get rid of all the achy pregnancy symptoms, you can at least take some steps to protect yourself from the sun by using a good quality mineral sunscreen!
My personal favorite that I started using AFTER my pregnancy, is the Earth Mama Mineral Sunscreen Lotion.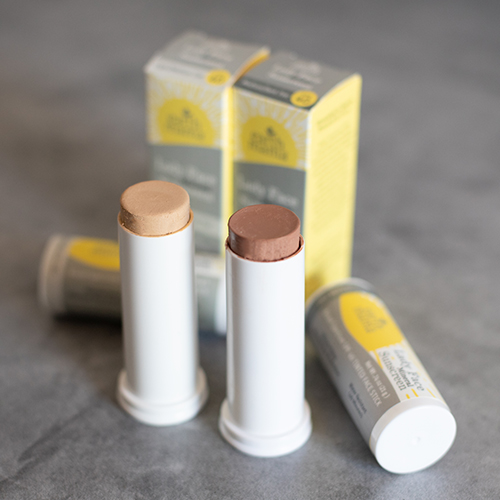 One thing you should keep in mind when choosing a sunscreen is that MINERAL sunscreen uses natural minerals to reflect away UV rays whereas CHEMICAL sunscreens use unnatural chemicals to absorb and dissipate UV rays.
This is why, especially when pregnant or breastfeeding, I prefer to use mineral sunscreen. I like knowing the things being used on my body aren't harmful to my skin, body or my baby's!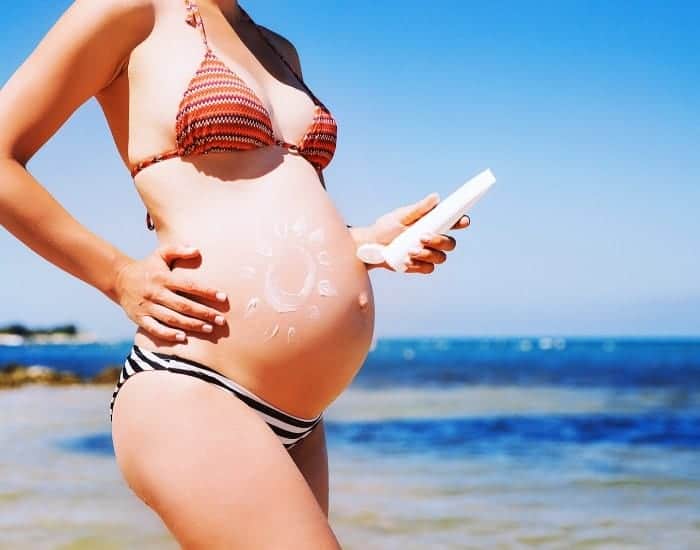 5) Take time to relax and kick those feet up
Pregnancy is hard work. It's also amazing, fun and magical, but it's hard.
Plus, what better time to get some extra TLC time than through the summer when it's super hot, right?
Go get a fresh pedicure or literally, prop up some pillows on the sofa and kick those feet up!
Another bonus of kicking up those feet is to help relieve those swollen feet if it's a symptom you're dealing with.
Staying cool & relaxed will help you feel so much better during the summer weather!
6) Drink all the slushies & eat all the ice cream!
Is there anything more refreshing than an ice-cold slushie on a hot summer day? I mean, maybe an iced coffee, but you get the point!
Head over to your local ice cream parlor or liquor store and get those icy beverages mama! Plus, you might even feel your little one being extra squirmy after you gulp down those refreshing drinks!
Recommended Posts You'll LOVE:
>> Mistakes NOT to make when preparing for pregnancy

>> You're pregnant, now what?! Common pregnancy questions & answers

>> Creative & fun ways to document your pregnancy

>> Childbirth classes – WHY the heck they're so important (& when to take one)
7) Go hang out at the pool
I know you might not feel like getting yourself into a swimsuit, but hanging out in the pool on a hot summer day can feel very refreshing.
Not to mention, hanging out in the water can be a great way to alleviate some of those 'pregnancy' aches by taking off some of the pressure from your joints and organs.
If you're pregnant during the COVID-19 era…. well, you may need to take matters into your own hands. Order a simple blow-up pool and start soaking up that sunshine in your own backyard mama!
8) Try to take it easy on the sodium intake
Now, I know it's summer. With summer comes delicious foods so I'm all about indulging in those cravings (in moderation of course).
BUT….yes, there's a but. Too much sodium intake can actually cause water retention.
Now, you might think water retention is good, however since our bodies work in a way to balance themselves out between our organs, kidneys, etc… water retention can actually cause other issues such as edema or high blood pressure.
And, if you're already not drinking enough water it could make your chances of getting dehydrated even more likely.
So be mindful of your salt intake is the moral of this story. Indulge and enjoy your yummy food in moderation, but keep in mind the long term effects too much indulging can have on your pregnant body.
9) Take a nap
I mentioned it earlier, but heat exhaustion is REAL! I mean, pregnancy exhaustion is real too, who are we kidding?
Carve out some time in your schedule if you can and set aside some time for a nice refreshing nap!
If it's too hot, turn on a fan. Plus, the sound of a fan running can sometimes work as white noise to some people! If you've never tried sleeping with white noise, you should definitely give it a try, it's very relaxing!
10) Get your errands done EARLY in the day
Yup, get those errands done early in the day if you can! It's one way to be out and about while avoiding the peak of the summer heat!
I know some stores probably aren't open as soon as you wake up, but if you can tackle the tasks that'll keep you in the sun or in the heat FIRST, the rest of the day shouldn't be too bad!
Then you can come home, drink your slushie and kick up those feet 🙂
Read more pregnancy articles here: