Baby Led Weaning Pancakes with Only 3 Ingredients!
This post may contain affiliate links that I may receive a commission from if you click & buy. In addition, the information on this site is NOT intended to be medical advice. See my full policy for more information.
Looking for an EASY baby pancake recipe with only 3 ingredients? Look no more, these baby led weaning pancakes are simple, delicious, and great for baby led weaning.
When my son first began eating solids, baby pancakes were one of our go-to recipes. We'd literally mix ANYTHING in to expose him to different flavors and textures. Here are a few ideas of different ingredients you can add to this recipe to spruce it up:
Blended fruits (strawberries, blueberries, mango, kiwi, cantaloupe, raspberries, and more)
Baby yogurt (for babies 7+ months old)
However, if you're looking for just a simple breakfast recipe for your baby, these 3 ingredient baby pancakes will do the trick.
Baby Led Weaning Pancake Recipe
These baby pancakes make an awesome meal for babies doing baby led weaning or getting used to solids because they're soft, mashable, and very easy to eat. One of my favorite pancakes for baby led weaning recipes to date.
Ingredients needed (usually makes about 5-6 small baby pancakes):
•1 egg
•1 ripe banana
•cinnamon
* if you're feeling extra fancy, you can add ingredients such as 1 tsp Peanut Butter, Purée Apples, Soft Blueberries, etc…to introduce some various tastes and textures to your little one.
**as always, make sure you get approval from your pediatrician before starting solids AND before introducing any possible food allergens.
Baby Led Weaning Pancakes Cooking Instructions:
Start by mashing the banana in a small bowl.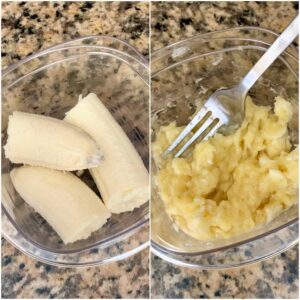 Then add the egg and mix well.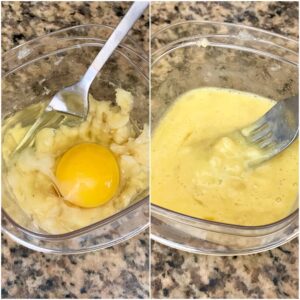 Add a sprinkle of cinnamon.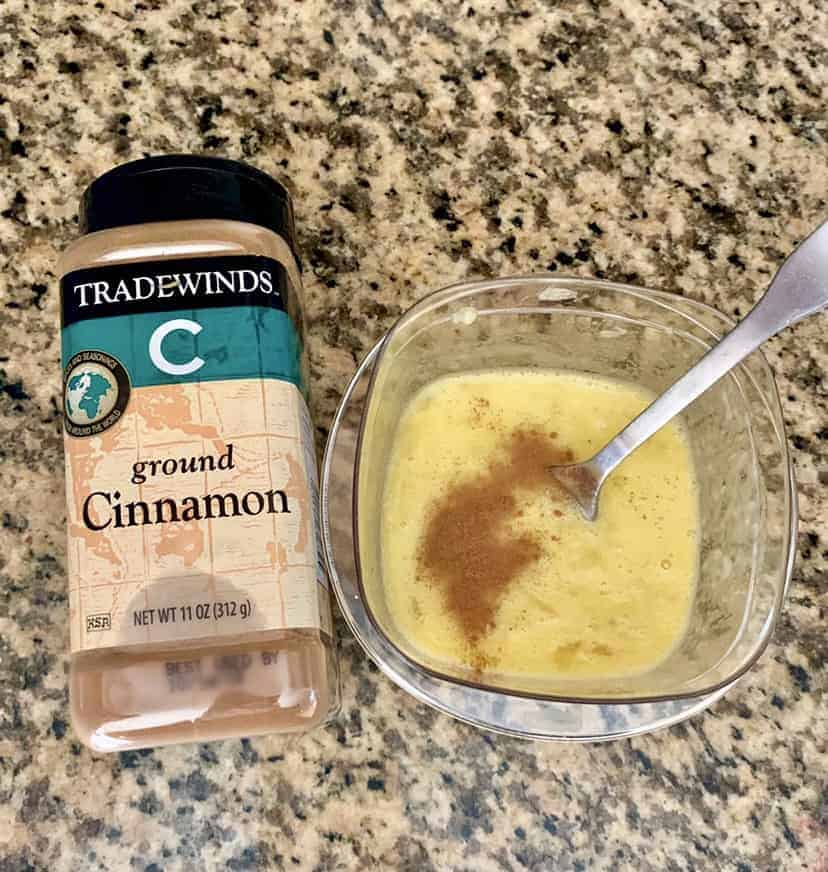 Heat a medium skillet on the stove, spray with non-stick coconut oil (or oil of choice), and pour small circles onto the pan. Cook until lightly golden brown on each side. Stash away in the fridge for the week!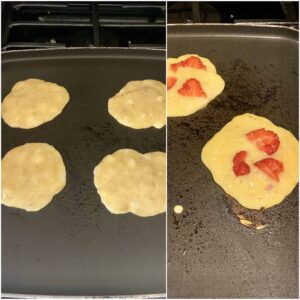 Like I mentioned earlier, you can get creative with these baby pancakes! In the photo above, I added some thinly sliced strawberries for some new texture and my son LOVED them. They really are delicious.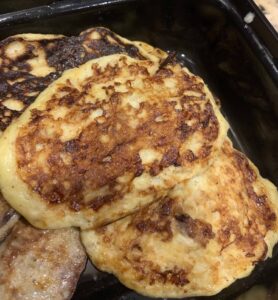 In total, this recipe takes LESS than 10 minutes to prepare and cook.
Can I Freeze These Baby Led Weaning Pancakes?
You most definitely can! Simply lay out some parchment paper, place the pancakes on top of the paper and then repeat with parchment paper on top (this will prevent them from sticking to one another).
How to Store Baby Led Weaning Pancakes
Personally, I prefer to store these pancakes in my refrigerator. I usually make enough to last me 2 to 3 days. Then I store them in a small Tupperware like this one to keep them nice and fresh.
When I'm ready to serve them up, I'll warm them up in the microwave or warm them up in a pan on low heat.
If you try this recipe, please be sure to TAG me @mom.afterbaby on Instagram. I hope your baby loves these as much as mine did!
This article was updated on September 28, 2021
Read more baby feeding articles here: