This post may contain affiliate links that I may receive a commission from if you click & buy. In addition, the information on this site is NOT intended to be medical advice. See my full policy for more information.
I'm writing this post today as I mentally prepare myself for the fact that there is a good chance we will be restricting visitors after birth due to the COVID outbreak going on. Although we planned to have minimal visitors as is, we didn't foresee having to change that to NO visitors.
And if you're not familiar with the COVID-19 outbreak I mentioned, I'd encourage you to read up about it on the CDC's page here.
Now, back to the point of this post: how to politely decline visitors after birth. Make sure you save this post to your favorite Pinterest board to read later if you don't have the time to finish right now.
Disclaimer – I am not a doctor or medical professional. If you have questions about your birth or any matter that should be addressed by a professional, I encourage you to call your medical provider immediately!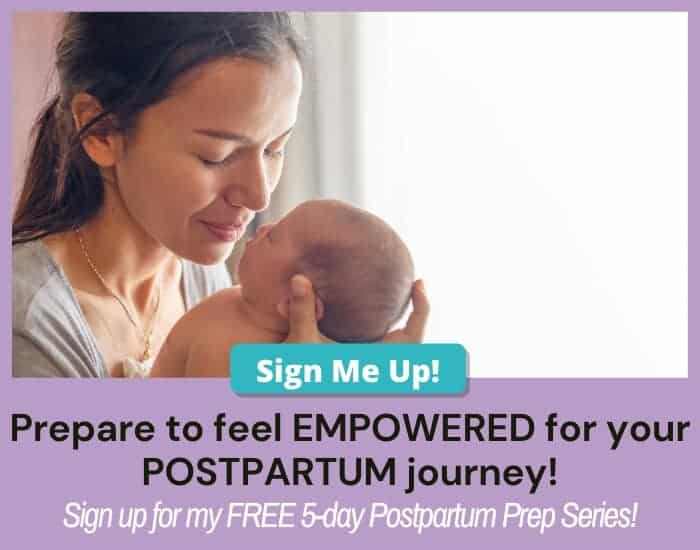 When should you allow visitors after birth?
Depending on whether you have a home birth or hospital birth, the answer can fluctuate a bit.
However, in light of the current situation we're living in, I'm going to assume you are having a hospital birth.
In that case, your first step should be to call your hospital and ask them what their visitor policy is at the moment. It's pretty common right now, that many hospitals have adopted a NO visitor policy.
In other cases, some will only allow 1 visitor. Again, this will be dependent on your hospital's policy despite the current state of affairs.
If the hospital has a no visitor policy, it sure does make it a bit easier to break the news to family & friends as this rule is something set in stone by the hospital and not you directly.
Once life returns to normal, you should be able to simply refer to your hospital's visiting policy and go from there! Easy, right?
Restricting out of town visitors after baby
Given the fact that many of us are on a pretty tight lockdown in an effort to minimize the spread of the virus going around, having out of town visitors after baby will likely be a big NO-NO.
The easiest way to handle these kinds of guests is to kindly let them know that you're following the rules of your city/state in an effort to prevent the spread of this virus.
In addition, you're doing your best to keep your newborn safe and away from any potential illness.
The majority of family and friends should be receptive and understanding. For those who aren't, you can offer to do a facetime session or some kind of webcam with them so you can introduce them to your new bundle of joy while adhering to the social distancing going on right now.
Prepare friends & family ahead of time that you will be restricting visitors after birth
Regardless of whether your restriction is forced due to the current outbreak or simply because you just don't want any visitors after birth, creating a clear expectation before baby arrives should help tremendously.
For instance, knowing we will likely have our son around the end of May, I've already contacted our close friends and family to let them know there is a good chance we won't be able to have them come visit.
Thankfully, everyone has been understanding. But this way, should the situation occur where we CAN have visitors, everyone will be so pleased to know that at the last minute vs. it being the other way around.
Ways to interact with visitors after birth without being present
Now that we have a few ways above on how to handle the 'restricting visitors after birth' situation, I also wanted to share some ways that you CAN still connect with your loved ones without having them be present and put anyone's health at risk during this sensitive time:
Take advantage of social media
Many social media platforms have the ability for you to 'start a live video' or even share videos with your friends and followers. A simple way to keep your friends and family up to date with all the sweet new baby stuff is to share it with them online!
For instance, Instagram has an option for you to do a live video, post videos to your 'Instagram story' or send them directly to the people you choose!
On Facebook, you can pretty much do the exact same thing!
If you find yourself worried about your child's online safety, you can create a private account just for sharing and ONLY allowing your friends and family to see what you share.
Use facetime to connect with your friends & family
If you have an iPhone, you can simply make a quick facetime call to connect instantly with your friends and family across the world!
If you don't have an iPhone or access to the Facetime app, you can download an app like Skype or Zoom which will also do the same thing!
Mail a postcard
This may be a little more 'old school', but what better time than this to brighten someone's day with a cute 'WELCOME BABY' postcard in their mailbox?
This is a much shorter post than what I normally like to share, but this question has popped up a TON on my Instagram DMs. On top of preparing myself for this, I hope this post helps you prepare too!
♥ Recommended Posts JUST FOR YOU ♥
>> Things NOT to do after giving birth.

>> How to prepare for Labor & Delivery – tips from an L&D Nurse!

>> Simple ways to financially prepare for a new baby

>> Planning to breastfeed? Ways you can prepare for breastfeeding baby during your pregnancy!

>> Non-Negotiable rules when visiting a newborn baby
Do you have other helpful ways of 'restricting visitors after birth' during quarantine?
If so, drop your comments below! I always love hearing your input!