Birth It Up! Epidural Series Online Birth Course Review (Plus, a Promo Code)
This post may contain affiliate links that I may receive a commission from if you click & buy. In addition, the information on this site is NOT intended to be medical advice. See my full policy for more information.
Are you worried you won't be physically or mentally prepared for labor and delivery? Girl, childbirth is scary, I get that. Thankfully, you can take some pretty amazing online birth courses, such as Birth It Up to help you get ready for your baby's big debut.
A lot of moms will go their entire pregnancy dreading the day they have to take their birth class.
Why? Because they're usually all weekend long for 6+ hours a day.
I don't know about you, but I don't know too many pregnant women that want to drive all the way to the hospital just to be stuck in a room for 6-8 hours learning about childbirth when instead they could be doing it ALL FROM HOME!
So, that's where Birth It Up comes in!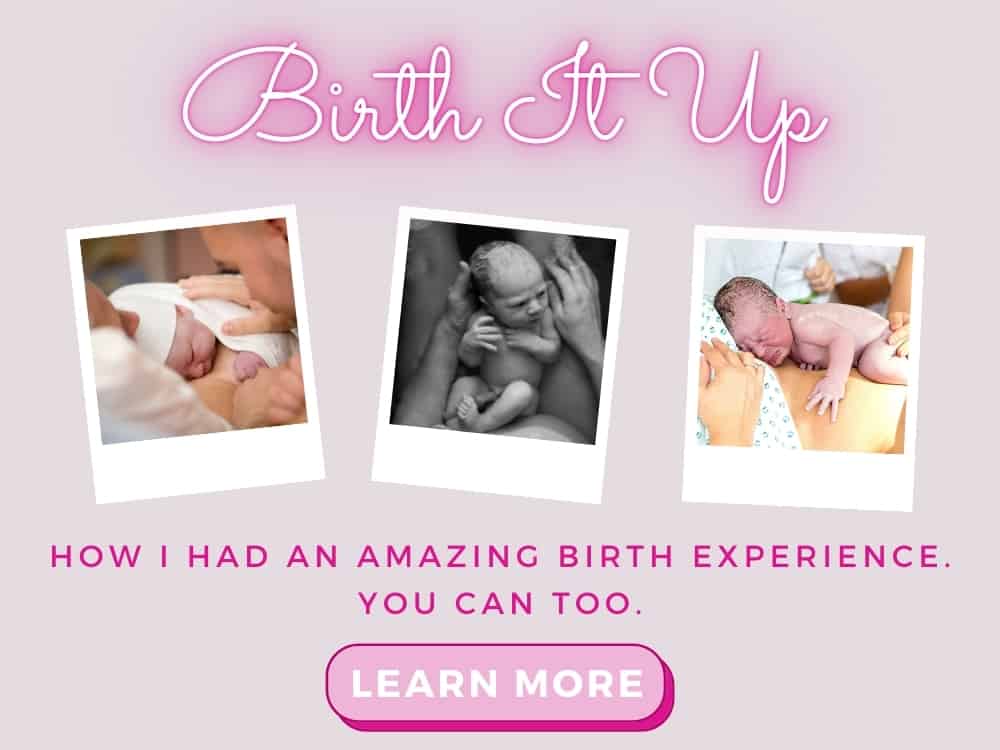 What is the Birth It Up! Epidural Series Online Birth Course?
Birth It Up is an affordable online birth class created by an experience labor and delivery nurse, Liesel Teen.
Liesel does an amazing job sharing her professional and personal expertise throughout the course to make everything about pregnancy and childbirth feel so calm and comfortable.
Birth It Up is also unique in the sense that it comes in 2 options: the Epidural series and the Natural series.
What to expect from the Birth It Up Online Childbirth Course:
Liesel's birth course, Birth It Up (the epidural series) is loaded with information, but in a way you can easily understand and digest.
The online course features:
11-video based lessons you can watch at your own pace on your own time.
Community support via a private FB group.
A printable preparation guide to labor & delivery.
Since this is specifically the epidural series we're talking about, you can rest assured this specific course goes into great detail about the epidural process, risks, and what to expect.
More importantly, this online course covers SO MUCH MORE than what you'd ever learn from an in-person class.
Lastly, you get UNLIMITED access to the course. That means you can watch it when you're 4 months pregnant and revisit the entire course again when you're 7 months pregnant!
Ready to enroll? CLICK HERE & use code: MOMAFTERBABY to save 10% off your course!
How to Access Your Childbirth Course:
Accessing Birth It Up is extremely easy! The course is hosted on a platform called Teachable.
Teachable is known for having a very user-friendly interface for those creating and those who have purchased online courses.
Check out the screenshot below for a little sample of how the course is laid out: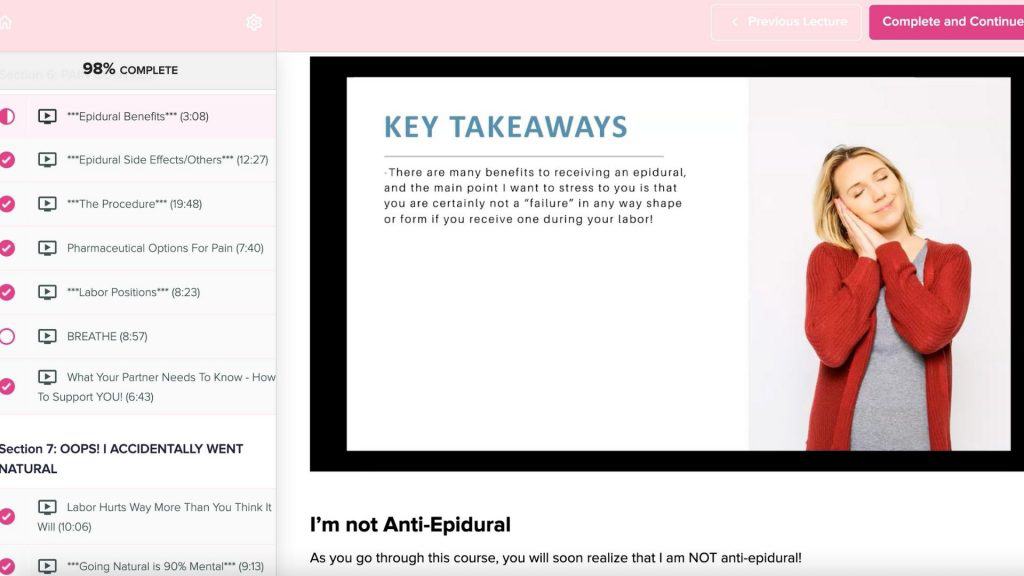 You can see on the left hand side there is a break down of all the topics and sections included in the course.
On the right hand side you can see the educational video content along with a written breakdown down below the video.
It really gives moms the best of both worlds!
I took this course during my 2nd pregnancy because I simply didn't feel like I prepared enough with my first and I didn't want to make that mistake again.
I really loved how I had the option to watch the birth course videos (which are pretty short, sweet, and to the point) or read the breakdowns below the videos.
Why should you purchase the Birth It Up online birth course?
The Birth It Up! online birth course was such a game-changer for me the 2nd time around.
It really helped me feel empowered understanding all the options available to me. From what medications I could possibly use for pain relief to which birth positions might also bring me relief and help baby descend.
Not only is it an affordable option, but it's an incredible alternative to moms who prefer learning online or moms who may be on bed rest and aren't even able to leave their home to attend a class.
This leads me to my next point. Will your partner be in the labor and delivery room supporting you? If so, you can enlist their attention to watch these videos at their own pace with you!
To summarize, here is what you will take away by watching the Birth It Up! Birth Course:
An affordable birth course taught by an experienced & still practicing labor and delivery nurse.
Birth education for you, your birth/support partner, and anyone else who will be in the delivery room with you.
Confidence going into labor through the information Liesel shares throughout the course.
Knowledge of various ways to cope with pain and discomfort associated with childbirth.
The options to choose from a natural birth course or an epidural birth course.
The Difference Between Birth It Up! Epidural Series & Birth It Up! Natural Series:
Ok, ok, I know you're probably wondering: what is the difference between the natural series and the epidural series of Birth It Up.
Since I took both of the courses, I can tell you!
The biggest difference between these two courses is that the epidural series goes much more in detail about epidurals specifically.
Liesel talks about pros and cons of receiving an epidural, risks to be aware of, what the procedure is, how the nurses set up the medication, and so much more.
In the Natural Series, the emphasis on managing pain is all based on non-medicated options such as breathing techniques and positioning. However, Liesel does cover certain medications (including epidurals) in the natural course in the even birth doesn't go according to plan (which happens often).
How a natural childbirth differs from an epidural childbirth:
First and foremost, no matter how you give birth (with medications, without medications, or a cesarean) YOU ARE A SUPER WOMAN!
Seriously, there is no easy way to give birth at all.
Knowing that it's also safe to that that a natural birth (which is also known as an unmedicated birth – I personally prefer the term 'unmedicated') and epidural birth are a little different.
So, what is the difference between natural birth and epidural birth?
Epidural births help reduce the pain of childbirth significantly.
With epidural births, you CAN still feel the sensations such as contractions, pushing, and being able to move around (depending on the epidural).
Epidural births do however come with some risks: sudden drop in blood pressure, headaches, back pains, and even respiratory issues.
Natural Births allow more flexibility to move around, have a home or birth center birth, and feel the entirety of their birth experience.
Natural births also come with some risks: significantly increased pain, minimal hospital support if home or birth center selected, and more painful perineum tears.
Now that you understand some of the key differences between natural and epidural births and you have the best birthing course on the plan to help you prepare, will you be ready for your next labor & delivery experience with Birth It Up???
Looking for more PREGNANCY support and tips? Check these out: