Air Fryer Garlic Parmesan Broccoli Recipe (Busy Mom & Toddler Approved)
This post may contain affiliate links that I may receive a commission from if you click & buy. In addition, the information on this site is NOT intended to be medical advice. See my full policy for more information.
Looking for an easy, family-friendly, vegetable side dish everyone (including those picky eating toddlers) will love? These air fryer garlic parmesan broccoli are perfect!
As someone who really hates the taste of vegetables, I have to rave about this one. These crunchy and flavorful garlic parmesan broccoli are delicious!
The best part about them, is even my toddlers love them too!
Now, as a busy mom, I also know how hard it is to come up with new meal ideas each day. Always wondering what to make for dinner that the family will enjoy and not get tired of eating.
This recipe is also great for all of you postpartum moms out there. Although I always suggest prepping postpartum freezer meals, it can take a lot of time, so an alternative is quick fresh recipes, like this one!
Plus, a fun fact for all of my breastfeeding moms reading this — broccoli is considered a galactagogue food that can help nurture your milk supply (but be careful, because it can also cause gas!).
It's easy, delicious, and healthy. Ready to give it a try?
Air Fryer Garlic Parmesan Broccoli Ingredients & Cooking Supplies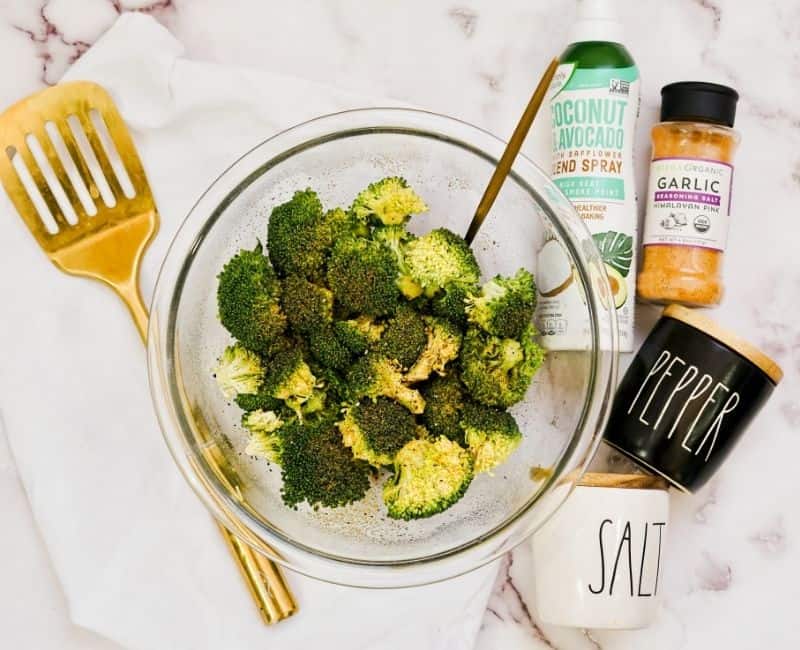 One of the best things about this recipe is it's simple. That means there aren't many supplies or ingredients needed to whip it up in a hurry.
Broccoli — you will only need about 1/2 lb of broccoli for this recipe. I prefer to get them fresh on the floret instead of pre-cut, but that's just my own preference. You can definitely grab a bag of broccoli cuts and use those to save even more time! I have NOT tried this recipe with frozen broccoli, so if you do, you may need to adjust the cooking time a bit.
Garlic — you'll need approximately 1/2 tablespoon of minced garlic for this recipe. For simplicity, we like to use the already minced garlic that comes in a jar from Costco. You can also sub for half the amount of garlic salt if you don't have any garlic at home.
Parmesan Cheese — this recipe requires 2 tablespoons of parmesan cheese, you can use fresh shredded or grated in a jar. Either one will give this broccoli a delicious taste.
Salt & Pepper — The spices in this recipe are simple, just a 1/4 teaspoon of salt and a 1/4 teaspoon of pepper.
Cooking Spray — Before cooking your broccoli, you'll want to use some cooking spray to help the spices stay on each piece of broccoli. It will also come in handy to prevent your broccoli from getting stuck on the tray in your air fryer.
Air Fryer — This recipe is specifically for air fryer broccoli, so you'll need an air fryer. If you don't have one, I suggest looking into this one. We have an older model of that brand that works great, but the newer model provides many more settings and features for a similar price.
Air Fryer Garlic Parmesan Broccoli Recipe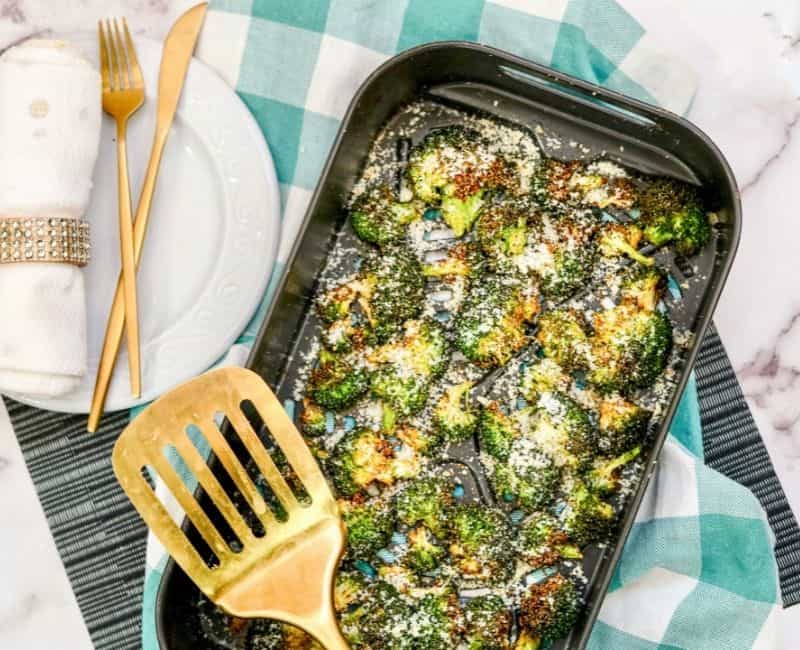 Making this delicious garlic parmesan broccoli is SO easy! It's so simple, you can enlist the help of your young children to help make it too!
First, you'll prep your air fryer by heating it to 350 degrees. As your air fryer warms up, you can then begin preparing your broccoli.
Cut your broccoli florets into smaller pieces and then place them into a mixing bowl.
Once in the bowl, you can lightly coat the broccoli pieces with some cooking spray and then sprinkle on your garlic, salt, and pepper. Mix them well.
Once all of the pieces are seasoned, place your coated broccoli into the air fryer basket and set the timer to cook for 12 minutes.
You may need to give the basket a little shake around the halfway point to ensure they cook evenly.
Once they're finished cooking, remove them from the air fryer, sprinkle them with parmesan cheese and enjoy.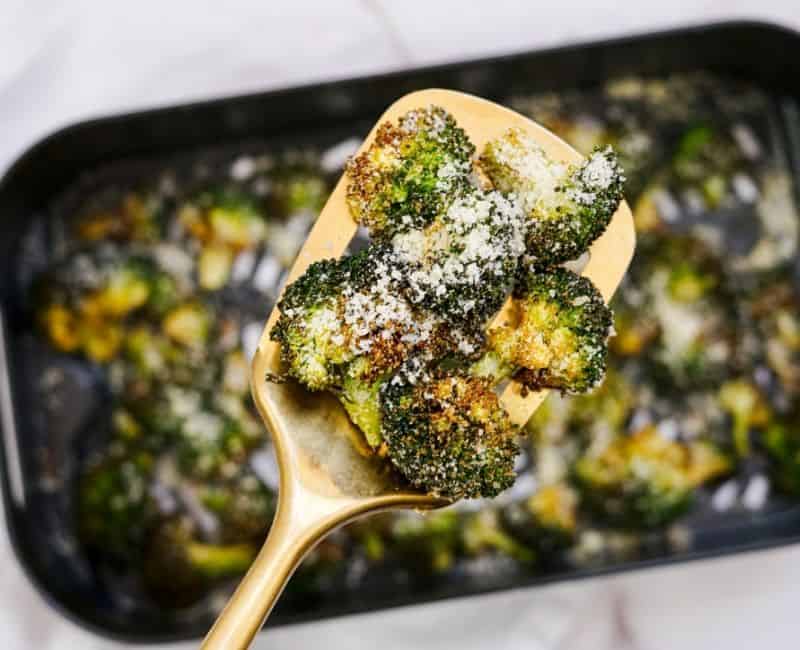 Air Fryer Advantages and Disadvantages for Busy Moms
One of the reasons I absolutely love cooking with our air fryer is because it makes cooking feel effortless. Below, I'll list a few of the advantages and disadvantages of using an air fryer for busy moms (especially, postpartum moms).
Makes Clean Up Easier
Both of the air fryers I've ever used have been easy to clean. You simply scrub off the rack (if it has a rack for crisping foods) and wash out the air fryer bin. Before you know it it's ready for use again!
Cooks Healthier Meals
One of the things that drew me to get an air fryer in the first place was that it helps to whip up healthy meals in just minutes! Typically when baking or pan-frying you'll have to use large amounts of cooking oils to keep your food fresh and moist. With an air fryer, you can use fewer oils and still have a delicious meal with tons of flavor.
Easy to Use
As I've mentioned a few times, using an air fryer is as easy as turning it on, preheating it, and choosing how long to cook for. With clean-up also being pretty easy — it's one of my favorite kitchen gadgets I own!
Can Be Too Small
Sometimes there are air fryers (yes, even the expensive ones) that have small baskets. So small it will take a few times through to cook up a full meal for the entire family. In those instances, they aren't too efficient.
Some Are Expensive
Lastly, air fryers can get expensive! Some have additional settings and features that make cooking select foods easier.
The good news is you don't need a top of the notch air fryer to whip up this delicious air fryer broccoli recipe for the family. One just like this will do!
I hope you and your family enjoy this recipe as much as mine does! If you decide to give it a try, please tag me on Instagram @mom.afterbaby, I love seeing and sharing the posts I get tagged in!