This post may contain affiliate links that I may receive a commission from if you click & buy. In addition, the information on this site is NOT intended to be medical advice. See my full policy for more information.
Looking for not-so-spooky Halloween activities your toddler will enjoy this Fall? This Halloween sensory bin for toddlers ties in many favorite elements: pumpkins, crafting, fine-motor development, and of course Halloween!
Now that my son is 3 — crafting is a hit activity for us. And with the holidays ahead of us, I've been trying to get creative with fun ways to help him get into the festive spirit, support his development, and of course, incorporate crafting!
This is one of my new favorite easy holiday crafts for preschoolers that my son (even my 1-year-old) enjoyed a bunch! I do have to give credit to my creative friends over at Baysoar Bundles for creating a similar Halloween sensory bin which inspired me to make this one! They share lots of fun toddler activities and preschool crafts so I highly suggest checking out their page for toddler activity ideas and inspiratino.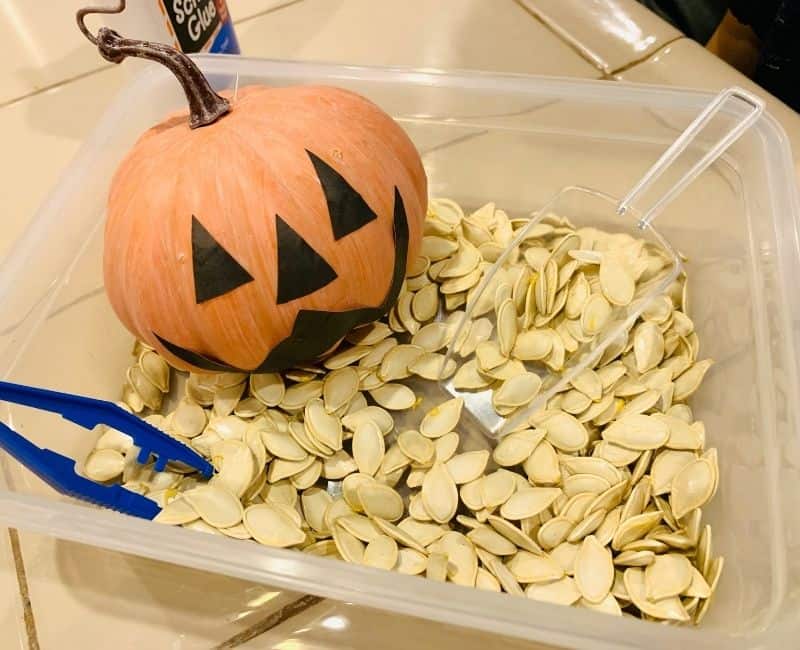 Halloween Sensory Bin for Toddlers: Why A Sensory Bin?
Sensory bins provide children with hands-on tactile stimulation through various fillers inside of the bins. These bins also provide an opportunity to support children's developmental process through imaginative play, fine motor enhancing skills, and more!
The most common sensory bin fillers include things like kinetic sand, dyed rice, or even dry beans. However, in this Halloween sensory bin, we're going to use something a little more festive (and fitting for the holiday).
Supplies Needed for This Halloween Sensory Bin for Toddlers
Before we begin the fun, you'll need to gather up some supplies. Don't worry, most of them you can find right at home and if you need to improvise, I include ways to do that too!
What you'll need:
Small foam pumpkins (I got mine from the Target Dollar Spot for only $3, but you can get a bundle online for just $10)
Pumpkin seeds (save them after you carve pumpkins, just rinse and let them dry before using)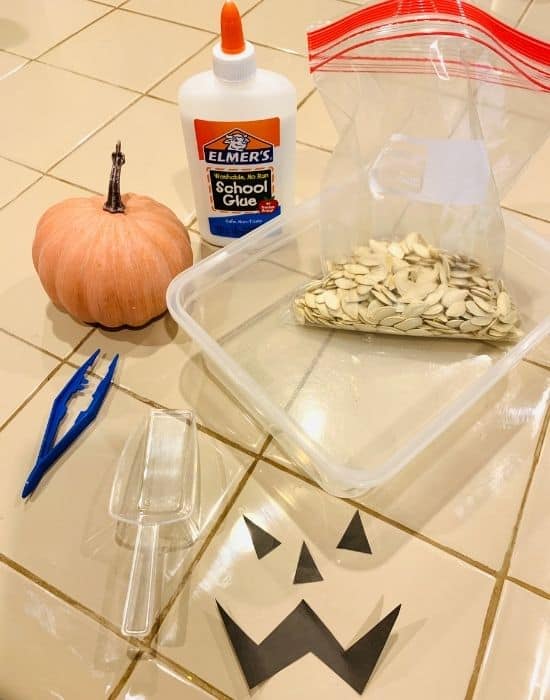 Setting Up Your Halloween Sensory Bin for Toddlers
Setting up your Halloween sensory bin is easy. First, you'll want to cut out your pumpkin face cutouts. Once you've cut out all of the pieces, set them in the shallow plastic bin.
After your pumpkin face pieces are in the bin, pour the pumpkin seeds over the cutouts. Then, you can add in your sensory bin scoop and some tweezers for your toddler to use as they dig out all the pumpkin face cutouts!
Keep in mind, if you don't have any pumpkin seeds you can use rice, orange beads, dry beans, and other non-wet materials instead.
Now that your sensory bin fillers are in the bin, this is where you can get a little creative. As soon as my son picked out a piece of the pumpkin face with his tweezers, he then glued it onto his little foam pumpkin. The other alternative is to have your little one gather all of the pumpkin face pieces first and then glue them onto the pumpkins.
Once your little has glued on all the pieces to their pumpkin, be sure to take a photo and tag me on Instagram (@mom.afterbaby) of their creation! I love seeing all of your activity posts.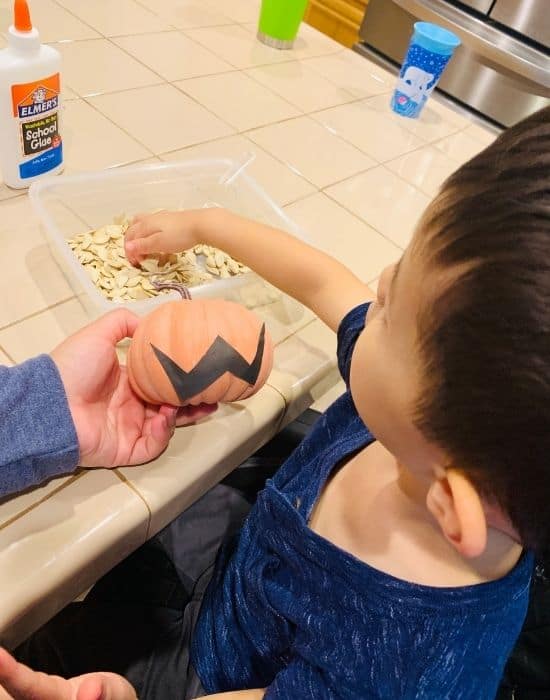 How to Play With Your Halloween Sensory Bin for Toddlers
Below are some ideas you can use to help guide your play. Often times I prefer to use an open-ended play where I let my son lead the play. In this activity, I guided him to use his tweezers and shovel to dig out the pieces, then grab them with the tweezers.
Direct your child to scoop out all of the pumpkin seeds. Then, they will find their hidden pumpkin face pieces at the bottom of the bin.
Have your toddler use the tweezers to search and grasp the face pieces out of the bin.
Encourage speech and language development by asking your child to label what they're doing or using (Ex. "SCOOP", "GRAB", "EYES", "GLUE", "MOUTH", etc…).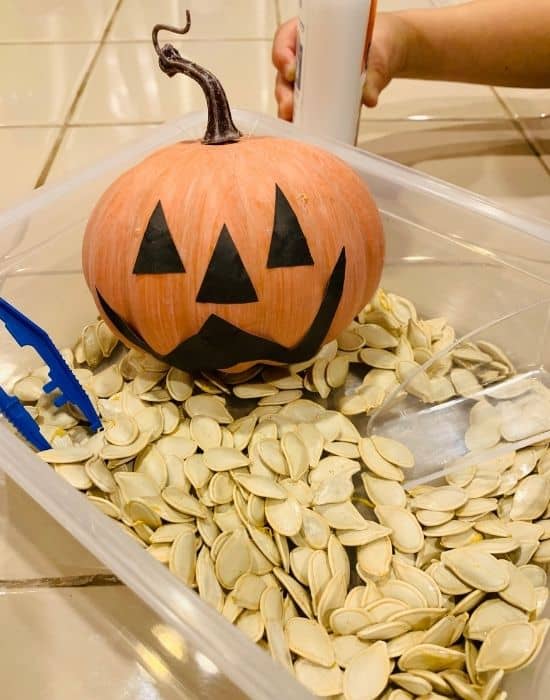 Did your toddler enjoy this Halloween sensory bin activity? Check out, even more, fall holiday sensory bin ideas right here!
Read more toddlerhood articles here: