Gifts for Expecting Dads That He'll Cherish Forever!
This post may contain affiliate links that I may receive a commission from if you click & buy. In addition, the information on this site is NOT intended to be medical advice. See my full policy for more information.
When everyone first learns about someone being pregnant, all thoughts immediately go to the mom. But what about the dad in all of this? He's a part of the celebration too, right? If you're looking for some great gifts for expecting dads, you've come to the right place. Not only will you find great gift ideas for dads here but you'll also start to look at the dad-to-be in a way that showcases just how important their role truly is.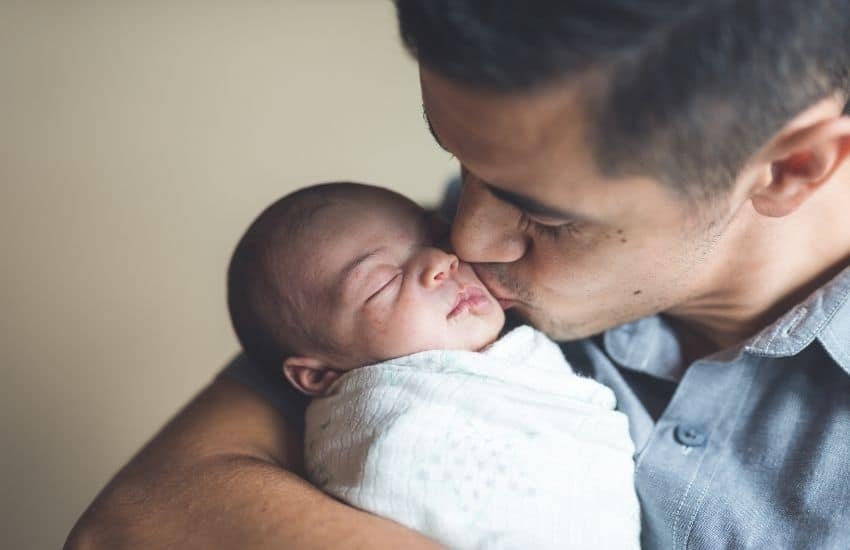 Let's be real for a moment. Dads are always nervous when they find out that their better half is going to have a baby. This might be because it's their first child or the fact that they didn't think that there would be any more children…but regardless, a shock is typically the initial response, followed by happiness, of course!
And while we're all immediately wanting to celebrate the mom and be excited for her, let's not forget that dad deserves a bit of celebration as well. Here are some super fun gifts for expecting dads that are certain to make them laugh and come in handy for the future.
Awesome Gifts for Expecting Dads
If you're looking for some super funny new dad gifts, you're going to love the majority of gift ideas on this list. Dads need to be ready for their lives to be forever changed (for the better!) and a little humor really can go a long way.
Funny New Dad Gifts
All of these dad gifts are funny and unique and are certain to bring out a chuckle.
Exceptionally Bad Dad Jokes
We all know dad jokes…it seems like every day has them, right? And sometimes those dad jokes are so pitiful that you can't do anything but just laugh. This is all the fuel that dad's need to tell even more dad jokes that are more than likely mediocre at best.
The best thing that you can do is help to stack their arsenal of dad jokes by gifting them this book of Exceptionally Bad Dad Jokes. It's a page-turner and a knee slapper all in one.
Funny Dad T-Shirts
All men love funny t-shirts. Let's just admit it…we all do. Gifting him some fun shirts is a way that he can announce he's going to be a father without having to gush about it to his friends.
This t-shirt literally says it all. Mom might be eating for two, but dad is going to be drinking for three. This is certain to be a hit with all his buddies and it's an easy gift to give, too.
What a double standard…Men have it so rough because pregnant women are "high maintenance", or so they tend to say..(it's not like the women aren't getting ready to push out a baby the size of a watermelon or anything…)
This funny dad to be t-shirt is more for the men to enjoy and high-five each other about but we still think it's pretty funny as well. It's up to you if you really do feel sorry for him or not!
No explanation is even really needed for this shirt…but it's one that is certain to catch everyone's eye. Talk about a simple way to let him wear his announcement loud and proud! Humor and pregnancy are a MUST have combination.
If your man is looking for a bold way to share he's the father — say no more! Dad-to-be will have his moment to shine during the pregnancy with this t-shirt, that's for certain!
Diaper Changing Coin
Once the baby arrives, the most common "fight" that will happen daily (and multiple times a day!) will be who is going to change the baby's diaper. It's him versus her kind of thing and without some simple guidance, who's to know who is the chosen one? This is where this Diaper Changing Coin comes into play!
One easy flip and there will be no question about who is on diaper duty for that moment, or even for the day. Because you know what they say… parents who change diapers together can get through anything together!
Dude, You're Gonna Be A Dad
A comical guy to guy guide for new dads to be. Although the book takes a comical tone, it is filled with practical tips to help dads prepare for what's in store for fatherhood! Dude, You're Gonna Be A Dad is a WIN in my gifting book!
New dad gift basket
One of the best gifts for expecting dads is to gift him with his very own gift basket. Who doesn't love the idea of getting pampered with a bunch of different items that are tailored towards your own personal likes and wants?
Here are some great options to include in your new dad gift baskets!
New Dad To Be Gift Box from Bump Boxes
Just when you thought you'd seen it all, along comes the perfect, already made, gift box for a new dad or dad to be. This dad to be gift box literally has it all! One simple box stuffed full of items like a cool koozie cup, a great book for kids, and a fun dad pad for thoughts and doodles are just a few of the items that dad is certain to love.
FridaBaby FridaBalls
If there's one thing he may not be too excited about — those unexpected low blows. The one when baby literally can't control their arms and usually, dad gets the brunt of it, literally! Help him stay protected with the genius (and totally hilarious) FridaBaby FridaBalls Boxer Briefs!
Dad-Worthy Baby Carrier
Mom is typically the center of attention when it comes to picking out the baby carrier, but what about dads? It's no secret men and women share different body types, which is why it would be nice for him to have an option to strap baby in and go for a stroll without being in an uncomfortable baby carrier digging into his back or shoulders. The solution? The Miamily Hipster Plus Carrier!
Major bonus points because mom to be can totally use this one too!
#DadLife Coffee Mug
If dad wasn't drinking coffee, there's a good chance he'll start soon! Make sure to get him a fashionable coffee mug because #DadLife — plus, it needs to blend in well with all of mom's 1283798764 coffee mugs too!
Easy to use Nested Bean Sleep Sack
Let's be real — swaddling is many new dad's arch-nemesis. The technique it takes to properly swaddle a baby and prevent baby from breaking out of their swaddle can be tricky even for moms!
Instead of waiting for dad to hop on the struggle bus, gift him with a baby swaddle he can use with ease, like the Nested Bean Sleep Sack! This baby swaddle is so simple to use and features a gently weighted chest design to make baby feel like mom & dad's touch is always there.
Daddy's Diaper Duty Device
While this might not be a "basket" per se, it's still a great gift idea for dads. Everything that dad needs to change diapers comes in one easy to use and wear handy tool belt — The Daddy's Diaper Duty Device. Not too mention protective eyewear and tongs to grab hold of those dirty diapers, too!
Because if dad is going to help change the diapers and be a part of that whole process, make it as easy and simple for them as possible! This is one of those gifts that is hilarious and helpful, all at once!
The key thing to remember about gifts for expecting dads is that they're actually probably not going to be "expecting" a gift at all. It's typically the moms that are the ones that are spoiled during pregnancy, but buying something for the dads is a nice touch, and an important one, too.
While the mom might be the one carrying and delivering the baby, the dad is certainly an important part of the daily schedule after that. Give them a little acknowledgment as well with these simple gift ideas and you'll be amazed at how easily you make their day!
Recommend DAD-WORTHY Posts:
Do you have any other great gift ideas for expectant dads?