The Bentley Stroller Trike is IN, Regular Strollers are OUT!
This post may contain affiliate links that I may receive a commission from if you click & buy. In addition, the information on this site is NOT intended to be medical advice. See my full policy for more information.
If you're reading this, it's because you're looking for an honest review of the luxurious Bentley Stroller Trike. We were kindly gifted one from Bentley Trike and I'm going to share why we love it and where it can use some improvements!
As a boy mom, life is always an adventure. Whether we're out on a walk or going to a local park — I always have to make sure I come prepared (which includes having a reliable stroller).
Unfortunately, the stroller I currently use is pretty big, bulky, and doesn't maneuver well. Hence why I was stoked when I found out we'd have the opportunity to try out and review the Bentley Trike.
What is The Bentley Trike (Bentley Stroller Trike)?
The Bentley Trike is a 6-in-1 stroller trike meant to grow with your child from 6 months to 5 years old. It was created in collaboration with Bentley Motor Company (yes, the company who makes luxury cars) — making it the perfect combination of elegance and quality for parents ready to ditch the traditional bulky strollers.
The Bentley Stroller Trike features 4 unique stages suited for the following ages:
Stage 2 (12 months +): Toddler footrest deployed for little ones who cannot reach the pedals, but have legs too long to use the infant foot rests.
Stage 3 (24 months +): Footrests removed with free wheel and free handlebar clutch engaged which allows you, the parent, to remain in control over pushing your child.
Stage 4 (36 months +): Backrest and safety bar removed allowing for full trike independence for your child.
Lastly, the Bentley Trike comes with a great 2 year warranty.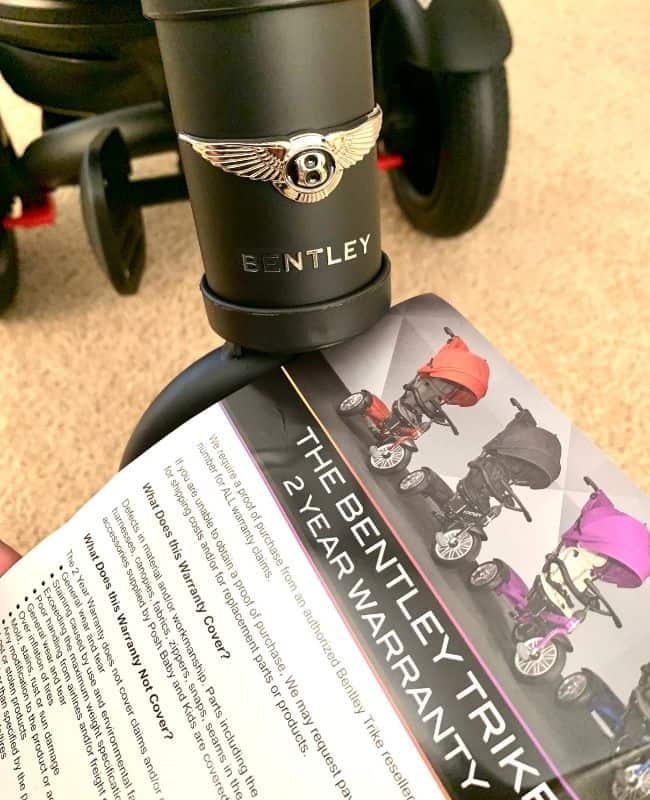 Our Bentley Stroller Trike Review
From the minute we ordered our Bentley Trike to the day it arrived, it was just shy of 4 days. Talk about lightning fast shipping.
Not only did it arrive fast, but in style too! It came in a thick box, within the box were all of the pieces nicely organized making it incredibly easy to put together. I believe it took me less than 15 minutes to assemble the trike for my toddler.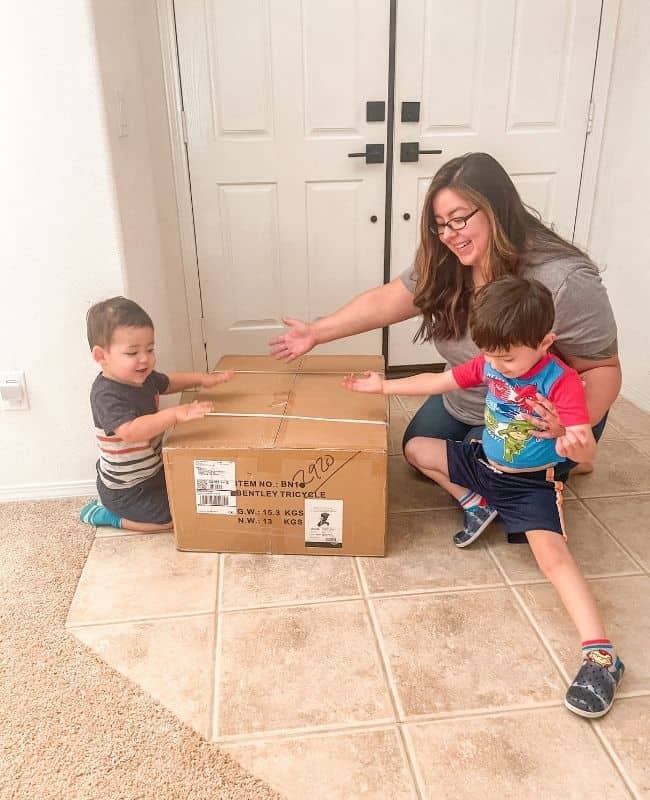 As soon as my 1 year old son realized these cool pieces were turning into a trike, his eye lit up like fireworks in the sky. He kept asking me if it was time to "go ride". Before I knew it, he had climbed up himself and made himself extra comfy in the snug padded seat.
Yes, he even figured out how to strap himself into the 5-point safety harness (which fits snug and comfortably to be exact).
It also didn't take him long to realize he had the option to recline back and rest his hands on the padded handlebar. Literally allowing him to kick back and relax while I did all the work of pushing him around.
Though, I'm not sure I would consider pushing the Bentley Stroller Trike around as work since it glides so effortlessly on a variety of terrain. It even steers like a breeze with one handed pushing — that's when I realized I was ready to say farewell to our old bulky, big, difficult to maneuver baby stroller.
When I looked into how it's made, I learned the tires on the Bentley Stroller Trike are actually a replica of what they use on the Bentley Continental GT — how freaking cool is that?
What We Loved MOST About the Bentley Trike
My absolute favorite "feature" of the Bentley Trike is that you get so much use out of it. It's not often you can find baby gear that will last 5 years.
Often times, you buy something and within months to a year, maybe 2, they've outgrown it.
Another feature I really found helpful is the extra-large canopy (extendable sunshade). Here in Southern California it seems like the sun is always out. Having a shaded cover that actually covers my son and protects him from the sunlight beaming down onto him is a win in my book.
The sunshade also features a handy peek-a-boo window so you can peak down and check on your little as well.
Lastly, the removable cup holder is a MUST for this mama's daily coffee. I don't know about you, but anyone who puts a cupholder for mom is doing something right.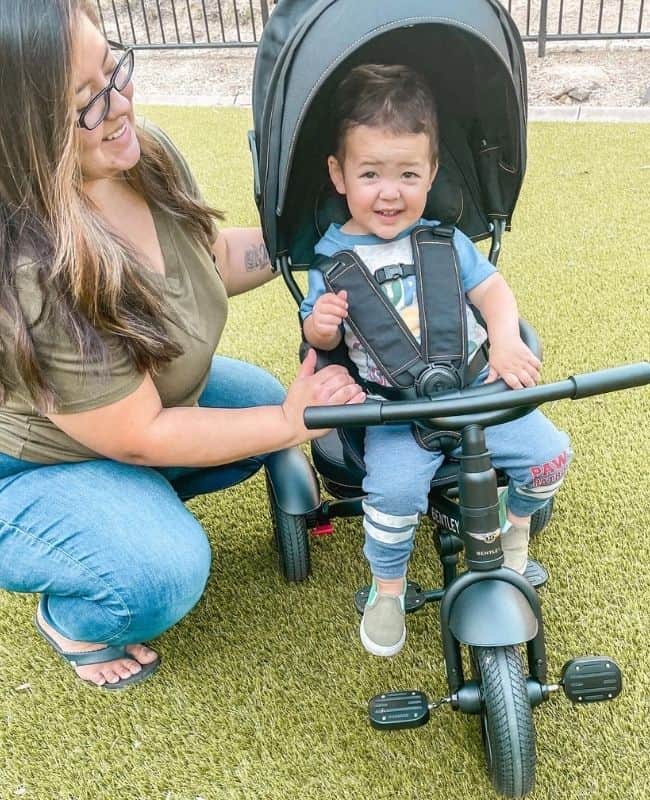 What We Didn't Love About The Bentley Stroller Trike
I'll be honest, it was really hard for me to find something I didn't like about the Bentley Trike. I thought long and hard after we took it out on two seperate adventures to try and find something I "didn't" like.
Finally, the one thing I realized, is that I really wish there was a better way for it to fold and fit into my car.
With the Bentley Trike's design, I have to unsnap the push handle in order for it to fit in the trunk of my Hyundai Santa Fe. It's not a big deal, because the handle pops on and off with ease, but it was the only thing I could come up with that might be annoying at times if I'm truly in a rush.
However, I learned they have a folding trike which is called the Rito Trike. You can check those out here.
Where To Buy A Bentley Trike
If you're thinking you might want to try out a Bentley Stroller Trike for yourself, I don't blame you. You can find them online, here on their website.
If you decide to make a purchase, you can use my code MOMAFTERBABY which will take 20% off your purchase (thank you Bentley Trike for extending this offer to our readers).
Not ready to commit to a 6-in-1 Stroller Trike? Checkout some of their other awesome products: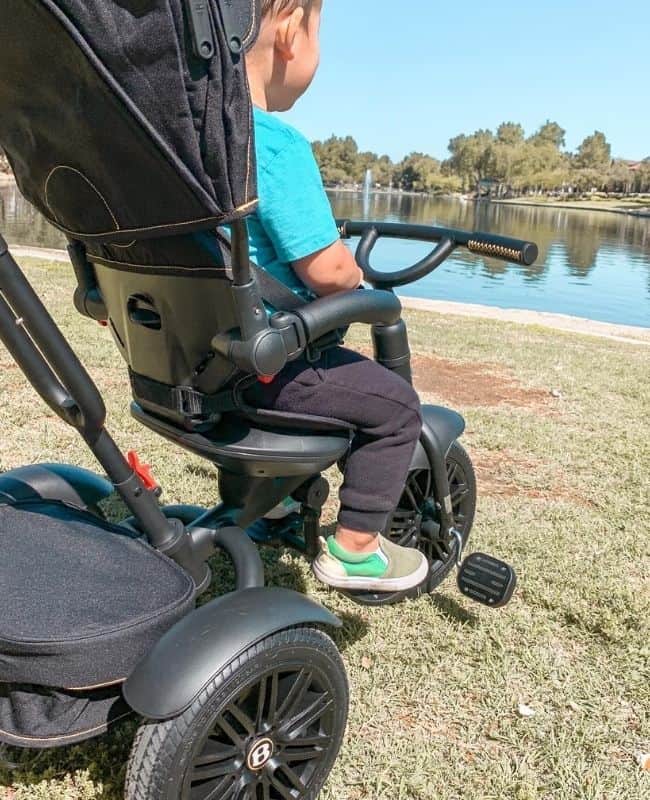 Bentley Trike Recap
The Bentley 6-in-1 Stroller Tricycle is a great option for parents looking to ditch the traditional stroller and utilize a high-quality option that will grow with your child.
Though you don't need to go running to put this on your baby registry right away, it's a great option to consider as it will grow with your child.
This trike has many features such as their cross-stitched padded seats, luxury tires for a smooth ride, adjustable & reclining seat, portable storage case, and more!
If you decide to purchase a Bentley Trike, you can buy them online right here and apply my code MOMAFTERBABY to save 20%
---
Read more motherhood (mom must-haves) articles here: